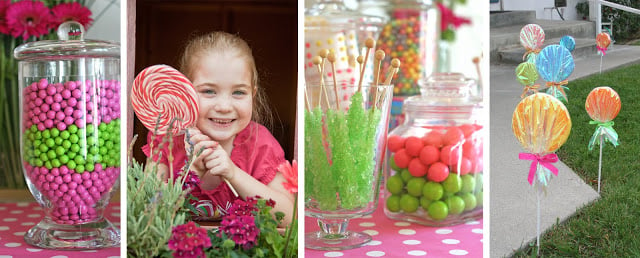 This is post 3 of 3 on the candy themed birthday party I put together for my daughter's 6th birthday.  The two previous posts show some of my planning and pre-party preparations, post 1 (here) shows the invitations and favor bags, post 2 (here) includes some of the games, prizes and decorations.
About six months ago I decided I would love to do a candy themed birthday party for my oldest daughters next birthday.  I began collecting pretty jars that I would use for the candy buffet, I decided on the color scheme, and began scouring the internet and all of my local stores for anything candy related… ideas, decorations, invitations, etc.  I really enjoyed every step of the planning and preparation (except the cleaning my house part!), but I am also a bit glad to say… it's over!  The party was held this weekend, and I think I can safely say it was a success.  We had 23 children and 16 adults in all… did I mention the party was at our house, oh and that our house is under 1500 square feet?  Needless to say we were very thankful to have beautiful sunny weather so that we could make use of our backyard for all of the games.  In the end, all of the children headed home with smiles… I hope that was because they had fun and not just from all the sugar… but either way, they were smiling!
Now, please join me for a tour of the sweet party…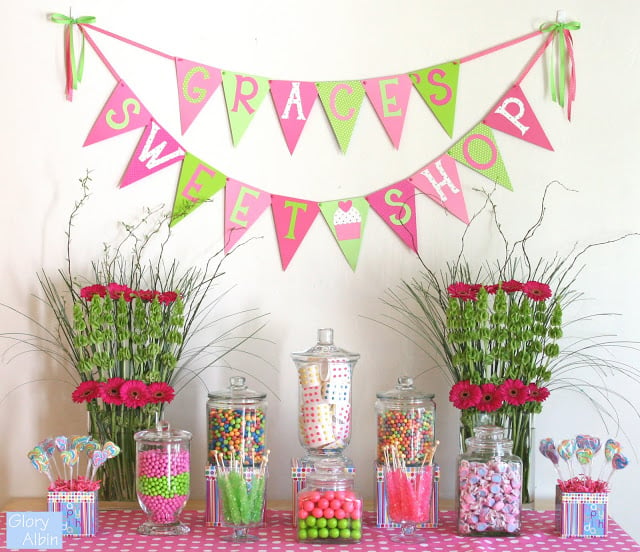 The candy buffet was one of my favorite things to plan, and set up. (Inspired of course, by the amazing work of Amy Atlas)  See this post for the sources of the jars.  I bought a lot of the candy from OhNuts.com, and the banner and flower arrangements were made by me.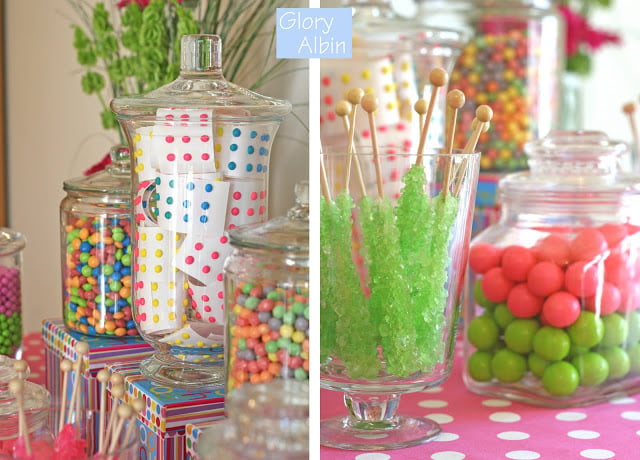 Here is our sweet birthday girl admiring the candy table.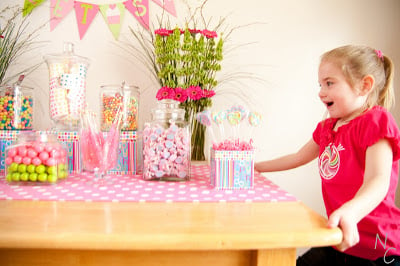 The food and dessert table included a small cake, lots of cupcakes (with cookie toppers), cookies (in the shape of candy), as well as some pinwheel sandwiches and fresh fruit.  All of the food was made by me.  I accented the table with paper lanterns from Luna bazaar.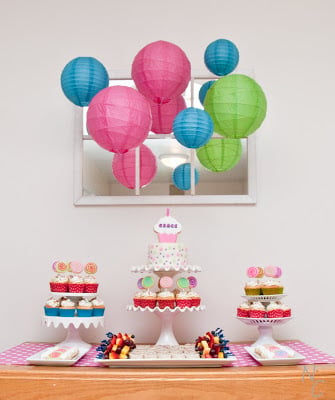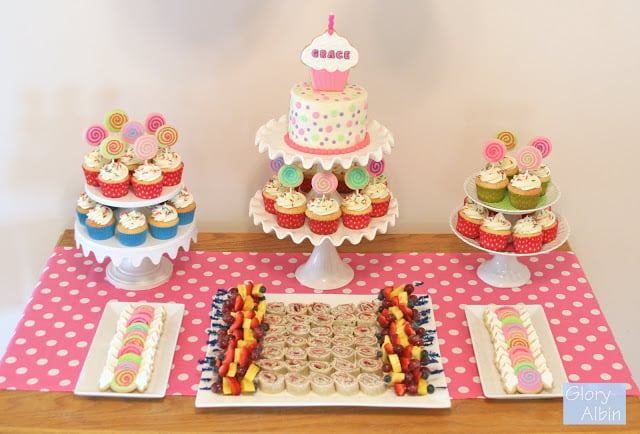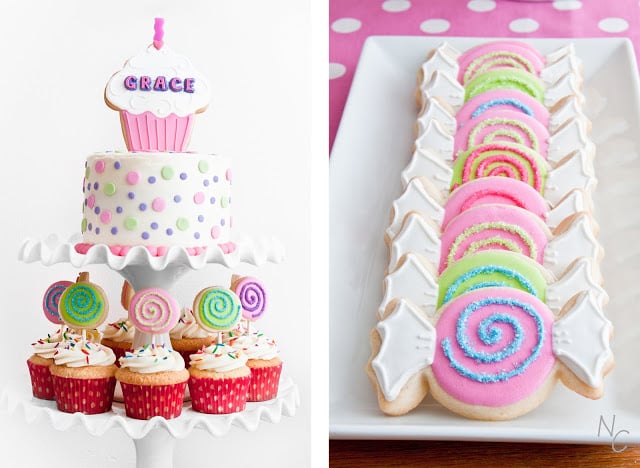 Below is a close up of some of the cookies I made.  There were lollipop shapes (that I used as cupcake toppers), cupcake shapes and candy shapes.  I've shared the sugar cookie recipe I use HERE, and all the how-to's for the lollipop cookies are HERE.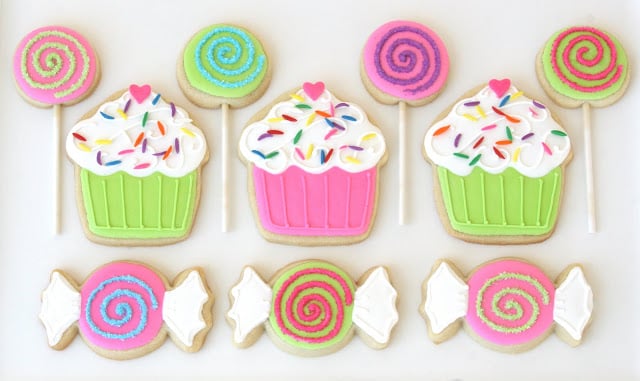 We served strawberry lemonade to drink, as well as water bottles with custom labels that I designed and attached.  How-to's for making your own custom water bottle labels HERE.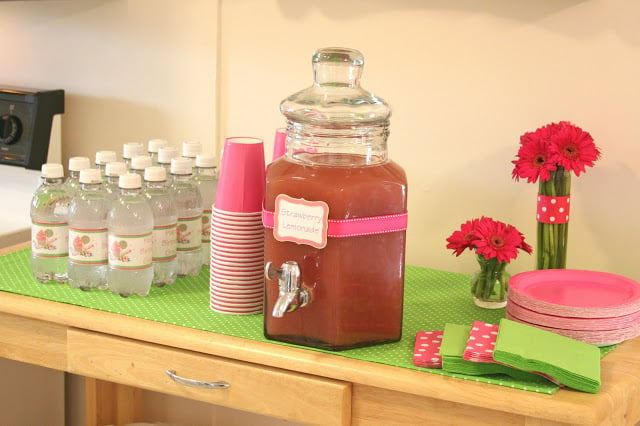 Inside the house I had several of the pillows I showed you in this post, and I also made several arrangements of various sizes of lollipops (that I've been collecting over the past several months from a variety of stores, including Target, Wal-Mart and Party City).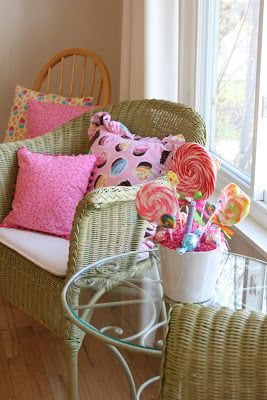 Below are a few more of the decorations, including a sign I made for the front door and lollipop decorations I added along the front walkway (how-to's HERE).  Below you can also see a game my husband constructed for a bean bag toss game (my mom made a set of bean bags using the same cupcake and sprinkle fabrics she made the pillow covers with). And we also had a jar of jelly bellies to guess the number of.
Other games included a version of musical chairs using the songs Lollipop, Sugar and The Candy Man and a bingo game I created using images of sweets in place of numbers (you can see it in this post).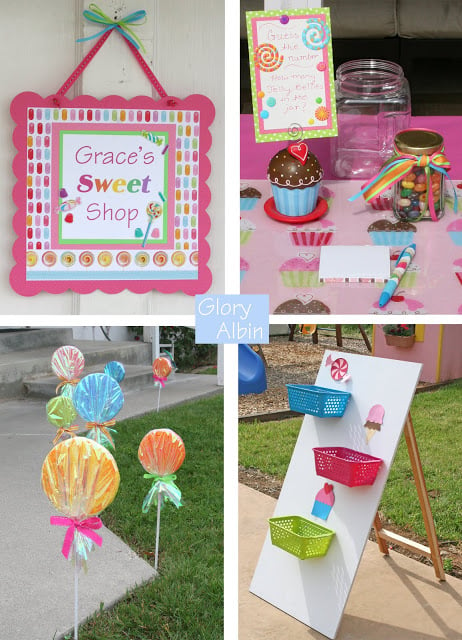 I've posted all the instructions on making the large lollipop decorations (like above)  HERE

Some of the sweet and gorgeous guests.  Lots of smiles and happy tongues  =)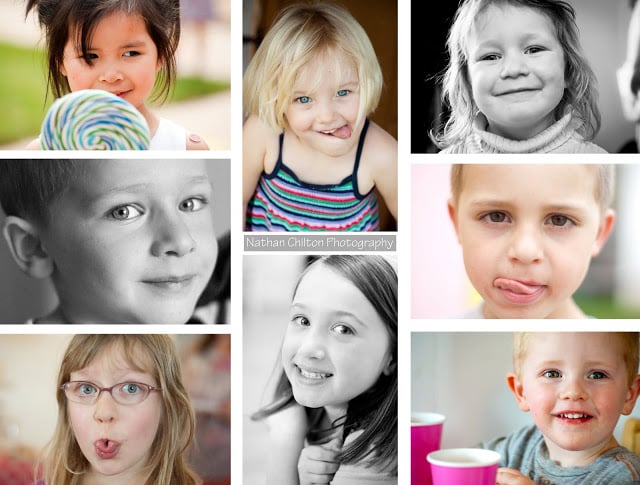 Grace enjoying a cupcake.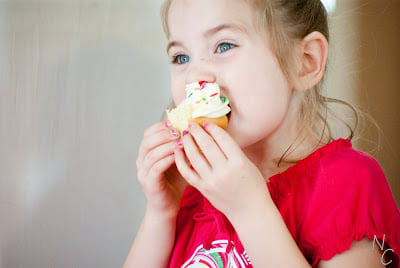 Our other sweet pea, Joy.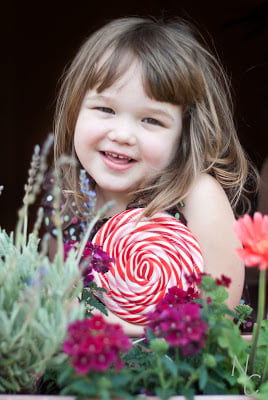 Some shots of mommy (me), daddy and Grace on her special day.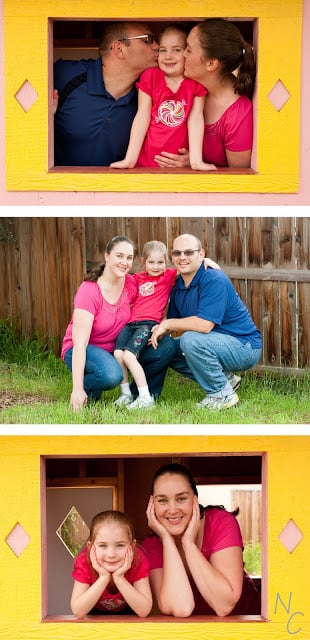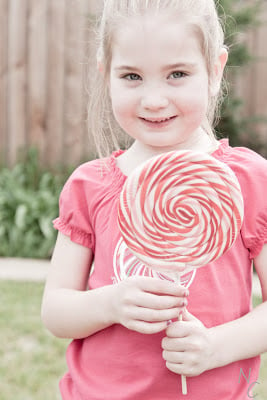 One of the best decisions I made when planning the party was to realize it would be near impossible (and very stressful) to be trying to photograph the party and host it at the same time. I asked a photographer friend if he would come take photos during the party, and he agreed. What a gift I gave myself! He did such a beautiful job capturing the smiling faces… I may never try to photograph my own parties again! Any photos in this post marked with a NC in the corner are from the very talented Nathan Chilton.  In fact, one of my goals when planning this party was to get at least one gorgeous shot of Grace (ideally holding a lollipop). When I first saw the photo above, I knew the party was finally complete.  Thank you Nathan!
All other photos by me (Glory Albin).