Today's post may be a bit out of line with the season, since it's a Snowflake Ballerina Party, and here in California we're (almost) in spring.  I put together this special party for a friend this past December, and I dont' think I can wait until December rolls around again to share this with you!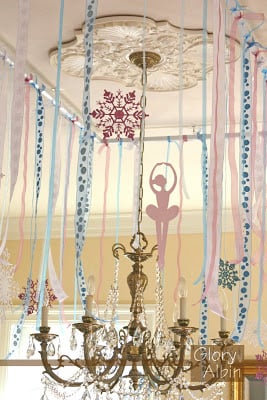 This past November a good friend of mine mentioned she was having trouble getting motivated to plan a party for her (soon to be) 4 year old daughter.  It wasn't that she didn't want to plan a party, I think she just needed a little inspiration.  Of course, all it took was the mention of a "party" and I was in full party planning mode!  I suggested several different themes to get my friend thinking, and after a little consulting with the birthday girl, the theme was set… a ballerina party with a winter twist… a Snowflake Ballerina Party!
With the theme set, we then settled on the color scheme… pale pink, ice blue and white.  My mind began swirling with visions of snowflakes and ballerinas in a winter wonderland…
Since there are no invitations on the market with both a snowflake, and a ballerina theme, my first step was to create invitations.  So off to my scrapbooking table, I gathered paper, glitter and my Cricutand got to work.  Below are the final invitations.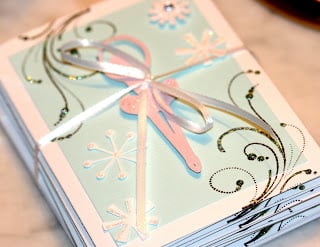 With the invitations complete, I began to dream about how I could create a magical centerpiece for the room that would really set the mood.  I envisioned ribbon and snowflakes and ballerinas all hanging from the heavens (or at least from the ceiling).  I enlisted my hubby to make me a lightweight wooden frame, that I would then be able to hang to the ceiling with Command Adhesive hooks.  The night before the party I spent 2 hours climbing up and down a ladder hanging ribbon, snowflakes and ballerinas onto the frame.  In the end, I was so happy with the result.  It was just what I had envisioned!
Details-  I used a variety of widths and types of ribbon (all from my personal collection- originally from several various stores… I'm a bit of a ribbon addict!).  The snowflakes are all ornaments I bought at Dollar Tree.  The ballerina silhouettes are made from cardstock that I cut using my Cricut machine.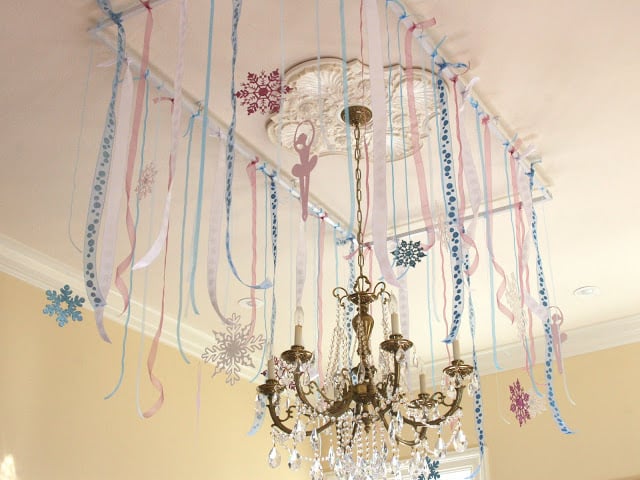 The party was held (mostly) in the dinning room.  This is the way it looked when the guests arrived.  Notice the pale pink skirts tied around each chair.  These were custom made for the party (by the mother of one of the little guests), and acted both as decorations and favors.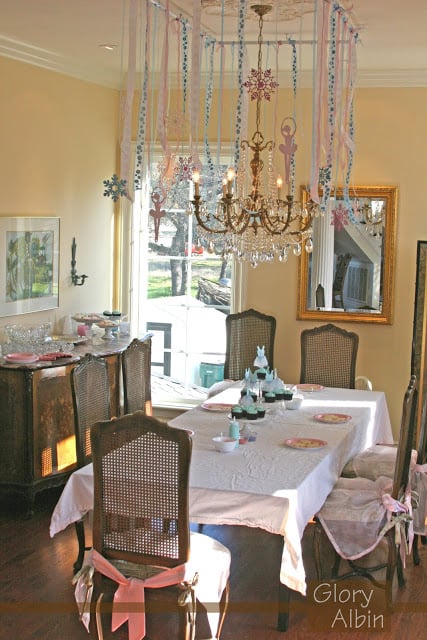 The first party activity was for the girls to decorate snowflake cookies (that I had made ahead of time).  I had prepared pale pink, blue and white icing, as well as a pretty selection of sprinkles for the girls to decorate their cookies with.  Each girl took home her plate of cookies (minus the one or two they nibbled on while decorating).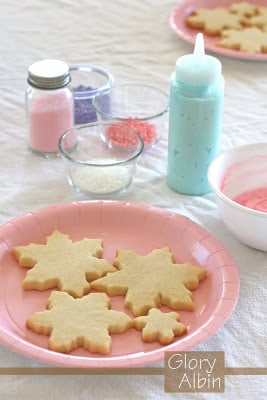 I also made some decorated snowflake cookies for the moms to snack on.
(I've shared the cookie recipe I use HERE, and I have a post HERE and HERE on basic cookie decorating)
After the girls decorated cookies, we sang to the birthday girl, and served cupcakes while presents were opened.  The cupcakes were chocolate cake (recipe HERE) with vanilla cream cheese frosting (recipe HERE) and handmade cupcake toppers.  The idea for the toppers came from HERE, and the template I used for the bodice is HERE.  The original ideas use tulle or tissue, but I had some light blue snowflake ribbon that I thought would be perfect.  They took a ton of time to make, but I think they turned out pretty special.  I added a 'B' on one for the birthday girl (Bailey).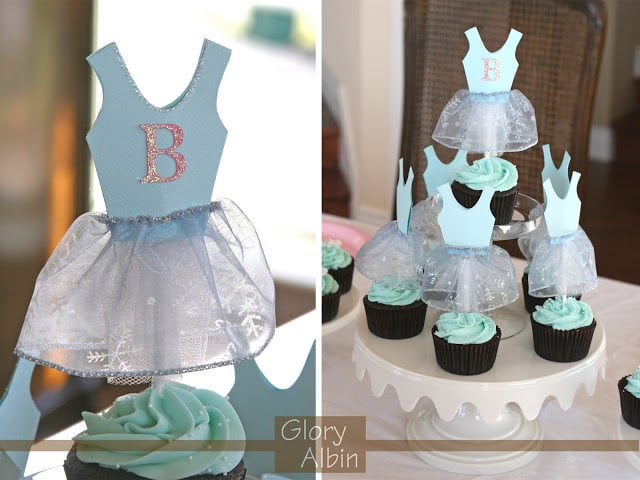 The grand finale of the party was a private ballet lesson (given by the birthday girl's regular ballet teacher).  The girls really enjoyed this, and they were so adorable to watch!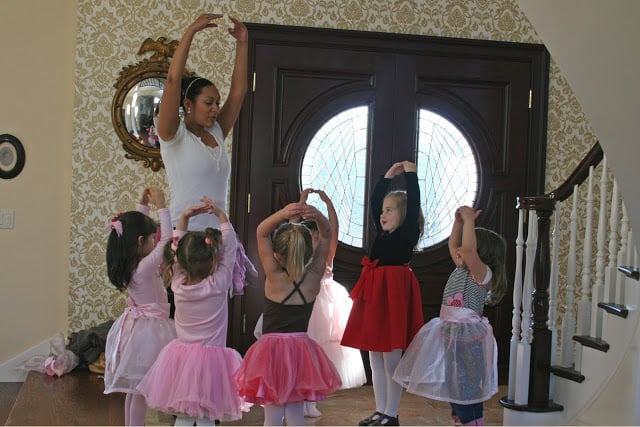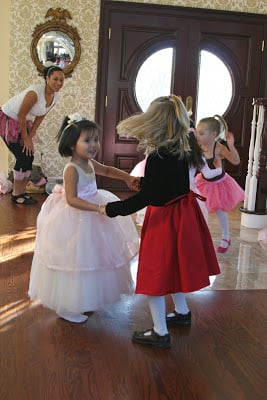 Here are the birthday girl (on the left) and my daughter (on the right) dancing their hearts out!  So sweet!
All in all it was a pretty magical afternoon, and hopefully created some very special memories for little Miss Bailey.