Football Team Cupcakes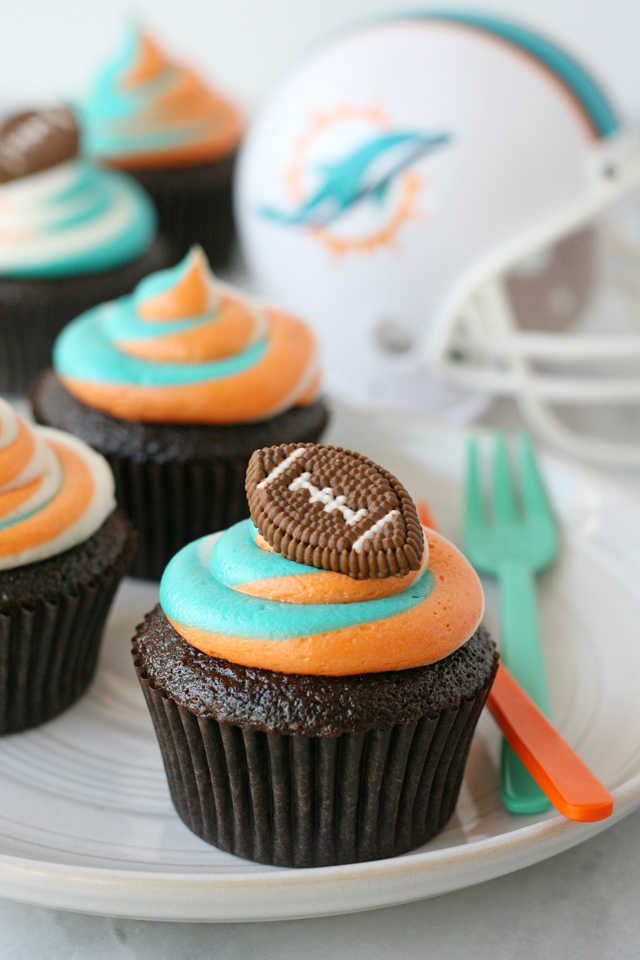 Make football season extra sweet with these fun Football Team Cupcakes!
You might notice that these pretty cupcakes are partial to one particular team… the Miami Dolphins!
I'll have to admit, I'm not exactly a football super fan, but I am a fan-by-marriage of the Miami Dolphins.  Despite being born and raised in California, my husband chose the Miami Dolphins as "his" team when he was in 5th grade, and has been faithful ever since!
Earlier this year, my husband and I traveled to Miami to see our first NFL game, and we had a really perfect day!  Here's my Instagram capture of the day.
So if you're a fan of orange and aqua, these cupcakes are for you!
And if your team wears different colors, read along for how to create this fun, tri-colored frosting in any colors!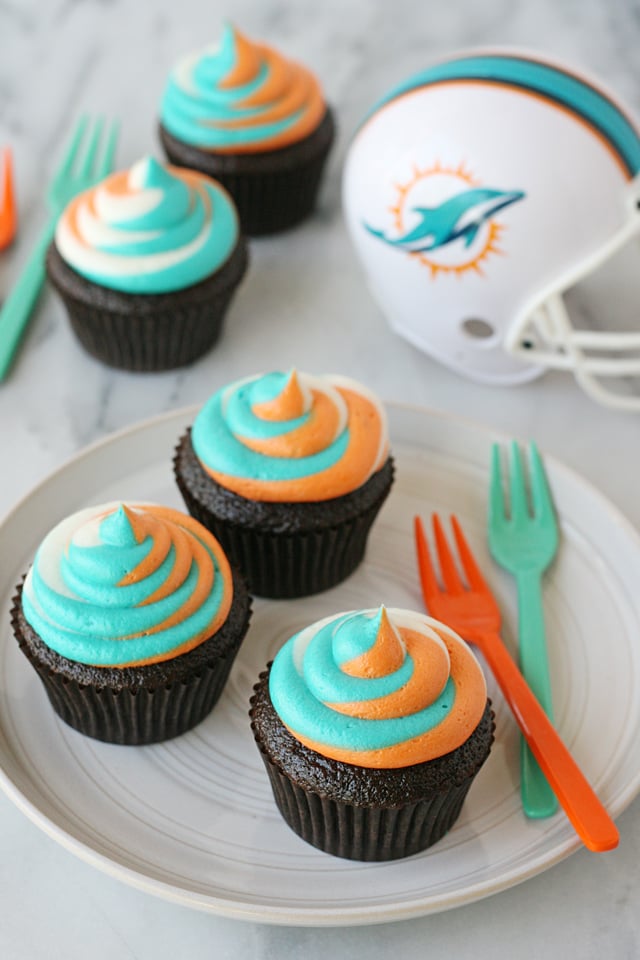 I've partnered with Wilton to share their Color Swirl Decorating Kit and Color Right Color System.
With these Wilton tools and ingredients it's easy to make impressive tri-colored frosting for cakes and cupcakes and get your #GameOn for your favorite team!
This was my first time using the Color Swirl Decorating Kit and Color Right Color System, but now that I've seen how easy it is to use, I know I'll be using these tools over and over!
I've made multi colored cupcake frosting before, but in the past I've had to use colors that would blend well when mixed because I was adding multiple colors of frosting to the same bag.  The awesome thing about this Wilton kit is that each color is in its own bag, so the colors don't mix until they reach the cupcakes.  This helps give you consistent results, even if you're frosting lots of cupcakes and need to re-fill the bags as you go.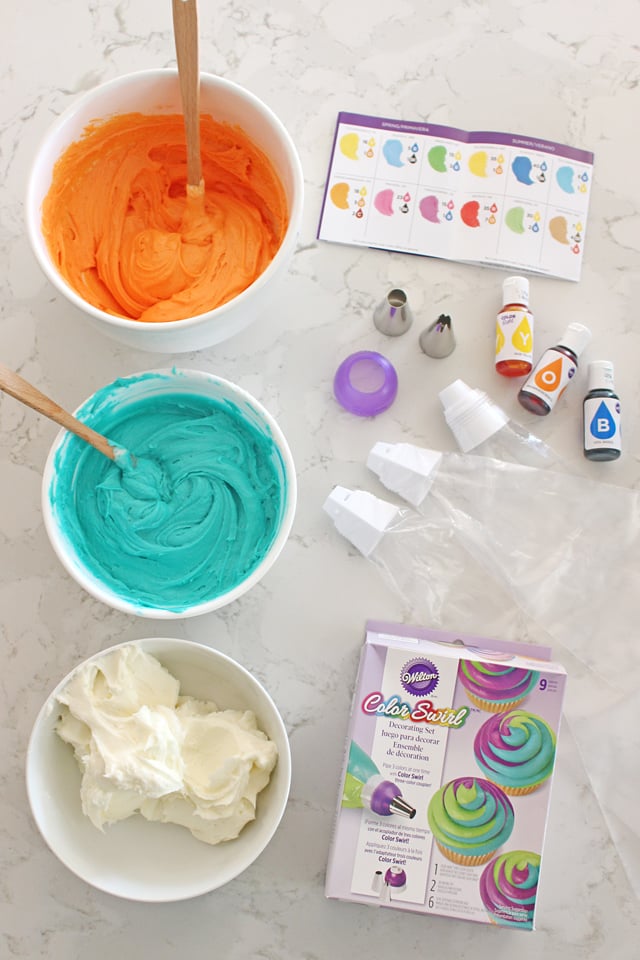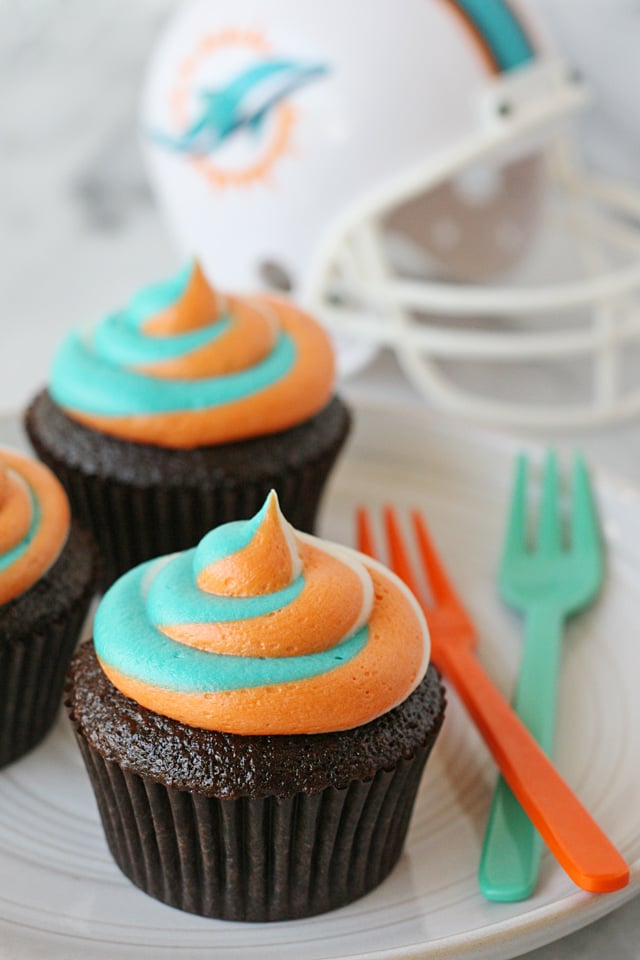 What you need to make your own Football Team Cupcakes…
Chocolate Cupcake Recipe (or Vanilla Cupcake Recipe if you prefer)
Wilton Color Swirl Decorating Kit (be sure to visit this page for a video on how to easily fill and use the color swirl kit)
Wilton Color Right Color System
Wilton Football Decorations (optional)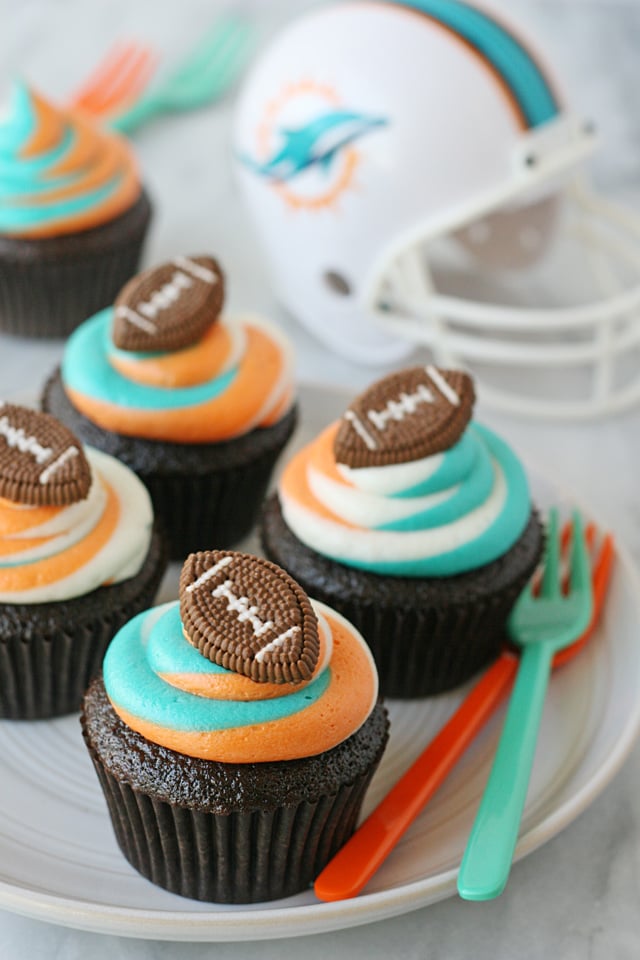 What colors will you use to make cupcakes for your favorite team?
Happy decorating!
Disclosure – I created this recipe in partnership with Wilton.  Partnering with brands I love allows me to provide you with high quality content at no cost to you.  I only work with brands I use and love.  All images, text and opinions are my own.