This Flourless Chocolate Cake recipe is rich, delicious and simply the ultimate chocolate treat!
If you're not a fan of chocolate, this recipe may not be for you. This beautiful, ultra rich dessert is packed with chocolaty goodness!
This flourless cake could be described as the fancy version of a brownie, although the texture is more dense than a traditional brownie, and the flavor is so rich, it's almost in the fudge category.
Even the most devout chocolate fans will likely be satisfied with just a sliver of this gorgeous cake!
PIN IT NOW to save for later!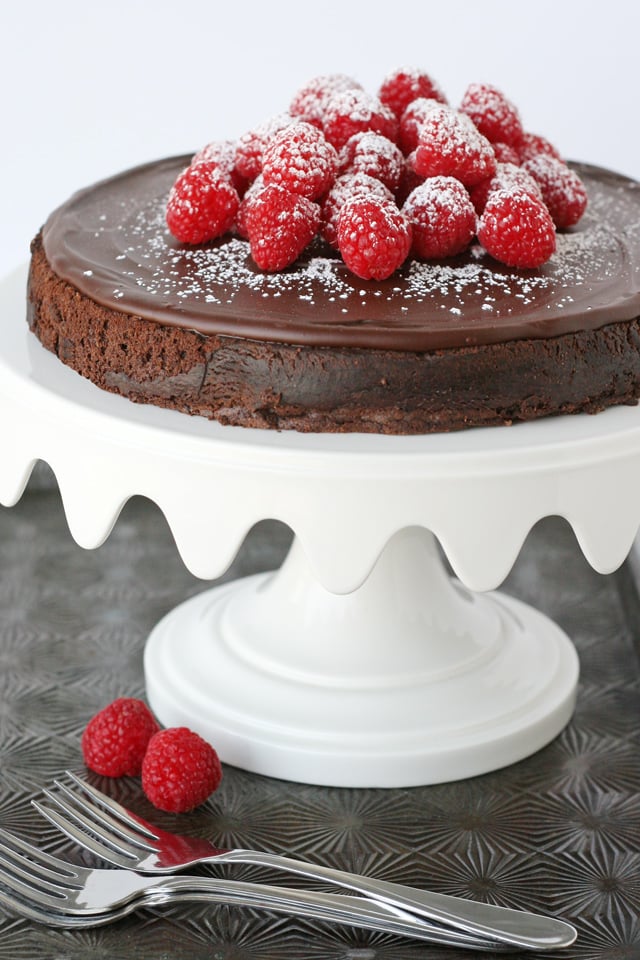 I was inspired to create this pretty cake after my recent Mexican Riviera Cruise with Princess Cruises.
I enjoyed several impressive and delicious chocolate treats on board Princess Cruises and wanted to share a recipe that is easy to create at home, but lends itself so perfectly to a fancy garnish and more formal entertaining.
I chose a relatively simple garnish of fresh raspberries and and dusting of powdered sugar, but this would really be a perfect recipe to let your creativity shine!
An artful drizzle of chocolate on the plate, or a raspberry sauce would be gorgeous with this cake.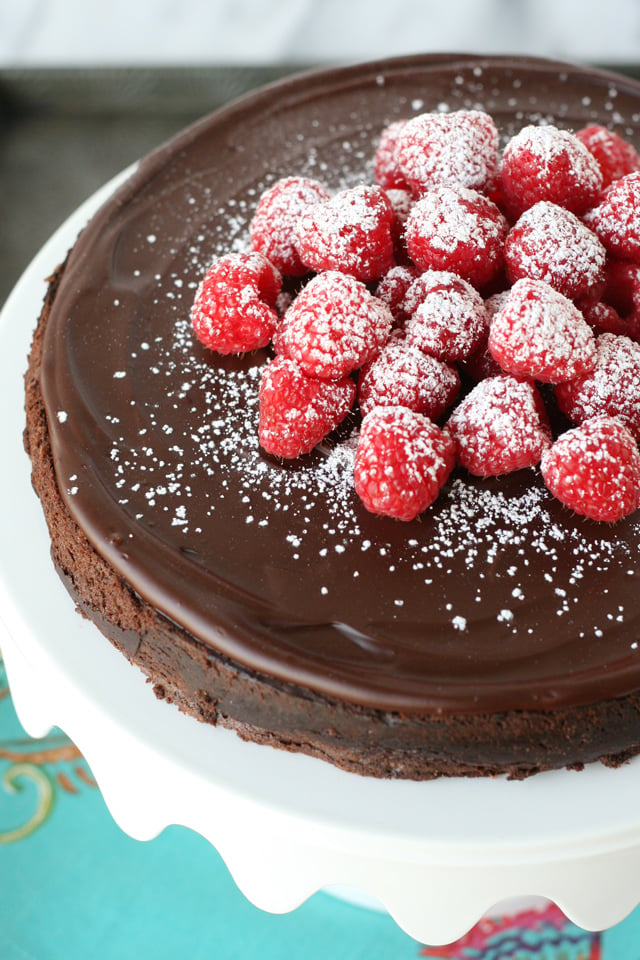 Initially, I considered the raspberries simply a beautiful garnish for this cake, but I discovered the tartness of the fruit was really a perfect compliment to this rich cake.
I would highly recommend including fresh raspberries or fresh strawberries as the perfect accompaniment to this cake.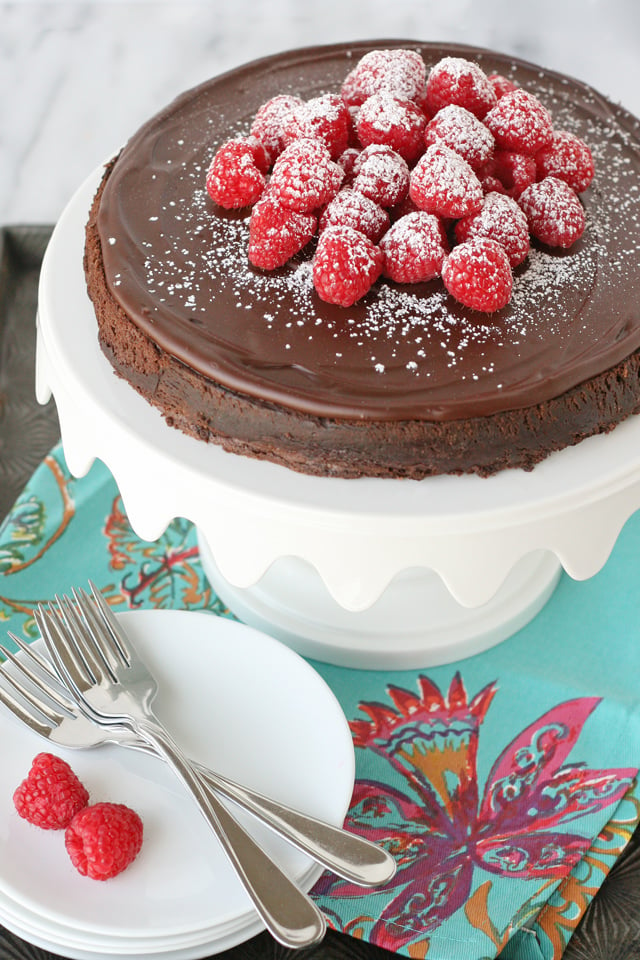 Certainly, this flourless chocolate cake would be a perfect recipe for those who require a gluten-free diet.
And it's so rich and utterly delicious, that any chocolate fan will fall in love with this recipe!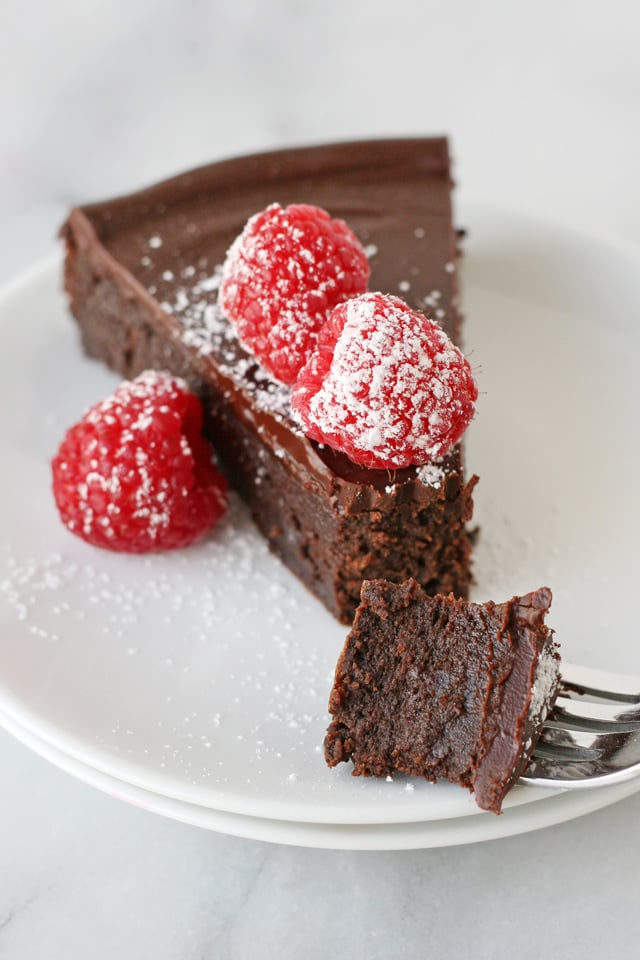 PIN IT NOW to save for later!

Happy baking!
Disclosure – I'm sharing this recipe in partnership with Princess Cruises. Partnering with brands I love allows me to provide you with high quality content at no cost to you. I only work with brands I use and love. All images, text and opinions are my own.
Flourless Chocolate Cake Recipe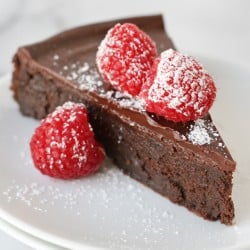 Flourless Chocolate Cake
Rich, flavorful and simply the ultimate chocolate treat! Dense and almost fudge-like.
Ingredients
Cake
12

oz

semi-sweet chocolate

or bittersweet - 2 cups, slightly mounded, good quality chocolate chips

3/4

cup

Challenge unsalted butter

1 & 1/2 sticks

5

eggs

1

cup

sugar

1 1/2

teaspoons

vanilla extract

1/4

teaspoon

salt

2

tablespoons

water

1/4

cup

unsweetened cocoa powder

I used Ghirardelli
Glaze
4

oz

semi-sweet chocolate

or bittersweet - 2/3 cup good quality chocolate chips

3

tablespoons

Challenge unsalted butter
Garnish
Fresh raspberries or fresh strawberries
Instructions
Preheat oven to 300°F.  Prepare a 9" cake pan by lining the bottom with parchment and lightly buttering the sides, then dust with cocoa powder and tap out any excess.

In a medium sized (microwave safe) bowl, heat the chocolate (break into pieces if using large bars) & butter at 50% power in the microwave until mostly melted (about 2 minutes, but check after 1 minute and every 30 seconds after).  Stir until fully melted and smooth, then set aside.

In the bowl of an electric mixer, fitted with the whisk attachment, whisk the eggs on medium speed about 1 minute.  While mixing, add sugar, vanilla, salt and water and continue whisking another minute or so, or until the mixture is very foamy, pale in color and has doubled in volume.

Reduce mixer speed to low, and gradually pour in the (cooled) chocolate mixture.  Increase mixer speed to medium and blend until well incorporated, about 30 seconds.

Add the cocoa powder and blend just until fully incorporated.

Pour batter into prepared pan and bake 40-45 minutes.  Bake just until the outside edges are fully baked, and a toothpick inserted in the center comes out with moist clumps, but not just wet batter.  It will seem under-baked by most cake baking standards.  Don't overcook.

Remove from oven and cool in the pan (on a wire rack) for 30 minutes.  The cake will sink quite a bit in the center, leaving a rim around the edge, this is OK.  Cover the pan with foil and move the cooled cake to the refrigerator and refrigerate until very cold, at least 6 hours or overnight.

Once well chilled, run a knife around the edge of the pan to loosen the cake.  Remove from pan and trim off the raised rim around the edge of the cake, as necessary to level.  Turn cake upside down onto a platter (so the bottom of the cake is now the top) and remove parchment paper.

Prepare glaze by heating the chocolate and butter in the microwave (at 50% power) until almost melted, then stir until fully melted and smooth.  Cool slightly, then use an offset spatula to spread the glaze evenly to within 1/4 inch from the edge of the cake.  Allow to set up (at room temperature, unless your house is very warm and in that case, cool in the fridge).  Cake should be served at room temperature.

To serve, cut into very thin slices using a knife that has been run under hot water, then wiped dry.  Clean knife between cuts as needed.

Garnish as desired and enjoy!
Notes
Chocolate is the star of this dessert, so choose high quality chocolate and cocoa powder (such as Ghirardelli or Guittard) for best results.
Garnish cake with fresh raspberries or fresh strawberries (make sure they are dried really well after being rinsed). The fruit garnish is not only beautiful, but a perfect flavor compliment.
I used Challenge brand butter, please feel free to use a high quality brand of your choice.
Nutrition
Calories:
331
kcal
Carbohydrates:
28
g
Protein:
4
g
Fat:
23
g
Saturated Fat:
14
g
Cholesterol:
81
mg
Sodium:
61
mg
Potassium:
203
mg
Fiber:
3
g
Sugar:
23
g
Vitamin A:
420
IU
Calcium:
30
mg
Iron:
2
mg