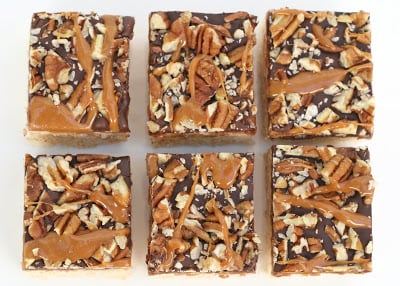 From the top, you'd never know that the delicious looking, chocolate and caramel desserts above are  humble rice krispies treats!  Well, once humble rice krispies treats… now elevated to a delicious, decadent dessert!  I've been playing with a few ideas for dressing up rice krispies treats, and this is one of my delicious successes!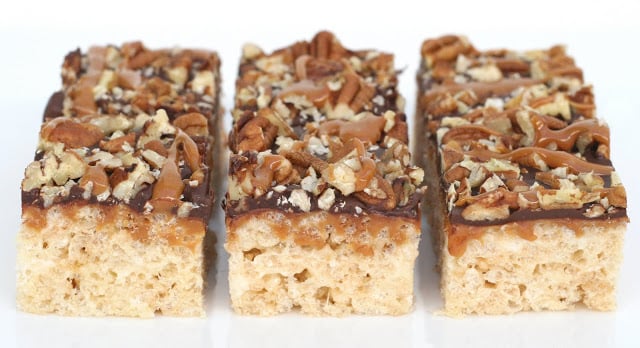 ~ Directions ~
(The ingredients you'll need are in bold)
Prepare Rice Krispies Treats as directed on cereal box (so you need Rice Krispies, marshmallows and butter).  Spread into a 9″x13″ pan (as directed).
In the top of a double boiler, melt 3/4 of a pound of store bought individual caramels (Brach's brand works well), along with 2 Tablespoons of water and 1/2 teaspoon of vanilla extract.
It will take about 10 minutes to melt everything together.  Stir as needed.
Pour the melted caramel over the prepared Rice Krispies treats, reserving a small about of caramel in the double boiler (that will be used on the very top as decoration).  Spread caramel evenly over the Rice Krispies treats.  Place the whole pan (of caramel topped rice krispies treats) in the fridge for about 5 minutes.
Melt 6 oz. of semi sweet chocolate in a bowl in the microwave (in 30 second intervals).  When almost melted, remove (carefully) from microwave, and stir until smooth and fully melted.  Remove rice krispies treats from fridge, and spread melted chocolate over evenly.
Top with 3/4 cup chopped pecans.
Warm the remaining caramel (that was reserved in the double boiler) and then drizzle caramel on top of pecans.
Place the pan (of rice krispies treats) in the fridge or on the counter (in cool weather) until the chocolate has set.
Cut into squares and enjoy!