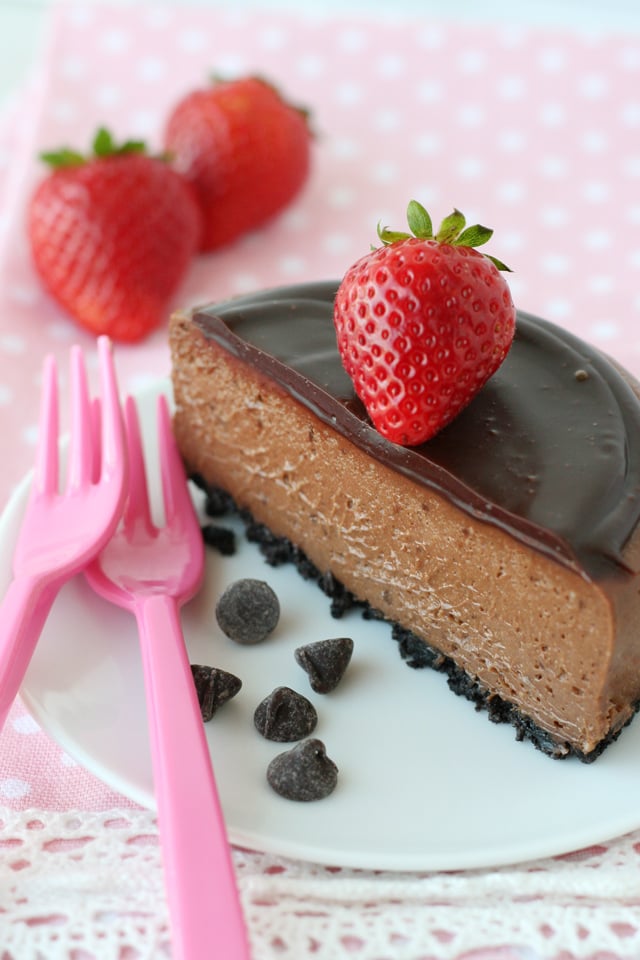 Rich, creamy and oh so delicious… this Chocolate Cheesecake for two is the perfect chocolate indulgence!
This cheesecake is my new favorite dessert! Creamy, flavorful and simply a dream for any chocolate lover… like me!
This recipe is scaled to make two adorable 4″ cheesecakes… perfect for a Valentine's date night, or anytime you need a special treat for just a couple people.
A standard sized cheesecake will often make 12-16 slices or more, and as a family of four we really don't need that much cheesecake in our house!
Now, I love sharing treats will family and friends (and do so quite often), but sometimes I just want to make a special treat for my family to enjoy… without making something huge!
This recipe makes two beautiful little 4″ cheesecakes. Feel free to consider it two servings, although this recipe is so rich, I think you'll find 1/2 or even 1/3 of one of the 4″ cheesecakes makes a very nice serving.
If only one or two people live in your home, feel free to enjoy just one of the mini cheesecakes and freeze one the other for another day. I'd suggest freezing the cheesecake without the chocolate ganache topping, and then adding the topping on the day you plan to enjoy it).
PIN IT NOW to save for later!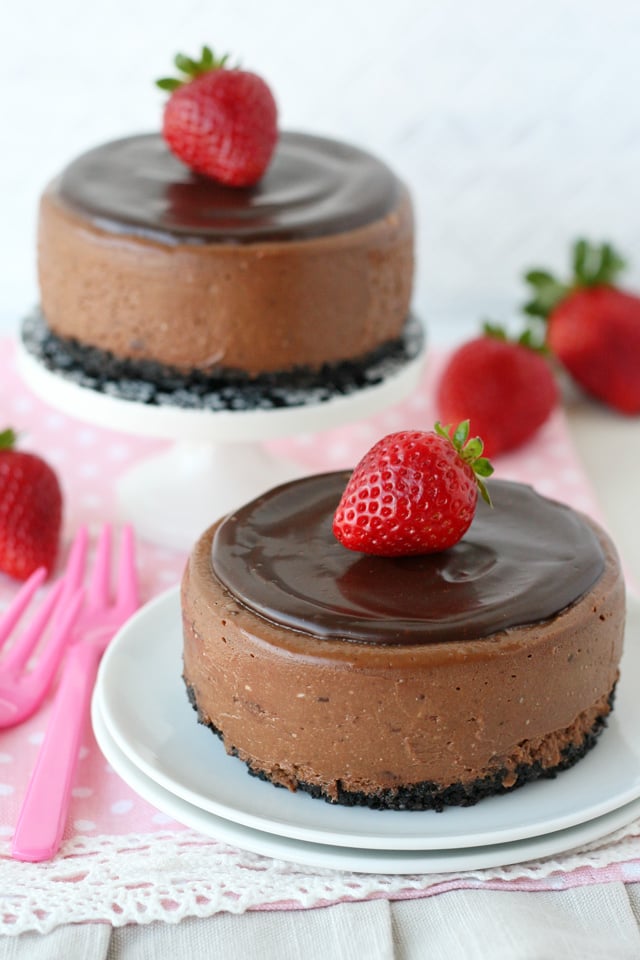 I picked up all the ingredients I needed for this delicious cheesecake from my local Sprouts Farmers Market.
It's always so nice to know I can make one stop and get all the high quality ingredients I need for all of my favorite recipes!
The cheesecake crust includes Sprouts Chocolate Sandwich Creme cookies. Of course these look a lot like a popular cookie that starts with an O… but let me tell you, I like these Sprouts cookies WAY better! Not only are they made with ingredients that are easy to read… with no artificial colors, flavors or preservatives, it's the TASTE that easily won me over! The cookie portion is more flavorful and chocolaty, and the creme filling is more… creamy! You really just need to try them, they're delicious!
In addition to the sandwich cookies, I found everything else I needed at Sprouts for this creamy cheesecake recipe… cream cheese, sour cream, eggs and Sprouts semi-sweet chocolate chips.
For this recipe, be sure to use regular (full-fat) cream cheese and sour cream. Use the good stuff. Go for a walk later. =)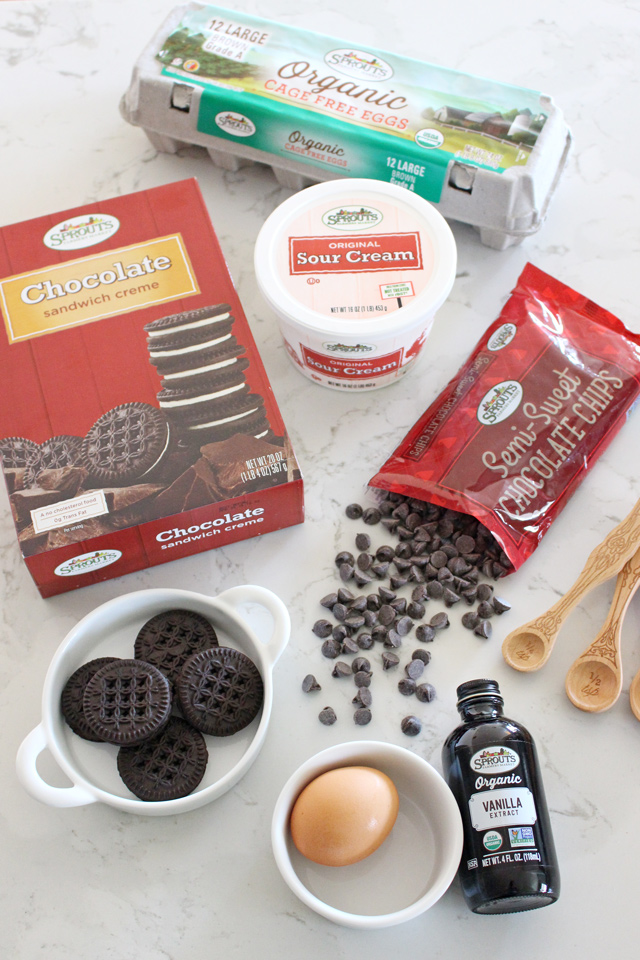 Now I think there are a couple different camps when it comes to cheesecake…
I like my cheesecake to be smooth and creamy (and so that's exactly what this recipe is).
The contrast to this would be a true New York style… which is dense and somewhat clumpy/crumbly inside. If this is the style you like, this recipe might not be what you're looking for… then again, it might be better! =)
This recipe is a celebration of chocolate… chocolate cookie crust, creamy chocolate cheesecake filling, and a rich chocolate ganache topping.
Feel free to dress up the plate with a few strawberries or raspberries, but the cheesecake is perfectly complete without them.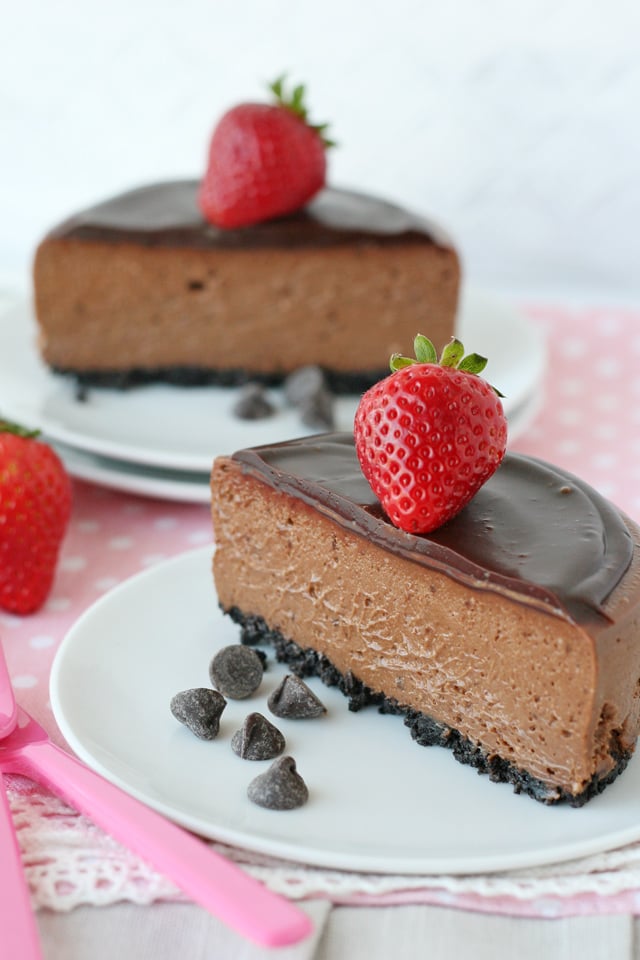 For this recipe you will need a couple of mini cheesecake pans. Here's the 4″ springform pans I used.
You could also use one 6″ springform pan if you wish (although you'll need to increase the baking time a bit).
In fact, if you want to make extra mini (2″) individual cheesecakes, like my Mini Kahlua Cheesecakes, then you'll need this –> mini cheesecake pan.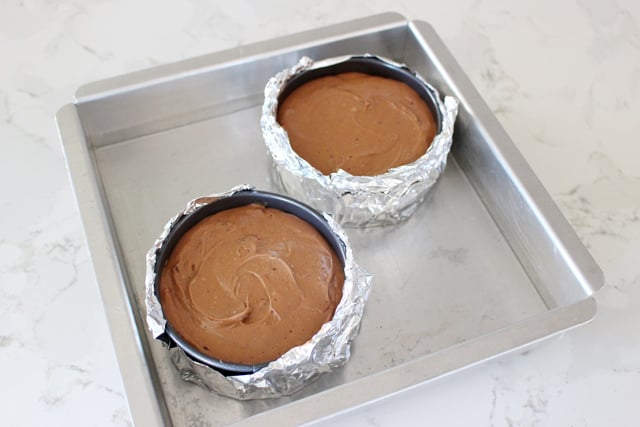 One extra little step this recipe requires is the "water bath" (pictured above). It's really not hard to do, so please don't be intimated. Simply wrap the cheesecake pans with foil, making sure the foil comes up to almost the top (or higher) than the lip of pan. Set the cheesecake pans inside a larger baking pan (I used a 9″x 9″ cake pan) and add about an inch of HOT water to the larger pan. Carefully move the whole thing to the oven to bake the cheesecakes.
The water bath is an important step to help the cheesecakes bake evenly, and the steam in the oven (created from the water) helps to keep the cheesecakes nice and moist and creamy.
How to Make Chocolate Cheesecake for Two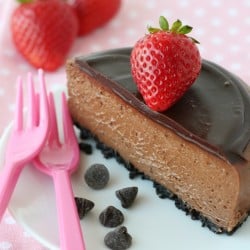 Chocolate Cheesecake for Two
Rich, creamy and simply the ultimate chocolate dessert!
Ingredients
Crust
6

chocolate sandwich cookies

I used Sprouts brand

1

tablespoon

butter
Filling
4

oz

semi-sweet chocolate chips

heaping 1/2 cup

8

oz

cream cheese

1 package

6

tablespoons

sugar

1/8

teaspoon

salt

3

tablespoons

sour cream

1/2

teaspoon

vanilla extract

1

egg
Topping
2

oz

semi-sweet chocolate chips

heaping 1/4 cup

3

tablespoons

heavy whipping cream
Instructions
Pull out all ingredients (and fully unwrap cream cheese), and allow them to sit out at room temperature while you make the crust.
Prepare the crust
Preheat oven to 375°F.

Crush the cookies in a plastic bag (no need to remove the filling), then place cookie crumbs in a small bowl.

Melt the butter in a small bowl, then pour butter into bowl of cookie crumbs and stir until evenly moist.

Divide mixture between the two cheesecake pans (if using two 4" pans) and press crumbs firmly into the bottom of the pans.  I generally use the bottom of a round spice bottle to tap down the crumbs into a nice even layer.

Bake crust in preheated oven for 8 minutes.

Reduce oven temperature to 300°F. for baking the cheesecake.
Prepare the filling
In a small bowl, heat the chocolate chips in the microwave (at 50% power) until almost melted.  Stir until fully melted and smooth, then set aside.

In the bowl of an electric mixer (using the paddle attachment), blend (room temperature) cream cheese until fully smooth.

Add sugar and salt and blend.  Add sour cream and vanilla and continue to blend.

Add melted (and cooled) chocolate and blend to combine.

Crack the egg into a small bowl and beat with a fork, then add egg to the cheesecake mixture and blend on low speed until just combined.

Do not beat the mixture too much after the egg is added or you will incorporate too much air - causing it to later puff up and deflate.

Pour filling into baked crusts.

Prepare a water bath for the cheesecakes (as pictured) by wrapping the outside of the cheesecake pans with foil, then set in a baking pan (such as a 9"x9" pan).  Pour hot water into the larger pan until the water comes to about halfway up the outsides of the cheesecake pans.

Bake at 300°F for about 45 minutes, or until the edges are set and the center is just slightly jiggly but not wet.

Turn off oven and crack the oven door, but leave cheesecakes inside oven for an additional 5-10 minutes.

Remove cheesecakes from oven and continue to cool at room temperature for 30 minutes.

Once cooled to room temperature, cover cheesecakes and move to the fridge.  Chill for at least 4 hours, or overnight.

Once the cheesecake is fully chilled, prepare chocolate topping.

Add chocolate chips to a small bowl and set aside.

Heat heavy cream until hot (but do not boil), and pour hot cream over chocolate chips.  Allow to sit 1 minute, then stir until the chocolate chips are melted and cream and chocolate is fully combined.

While the chocolate cools slightly, remove cheesecake from fridge and carefully remove outer ring of springform pan.  For best results, before loosening the lock on the outer ring, heat a small off-set spatula with hot water, then dry off and run the spatula along the inside ring of the pan to loosen cheesecake.  Then unlock the outer ring and remove.  If desired, remove cheesecake from the base as well and place on a plate.

Spoon chocolate topping onto the center of each cheesecake, spreading to almost the edge, as desired.

Return cheesecakes to the fridge and chill at least 30 minutes to allow the topping to firm up.

Remove cheesecakes from the fridge just before serving.  Slice with a sharp knife that has been run under hot water and then dried off.

Enjoy!
Notes
Use full fat cream cheese and sour cream for best results.
Feel free to use any good quality semi-sweet chocolate (bars or chips). If you do not have a kitchen scale, the measurements of "heaping 1/2 cup" or "heaping 1/4 cup" mean to fill the measuring cup until it's mounded on top.
I used two 4" springform pans for this recipe. As an alternative you could use one 6" springform pan. For a 6" pan you may need to increase the baking time a bit (likely 5-10 minutes additional).
Feel free to divide the cheesecakes into your desired serving size. I think an appropriate serving would likely be 1/2 or 1/3 of a cheesecake.
Nutrition
Calories:
447
kcal
Carbohydrates:
37
g
Protein:
6
g
Fat:
31
g
Saturated Fat:
17
g
Cholesterol:
84
mg
Sodium:
249
mg
Potassium:
257
mg
Fiber:
3
g
Sugar:
29
g
Vitamin A:
704
IU
Calcium:
76
mg
Iron:
3
mg
PIN IT NOW to save for later!

Wishing you lots of love and chocolate this Valentine's Day… and everyday!
Disclosure – I created this recipe in partnership with Sprouts Farmers Market. Partnering with brands I love allows me to provide you with high quality content at no cost to you. I only work with brands I use and love. All images, text and opinions are my own.