Candy Cane Hearts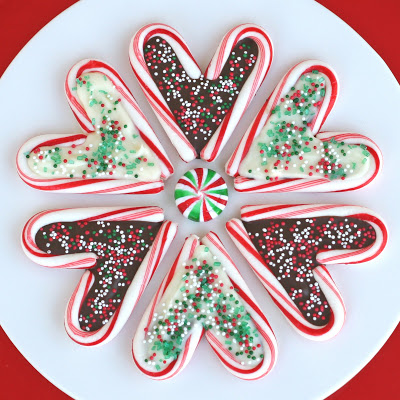 These cute Candy Cane Hearts are one of my favorite simple Christmas treats!  They're a perfect addition to a plate of Christmas cookies, and so simple they are a project the kids can help with too.  These Candy Cane Hearts make cute little gifts or classroom treats!
You'll need…
A box of mini candy canes (see "note" below)
White Chocolate, Vanilla Candiquick or similar
Semi-sweet Chocolate, Chocolate Candiquick or similar
Sprinkles
~Directions ~
1.  Place waxed paper or a Silpat
type liner on a baking sheet.
2.  Lay two mini candy canes next to each other, creating a heart.  Continue filling the baking sheet with heart shapes.
3.  Melt the white and semi-sweet chocolates (in separate bowls), using short intervals in the microwave, or in a double boiler.
4.  When the chocolates are melted, spoon or pour into a piping bag or thicker ziplock type bag. Cut off a tiny tip from the bag, and begin filling in the heart shapes with chocolate.  I like to use both flavors of chocolate for each heart.  So if I do a layer of white chocolate first, then after it cools a bit, I add a layer of semi-sweet chocolate on top.
5.  After adding both layers of chocolate, top with sprinkles of your choice.
6.  Set the baking sheet (of chocolate filled hearts) in a cool place (for me this is on top of the washer in the garage) while the chocolate cools. Once cool, remove hearts from baking sheet and store in an airtight container.
NOTE-  I have found that the candy canes that work best for this project are ones with a dull finish (not shiny).  It seems candy canes with a shiny surface tend to get sticky after a day or two.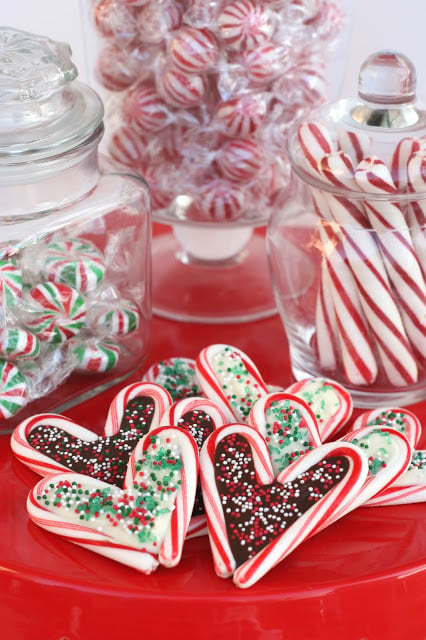 Enjoy!