Samoa Cupcakes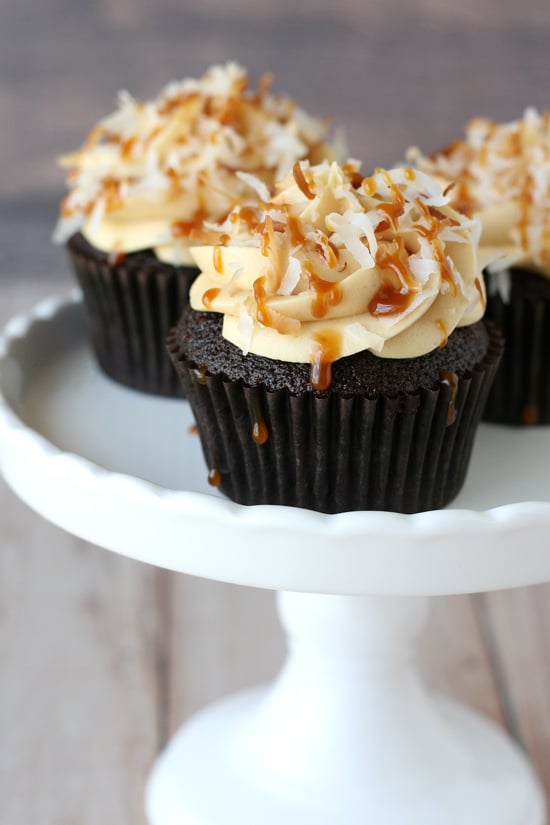 Chocolate, caramel and coconut… these Samoa Cupcakes have all of my favorite flavors in one amazing cupcake!
Inspired by Girl Scout Samoa cookies, these cupcakes start with my favorite chocolate cupcake recipe, then are topped with salted caramel frosting, toasted coconut and a finishing drizzle of caramel.
I shared these cupcakes a few families at (my girls) school and I'm pretty sure I've sealed our friendship for life!  =)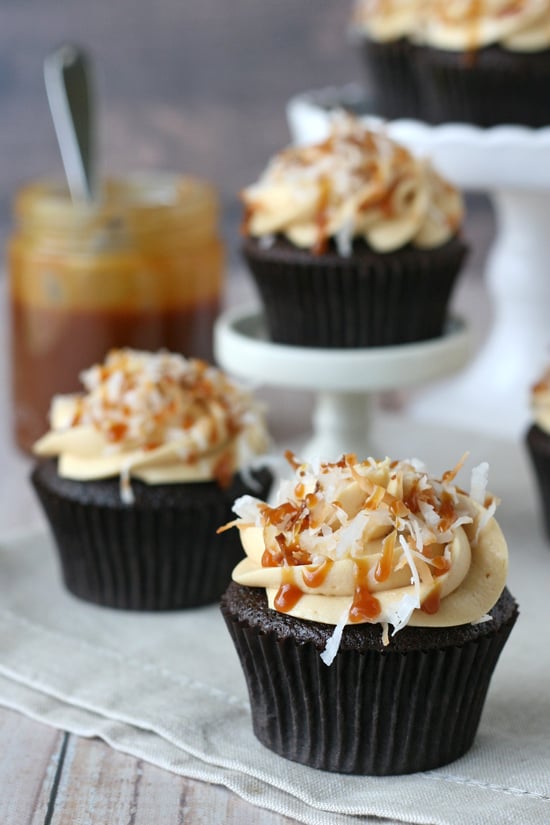 These Samoa Cupcakes start with my favorite Chocolate Cupcake Recipe <– click for recipe
Top the cupcakes with Salted Caramel Frosting (recipe below), and then finish with toasted coconut.
To toast the coconut, spread about 1 and 1/2 cups sweetened, shredded coconut onto a baking sheet and bake in a 350* oven for 3-8 minutes.  Check after 3 minutes and stir, then check (and stir if needed) about every minute after.  The coconut can burn very quickly, watch it closely!
Garnish the finished cupcakes with a drizzle of salted caramel.  I used Trader Joe's Salted Caramel Sauce (labeled Fleur de Sel Caramel Sauce) in the recipe and for the drizzle and it's my favorite store bought caramel ever!  Feel free to make your own caramel sauce (I have a delicious recipe in my book), or choose a high quality brand of your choice.  It's important to chose a salted caramel sauce (or add a bit of good quality sea salt), or the recipe will be overpoweringly sweet.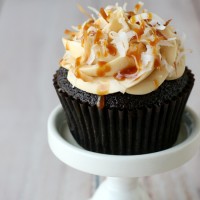 Salted Caramel Buttercream
Yield: Frosting for 24+ cupcakes or an 8"-9" (two layer) cake
This amazing frosting is perfect for chocolate cupcakes... or simply by the spoonful!
Ingredients:
1 cup (2 sticks) Challenge unsalted butter
4 oz. (1/2 block) Challenge cream cheese
1/2 cup good quality salted caramel sauce
1 teaspoon vanilla extract
4 cups powdered sugar
Directions:
1. Allow butter to set out at room temperature about 15 minutes (you can gather your other ingredients in the mean time).
2. In the bowl of an electric mixer, beat butter until smooth.
3. Add cream cheese and continue to beat until fully smooth and well incorporated.
4. While slowly mixing, pour in caramel sauce (should not be warm).
5. Add vanilla.
6. Continue slowly mixing and add powdered sugar, one cup at a time, allowing the sugar to blend a bit before adding each additional cup.
7. Scrap down the sides of the bowl and then blend the frosting an additional 30 seconds or so. The frosting should be fluffy, and all ingredients fully incorporated.
8. Frost cupcakes or cake.
Notes - I used Challenge brand butter and cream cheese, but feel free to use a quality brand of your choice.
I used Trader Joe's Salted Caramel sauce, feel free to use homemade salted caramel sauce, or a good quality brand of your choice.
In warm weather, you may need to put the frosting in the fridge for 15 minutes or more to firm up a bit before piping onto cupcakes.
Recipe source - Glorious Treats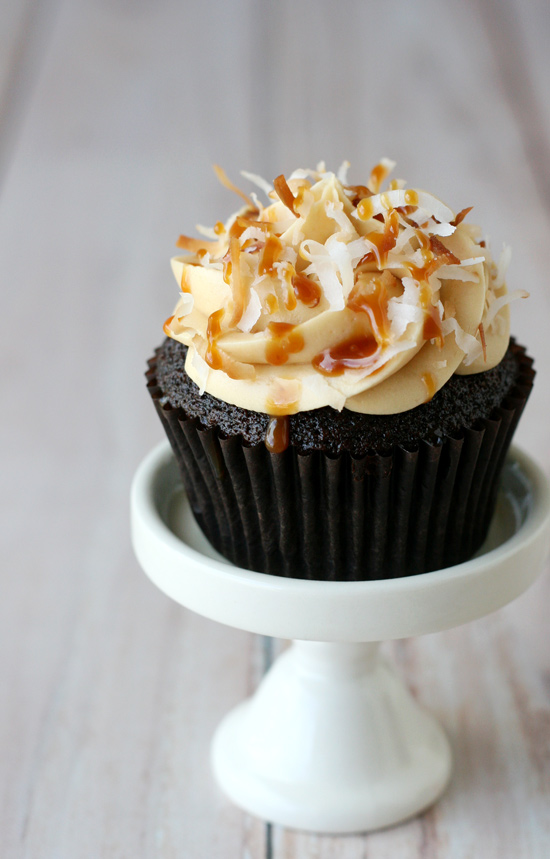 These Samoa Cupcakes are simply amazing!  My husband has already requested I make another batch of these for him to share at work.  I'll be happy to fulfill that request… and I'll be sure to keep one (or two) aside for myself!  =)
Love caramel?
Here are a few more recipes for caramel lovers…
Salted Caramel & Chocolate Truffle Tart