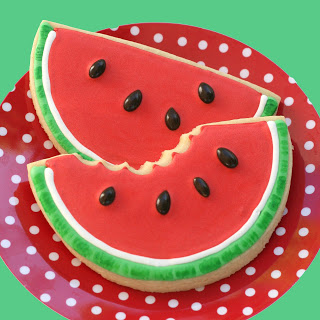 With Memorial Day just around the corner, I though some watermelon shaped cookies could be a perfect kick-off for summer!  This simple design would be the perfect addition to any BBQ or summer picnic.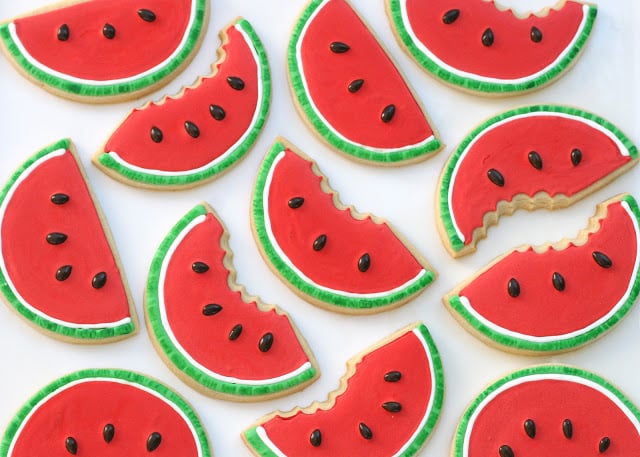 ~ How to decorate Watermelon Cookies ~
Prepare cookie dough, using my Perfect Sugar Cookie Recipe.
Roll out the dough and cut out circle shapes using a large circle cutter.  Cut circles in half, using a knife.

1.- 2.  For watermelon slices with the "bitten" look, once you have your half circle, use a cutter with a scalloped edge of some kind (I used a scalloped heart) to cut out a "bite"
*Now bake your cookies, and prepare royal icing using my Royal Icing Recipe & Instructions.
For these cookies I prepared 1 bag of medium consistency green- with a #3 sized tip, one bag of medium consistency white- with a number #2 tip, one bag of stiff/outline consistency red icing- with a #1.5 or #2 tip, and one bag of flood consistency in red- with a #2 tip.

3.  Once your cookies are baked and cooled (this can be done a day, or a couple days before you decorate), follow the curved edge of the cookie with green icing.
4.  In this photo I added some darker coloring to the green 'rind', by mixing some green gel food coloring and clear alcohol (clear vanilla extract, or vodka), and applying some color using a paint brush.  If you plan to do this step, the green icing needs to be dry (this may take 2-4 hours).  If you don't care to add the extra coloring to the rind, continue on as shown below.
5.  When the green 'rind' icing has set a bit (30 minutes), add a line of white icing.
6.  When the white line has set (again, about 30 minutes), outline the 'fruit' edge with red (stiff consistency) icing.

7.  Fill in each watermelon slice with red (flood consistency) icing.
8.  While the red icing is still wet, I added some (dark brown) chocolate covered sunflower seeds.  If you can't find these, you could wait until the red dries a bit, and add the look of "seeds" using black icing.  You could also wait until the red icing if fully dry (about 12 hours), and use a black food marker to add the "seeds".
Then sit back and enjoy a slice of summer!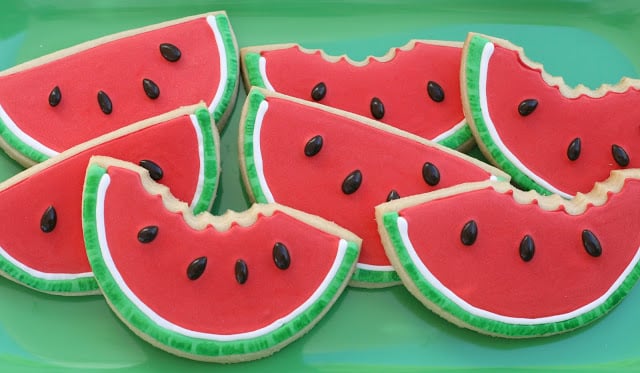 Happy baking!