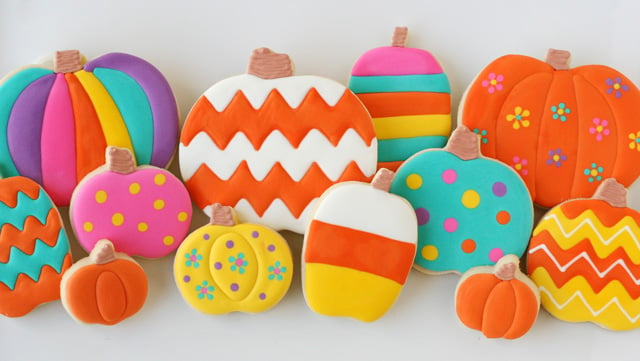 This year, as I've been gathering ideas for fall decorating and crafts, I keep coming across pretty painted pumpkin (including these and these) that are a fresh and fun take on traditional Jack-O-Lanterns.
My daughters and I recently painted a few pumpkins for our front porch, and I thought the same fun colors and inspiration could be used on cookies as well.  Fall cookie decorating can sometimes feel limited to oranges, yellows, and browns, so it was fun to mix up bright, non-traditional colors.  I included the ever so popular chevron pattern, stripes, and polka-dots, and had fun mixing the colors and patterns.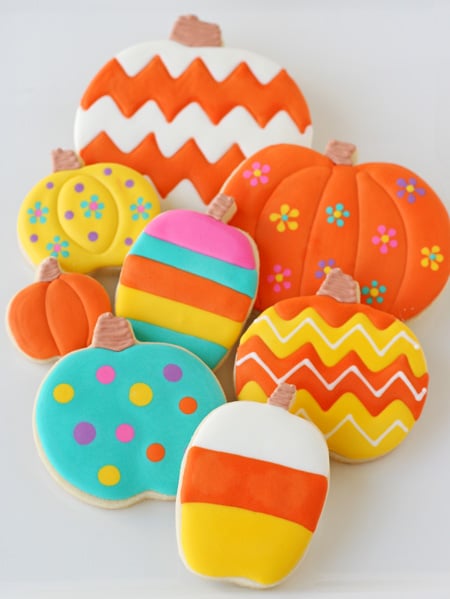 Want to make your own colorful pumpkin cookies?
You'll need a batch of cookies made with my Sugar Cookie Recipe (or your favorite).
Then, prepare a batch of Royal Icing.
For the chevron pattern (shown below), I made a template with cardstock, and traced the pattern onto cookies using a food coloring pen.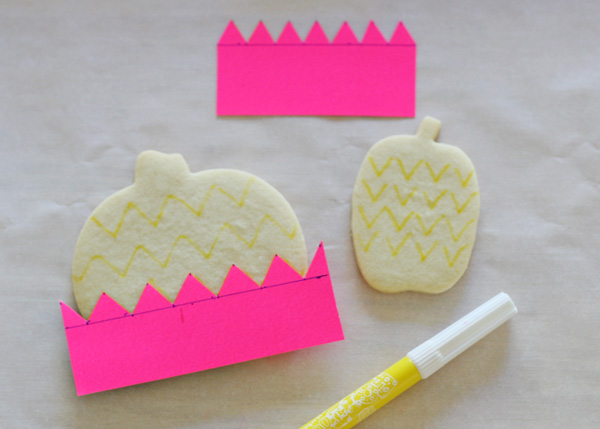 The only other tip to consider, is for cookies with stripes of various colors… outline and fill every other space, and allow that to set up a bit (about 1 hour) before adding the adjoining color.  This will add a bit of dimension to the cookies, as well as help prevent the colors from bleeding together.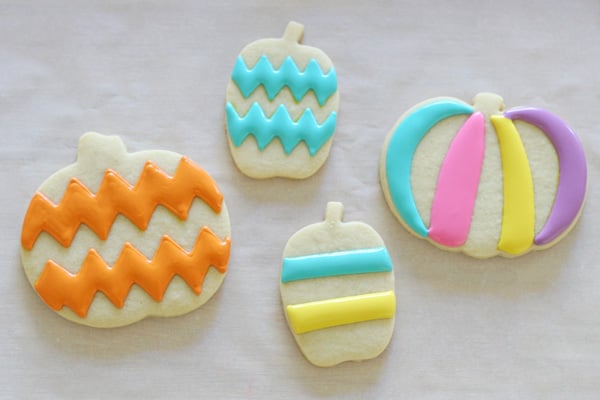 Have fun mixing colors and patterns to create a playful set!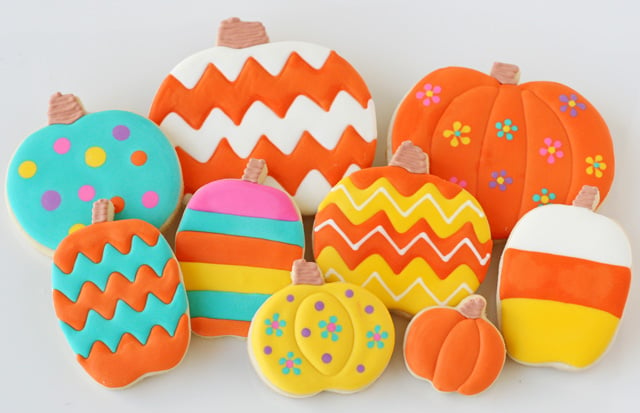 Now, if these wild pumpkins are quite your style…. my friend Callye of Sweet Sugar Belle has compiled a collection of over 20 different ideas, all using a pumpkin cookie cutter!  Each one is made by a different baker, and the full collection is bound to get your creative juices flowing!
Here is the amazing collection of ideas…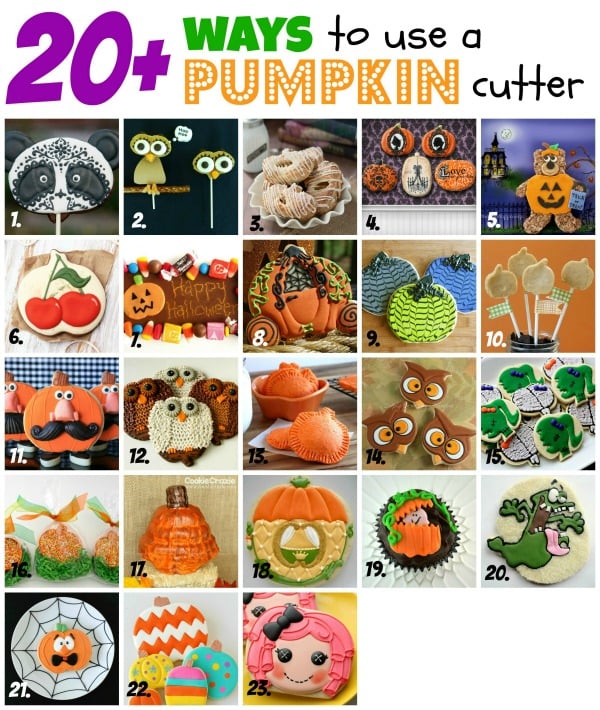 Here are links to each of the fun projects shown above…
2.      Owl S'mores on a Stick, Kitchen Fun with my Three Sons
3.      Pumpkin Cheesecake Pasties, Bakingdom
4.      Halloween Pumpkin Wall, Arty McGoo
5.      Cocoa Krispies Trick or Treat Bears, Hungry Happenings
6.      Creative Cherry Cookies, Lila Loa
7.      The Ultimate Halloween Candy Bar, Dollhouse Bake Shoppe
8.      Halloween Pumpkin Carriage Cookie, Trilogy Edibles
9.      Easy Cheveron Pumpkin Cookies, Lizy B Bakes
10.  Pumpkin Fudge on a Stick, The Decorated Cookie
11.  Funny Face Pumpkin Cookies, Munchkin Munchies
12.  Woodland Owl Cookies, The Bearfoot Baker
13.  Pumpkin Cheesecake Hand Pies, Created by Diane
14.  Wide Eyed Owl Cookies, Simply Sweets by Honeybee
15.  Zombie Girl and Brains Cookies, Not Your Momma's Cookies
16.  Cookie Cutter Pumpkin Fudge, The Partiologist
17.  3-D Pumpkin Cookie, Cookie Crazie
18.  Faberge-Style Pumpkin Coach, Oh, Sugar Events
19.  Peek-a-Boo Pumpkin Cupcake Topper, Sweetology 101
20.  Slimy Green Ghost Cookies, Pink Little Cake
21.  Silly Pumpkin Face Cookies, Klickitat Street
22.  Pretty Painted Pumpkin Cookies, Glorious Treats (you're already here!)
23.  Lalaloopsie Cookies with a Twist, SweetSugarBelle
Happy fall baking!