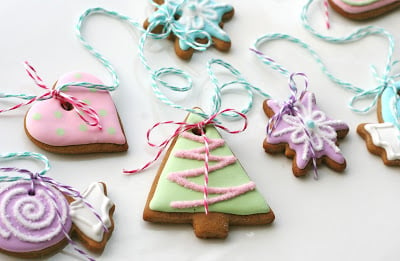 Oh how I love Gingerbread at Christmas!  This Sweet Gingerbread Garland is a fun way to enjoy the look and scent of gingerbread all though the holidays!
This past weekend I got together with two girlfriends for an early Christmas visit.  Both friends live out of town, but each year we make every effort to get together around Christmas.  The three of us have been friends since high school, which means we've been friends for… well, quite a few years!  All three of us are "crafty", and we often exchange homemade gifts.  In fact, without previously discussing it, this year all three of us made homemade gifts for each other.  One friend, Cecilia, made some adorable holiday hand towels and a beautiful ribbon pin.  Our friend Esther did some canning and gave us each a beautiful jar of applesauce and a jar of green chili verde sauce.  My gift to each of them was something I baked… shocking, right?  Although the treats I baked are perfectly edible, they were not made to be eaten, but to decorate with!
Here is the "sweet" garland I made for each of my friends…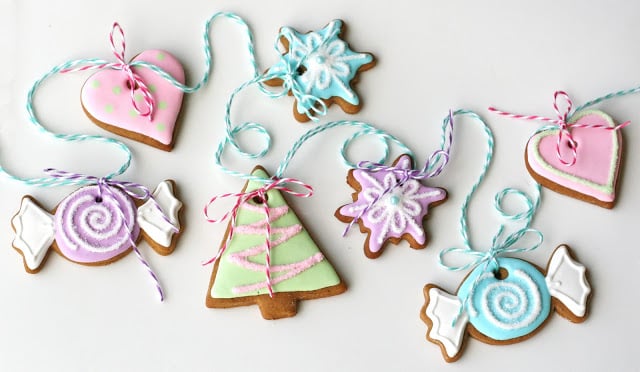 Here is one hanging across my kitchen window…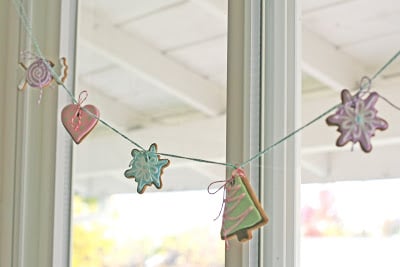 I also made a set of matching ornaments…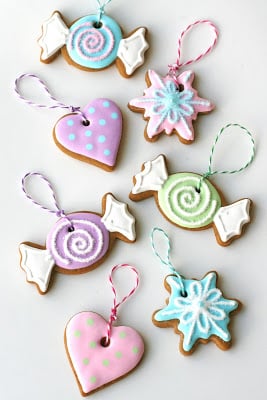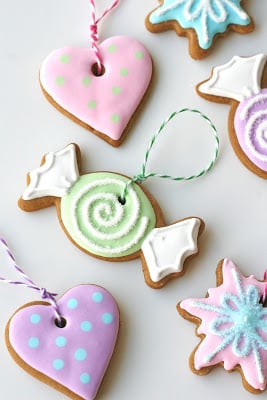 Pretty cute, if I say so myself!  And since they are made with real gingerbread cookie dough they smell great too!
Would you like to make some ornaments or a garland too?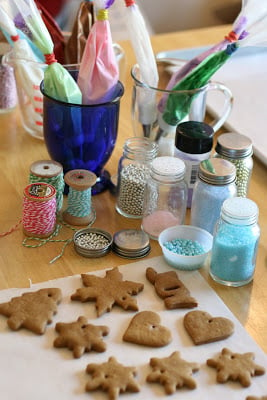 You'll need…
Gingerbread cookies (my recipe HERE)
Royal icing (my recipe HERE)
Ribbon or twine (I used twine from The Twinery)
~ Directions ~
Make a batch gingerbread cookies.  Roll the dough a bit thinner than you would for a regular cookie, so the ornament  is not too heavy.  Before baking the dough, use a wooden skewer to make a hole in the cookie (for the string).  Bake the cookies slightly longer than you would for cookie you'd eat, you don't want these to be soft.
Once baked and cooled, decorate as desired with royal icing.
Let the icing dry completely (about 24 hours), and string some ribbon or twine through the hole in the cookie (you may need to poke the hole open with a toothpick).
Note- These ornaments (or garland) can last several years, just make sure to wrap them up gently and store in a large ziplock type bag so they don't attract any little critters.