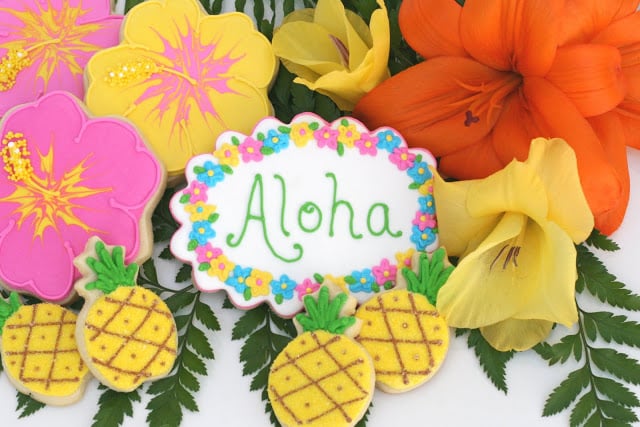 Oh what fun it is to have friends who love to party!
My family has been so blessed by the friendship of a wonderful husband and wife (the Langes) for about 7 years.  When we met them we had no idea that friendship with Langes also means being on the invite list for several wonderful parties throughout the year.  One of the yearly parties the Langes host is a huge, summer luau party.  The party includes about 80 guests, a DJ, lots of yummy food, drinks from their very own slushy machine, and luau decorations galore inside and out.  The party makes use of an incredibly beautiful yard that that Langes have created on their hill-side lot.  The past couple years I've had the joy of creating desserts for the party.  Here are the desserts I made and set up for the Lange Luau 2010!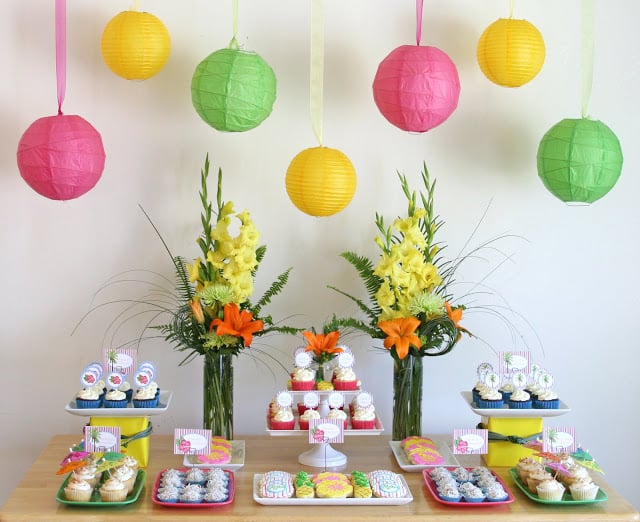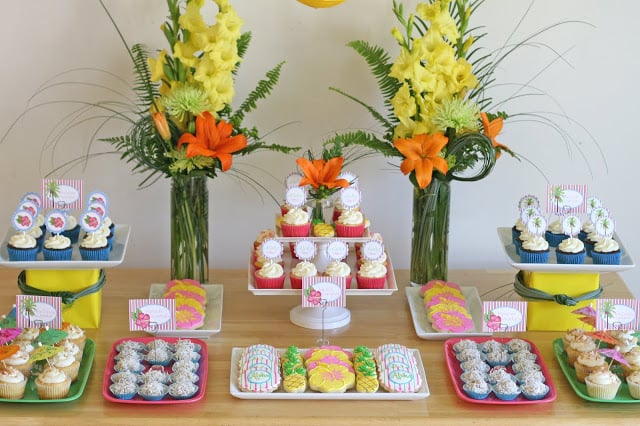 ~The desserts~
Chocolate Cupcakes with Vanilla Frosting
Vanilla Cupcakes with Vanilla Frosting
Several styles of hand decorated sugar cookies (cookie recipe HERE, royal icing recipe HERE).
I also made two custom flower arrangements for the display.  I always enjoy any opportunity use my "old" floral design skills (I worked as a floral designer for 8 years).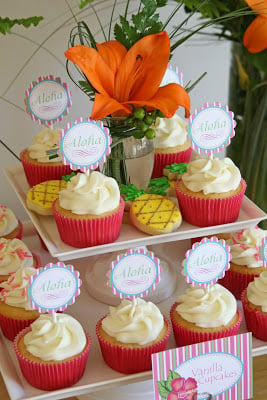 I contacted Littlebeane Boutique to get some custom printables for the party.  I was so pleased with the beautiful food labels (in two styles) and cupcake toppers (in three styles).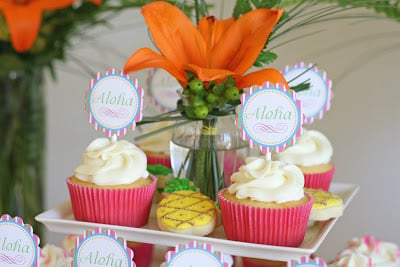 I even used the design from one of the styles of cupcake toppers (above) for my cookies (below).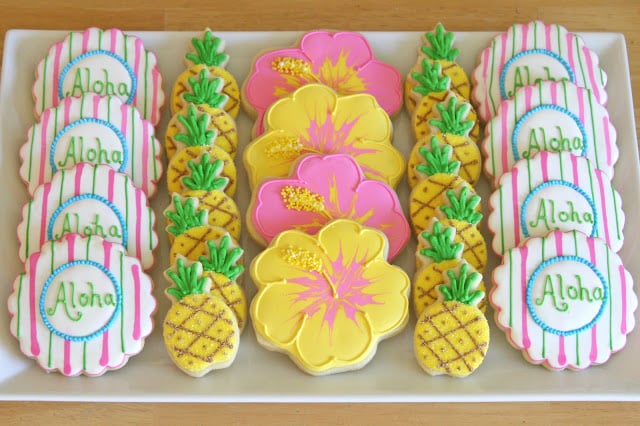 I have step by step decorating tutorials posted for the Hibiscus Cookies and Pineapple Cookies.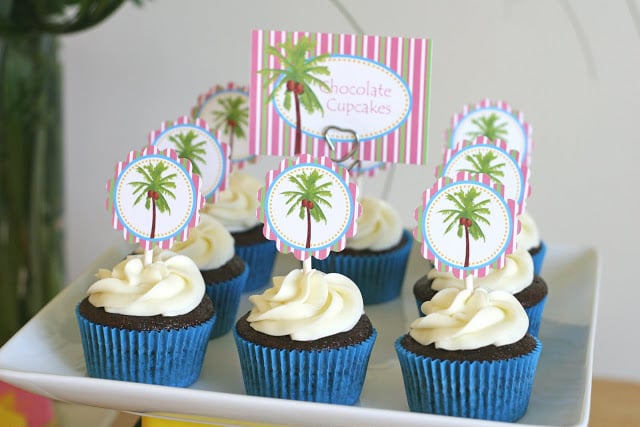 More yummy food with beautiful labels by Littlebeane Boutique.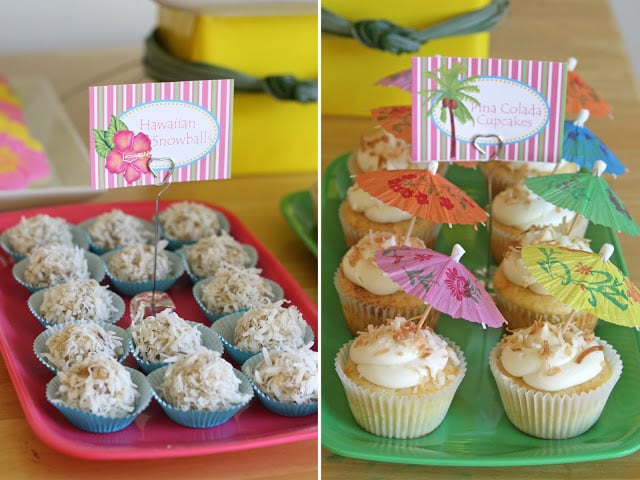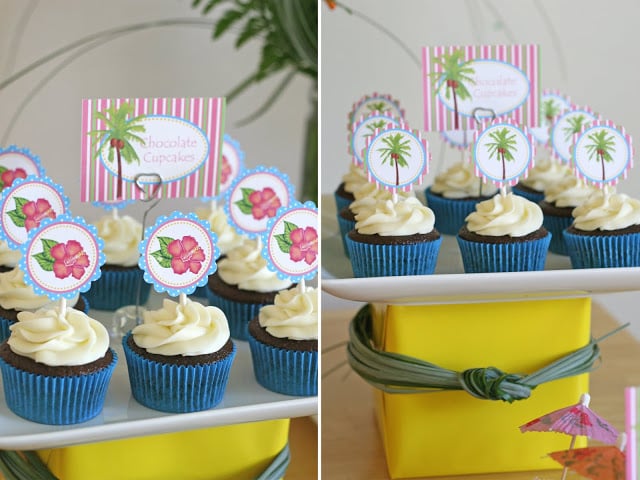 To add height to the table, I used some boxes (that I've used several times before) covered in wrapping paper, with plates on top.  To add an additional Luau detail, I tied bear grass in a knot and wrapped in around the boxes.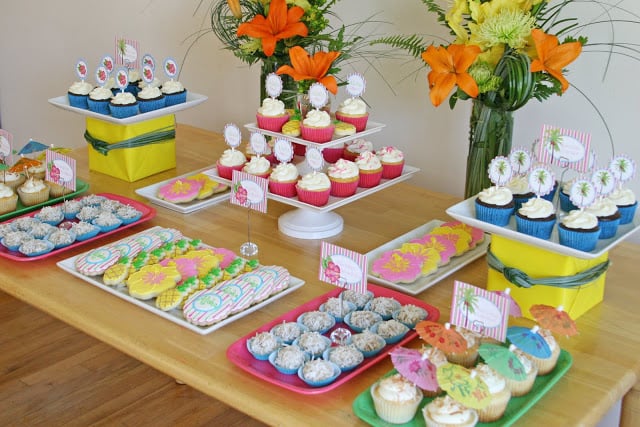 As I mentioned at the beginning of the post, the Langes have an incredibly gorgeous yard.   Their yard was professionally photographed recently by Rob Vomond.  He has graciously given his permission for me to share a few of his images.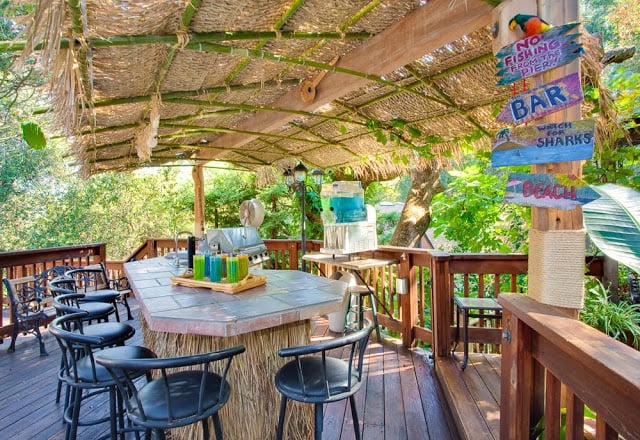 (Above) The beautiful outdoor bar, notice the slushy machine behind the bar!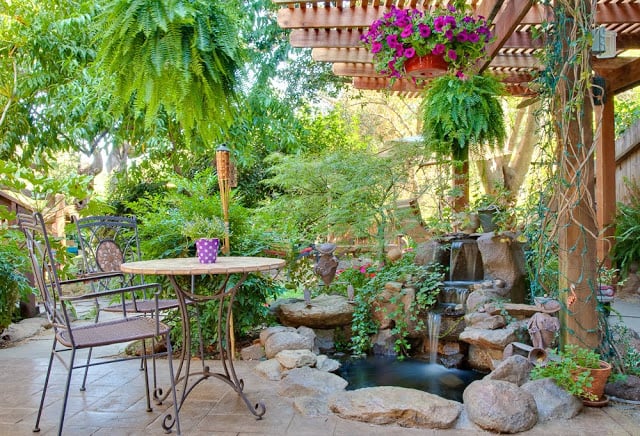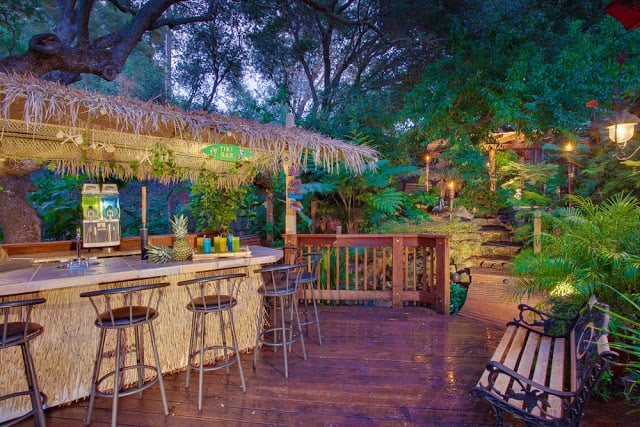 ~All the details~
Desserts, flower arrangements and photos of desserts by me (Glory Albin/ Glorious Treats)
Beautiful yard photos by Rob Vomund.
Party printables (food labels and cupacke toppers) by Littlebeane Boutique.
Paper lanterns (hanging above the dessert table) from Luna Bazaar.
Scallopped "Aloha" cookie at the top of the post was made with a beautiful cookie cutter from Copper Gifts.