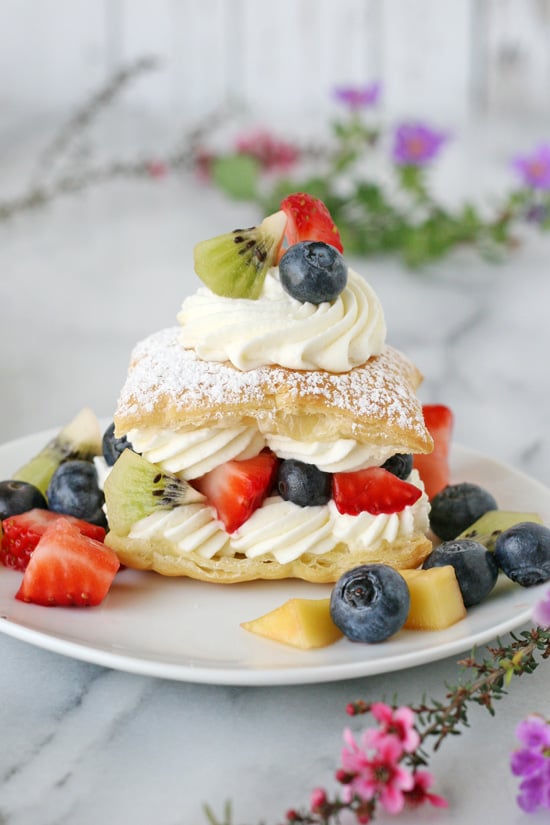 Is there anything more beautiful than fresh fruit? How about fresh fruit with gorgeous lemon cream and a flaky pastry? Now we're talking!
These Lemon Cream Puffs with Fresh Fruit are a beautiful and delicious spring or summer treat!
Wouldn't these be gorgeous for an Easter brunch, a shower, tea party, or a summer dessert?
And one of the best things about this dessert is that it's quite easy to make! With just a few ingredients you can create an impressive treat!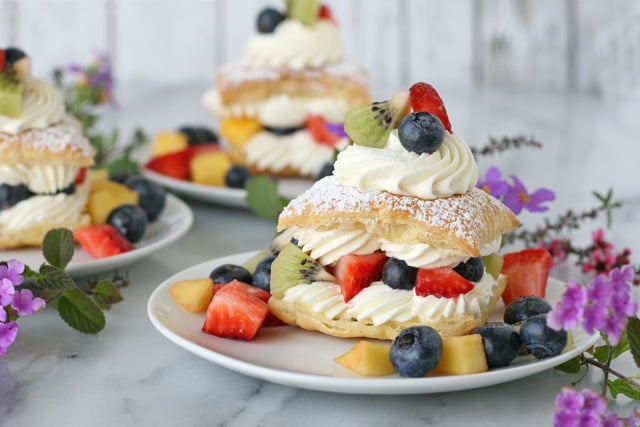 The recipe starts with Pepperidge Farm Puff Pastry. I've been having fun working with Pepperidge Farm Puff Pastry for the past several months and have truly found that the options with Puff Pastry are endless!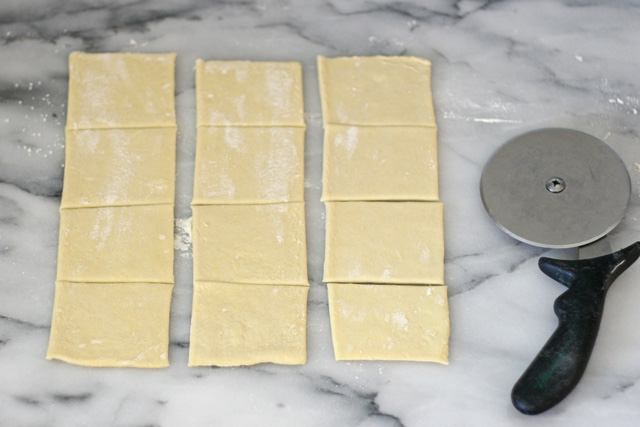 Thaw one sheet of Puff Pastry according to the package directions. Gently unfold onto a lightly floured surface, then use a pizza cutter to cut along the fold lines, then cut each third into four smaller rectangles.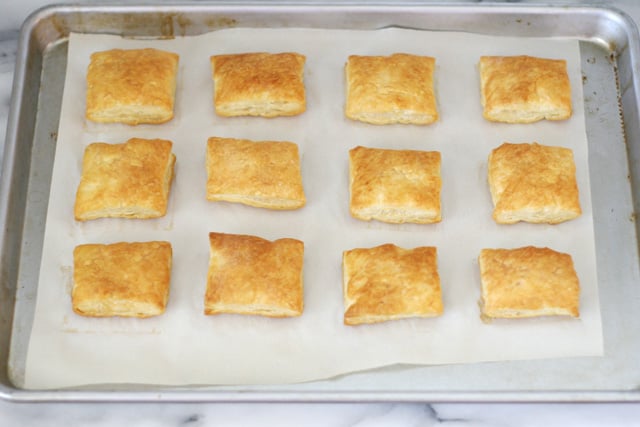 Bake 12-14 minutes until puffy and medium golden brown.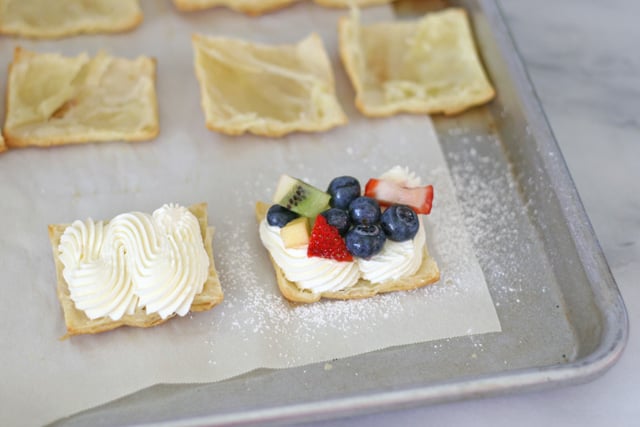 Fill pastry with lemon cream (recipe below) and fresh fruit.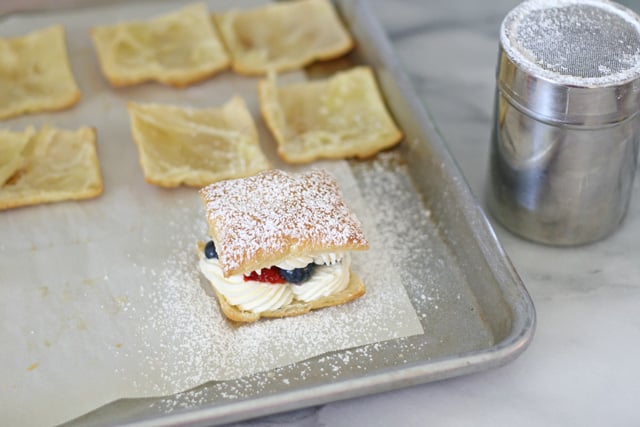 Top with powdered sugar and garnish with additional fruit, as desired.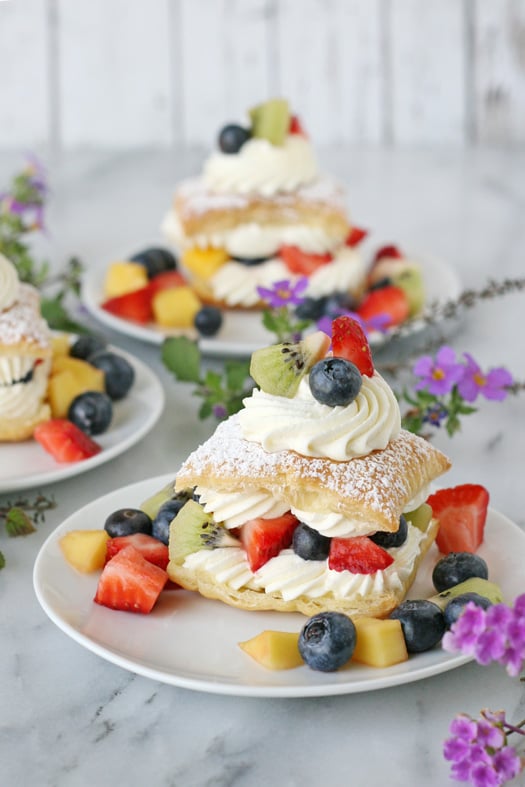 How to Make Lemon Cream Puffs with Fresh Fruit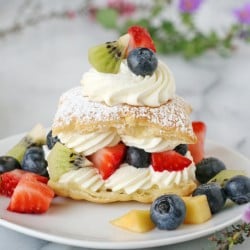 Lemon Cream Puffs with Fresh Fruit
This beautiful and delicious dessert is quite simple to prepare and perfect for a spring or summer treat!
Instructions
Thaw Puff Pastry sheet according to package directions.

Gently unfold pastry onto a lightly floured surface.

Use a pizza cutter to cut the pastry into 12 small rectangles (As pictured above- first cut along fold lines, then each third should be cut in half, then half again).

Bake pastry on a baking sheet lined with parchment paper (or a lightly greased baking sheet).

Bake 12-14 minutes (check after 10 minutes).

Bake until puffy and medium golden brown.

Allow to cool.

While the pastry bakes, prepare fruit by cutting into small pieces, then mixing together in a bowl. Set aside.

Prepare lemon cream by whipping the heavy whipping cream (using and electric mixer) until it begins to thicken.

Add vanilla and powdered sugar, and continue to beat until thick and fluffy.

With the mixer on low, add the lemon curd, one tablespoon at a time. Stop mixing as soon as the lemon curd is incorporated.
Assembly
Using a serrated knife, cut open each baked pastry (horizontally).

Fill a piping bag (or a ziplock bag with a corner cut off) with the lemon cream and pipe some cream onto both the top and bottom piece of pastry.

Add fruit to the bottom piece (as shown), and then add the top piece, creating a sandwich.

Sprinkle dessert with powdered sugar.

If desired, pipe a small dollop of cream on top and add a few additional pieces of fruit.

Serve immediately, or keep the assembled desserts in the refrigerator up to 2 hours.
Notes
The elements of this dessert (the pastry, fruit and cream) can be prepared ahead of time (several hours) and then the final assembly can be done shortly before serving.
Nutrition
Calories:
248
kcal
Carbohydrates:
17
g
Protein:
2
g
Fat:
19
g
Saturated Fat:
9
g
Cholesterol:
41
mg
Sodium:
77
mg
Potassium:
35
mg
Fiber:
1
g
Sugar:
7
g
Vitamin A:
437
IU
Vitamin C:
1
mg
Calcium:
21
mg
Iron:
1
mg
I created this recipe as part of my ongoing work for Pepperidge Farm Puff Pastry as a member of their "Puff is Spark" panel.
For the past several months I've been sharing recipe using Puff Pastry and asking you to share your recipe ideas too. Each month I've chosen a "top pick" from the recipe suggestions. Those "top picks" were submitted to Pepperidge Farm and they chose the grand prize winner who will join me next month for a day at the Pepperidge Farm Innovation Center in Connecticut.
The grand prize winner is… Bethany Gist!! Congratulations Bethany! I'm looking forward to spending the day with you next month!
Please continue to share your own original Puff Pastry recipes and/or twists on existing dishes via PuffPastry.com or Pepperidge Farm Puff Pastry Facebook page, and/or by tagging the brand (#PepperidgeFarm) in any Instagram photos.