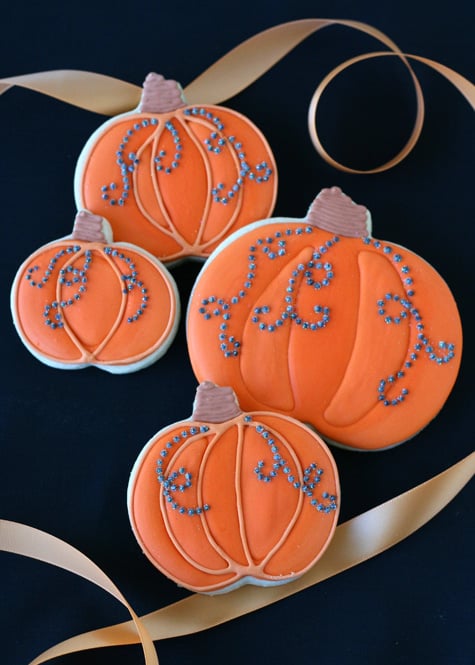 As we head toward the weekend I'll leave you with one final Halloween cookie idea.
Last year I made some pretty Jeweled Pumpkins for decorations, and this year I thought it would be fun to turn them into cookies!
If you'd like to make some cookies like these you'll need…
A batch of cookies made from my Sugar Cookie Recipe, and a batch of Royal Icing.
Prepare one bag of orange icing in a medium/flood consistency.  One bag of brown, thick/piping consistency icing, and one bag of black, thick/piping consistency icing.
Outline and flood segments of the pumpkins with orange, doing every other segment first.  After those areas have set (about 1 hour), come back in and flood the other segments (as I did with THESE pumpkins and is shown step by step on Sweet Sugar Belle).
Add the pumpkin stem with brown icing, using a zig-zag to create some texture.
When the pumpkins are totally dry (about 8 hours), add black dots in a swirl pattern (of your choice).  While the black icing is still wet, sprinkle with disco dust (as shown) or white sanding sugar.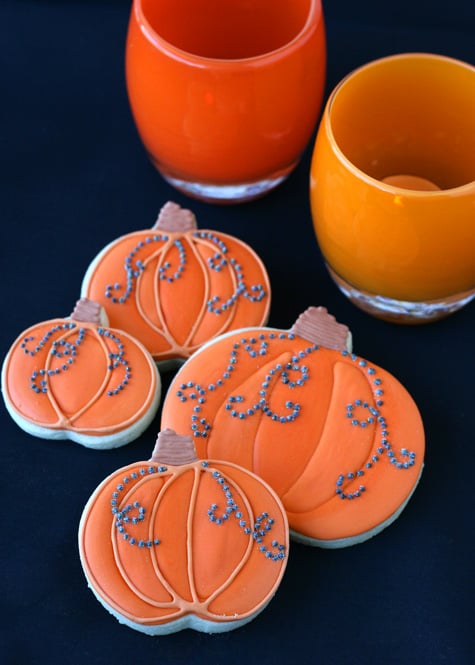 Prop note- Orange candle holders from glassybaby.
For more fall and Halloween baking and craft ideas, easily browse my Halloween posts and Fall posts.