Hydrangea Cupcakes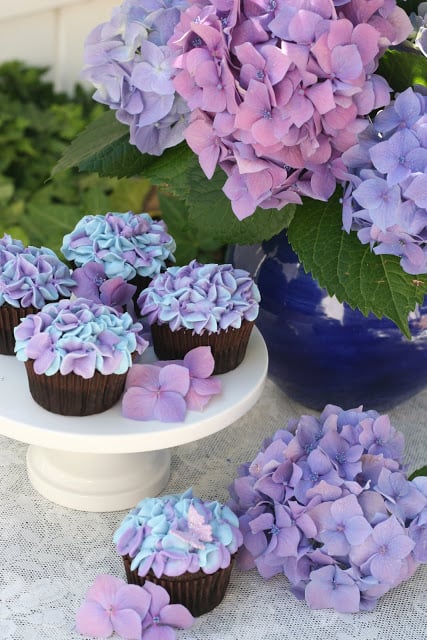 Hydrangea bushes are in full bloom all over my neighborhood right now.  I love all varieties of hydrangeas, but my favorite is this traditional shaped, blue-purple color.  I picked a few this weekend and brought them inside as inspiration for cupcakes.  I've seen cupcakes that resembled hydrangea flowers before, but I've never given it a try.  It was much easier than I'd imagined and I was very happy with the results!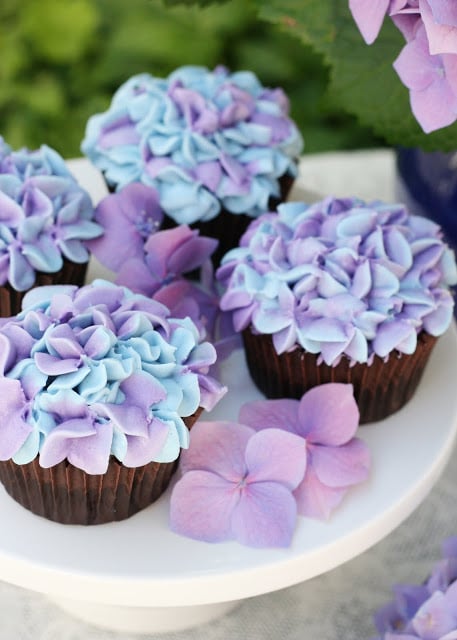 Hydrangea Cupcakes
~ Directions ~
I made a batch of my favorite chocolate cupcakes and delicious vanilla cream cheese frosting.  Then I colored half of the frosting blue, and half purple (mixing a few shades of blues and purples to get a good color match to the real hydrangeas).  When making the frosting, use very little cream (less than 1 tablespoon), because the coloring will add some liquid, and you need the frosting to be pretty stiff to hold a nice shape.
If you'd like to match other hydrangeas, you could certainly use other color options, like light blue and medium blue, or two shades of pink.  But I do think that frosting these with two colors (instead of just one) really added to the effect.
I filled my piping bag with the two colors of frosting, side by side.  Once your bag is filled (1/2 to 2/3 full), you may want to just squeeze some frosting into a bowl, until you see both colors coming out.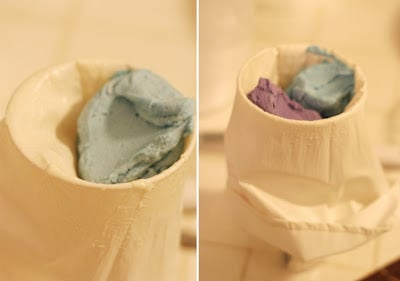 Then, using a Wilton 2D tip (a large closed star tip), I piped large, loose star shapes around the edge of the cupcake, and then filled in the center.  If the frosting starts getting too soft (no longer holds a nice shape), then put the whole bag of frosting in the fridge for 15-20 minutes to let the frosting to firm up a bit.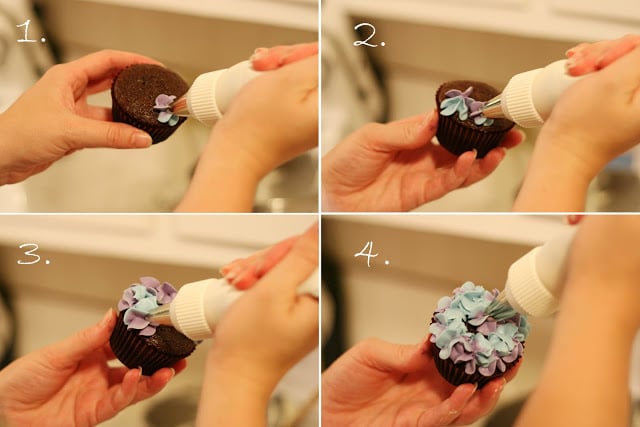 Now I want to plan a pretty tea party just so I can make these again!