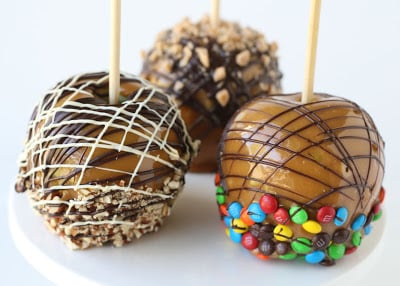 Few desserts are more closely associated with fall than caramel apples.  Tart, crisp apples and sweet, chewy caramel make such a delicious pair!  These classic fall treats are quite easy to make, and yield impressive results.  Dress up your caramel apples with chocolate, nuts, or small candies to create an extra beautiful and decadent dessert.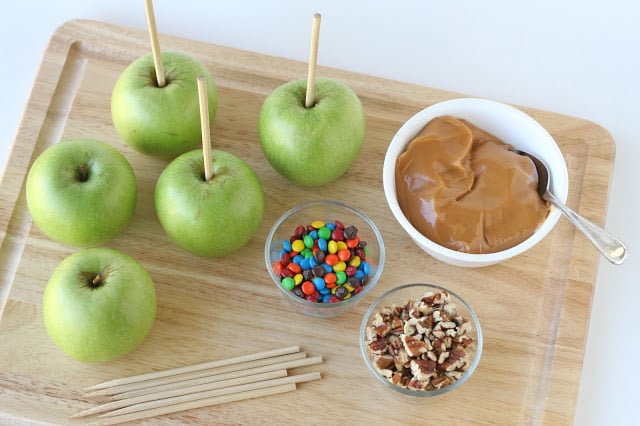 ~ How to make gourmet caramel apples ~
You'll need…
Apples (most commonly, Granny Smith)
Wooden apple sticks (available at the craft store or grocery store)
Caramel*
Toppings such as chocolate (milk, dark or white), nuts, toffee bits, mini M&M;'s, or sprinkles.
*For the caramel you can use individually wrapped store-bought caramels such as Brach's or Kraft.   I used a large block of Peter's Caramel which allows you to skip all the unwrapping.
Directions ~
1. Wash and dry apples. If you can use organic apples that is best. Traditional (non-organic) apples are coated with wax, which can make it hard for the caramel to stick to the apple. If your apples are waxed, dip apples in very hot water for just a few seconds, then rub off the wax the best you can.
2. Melt caramel in the top of a double boiler or melt caramel in a large, microwave-safe bowl, in short intervals, stirring occasionally.
3. While the caramel is melting, push wooden apple sticks into the apples.
4. Holding the stick, dip apples (one at a time) into the melted caramel. Allow excess caramel to drip off.
5. Set freshly dipped apple on a parchment-lined (or Silpat lined) baking sheet. After you dip a few apples, put freshly dipped apples in the refrigerator to help the caramel cool quickly.
Options~
If you'd like to dip your apple in nuts, mini chocolate chips, etc. do that before setting the apple onto the parchment.
Additionally, after the caramel apples have set up a bit, melt white, milk or dark chocolate and drizzle it on top of the apples. You may also top the chocolate with nuts or toffee bits or sprinkles.
Caramel apples are usually best the day they are made, but may be stored in the refrigerator up to two days.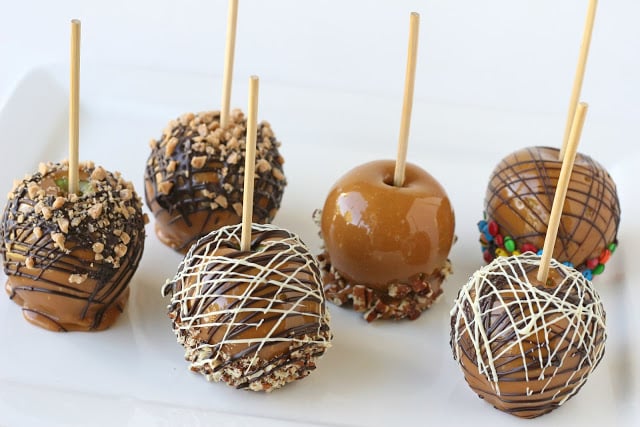 When you're ready to enjoy your apples, I find they're easiest to eat when cut into slices.  Make four cuts (each all the way across the apple), creating a square core (as shown below).  Eat and enjoy!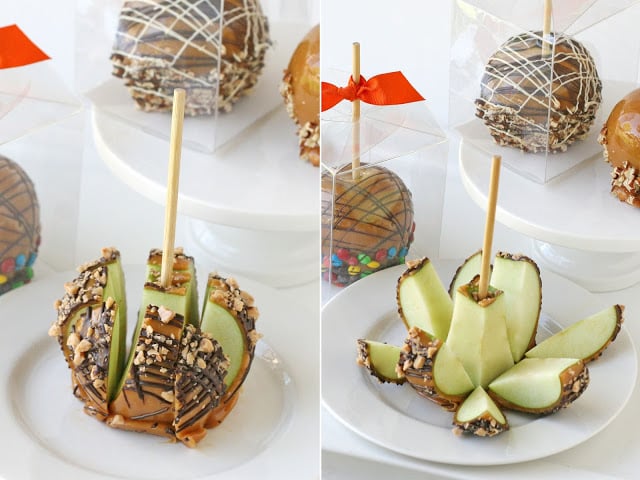 For gift giving, I found some boxes from Confectionery House just for caramel apples!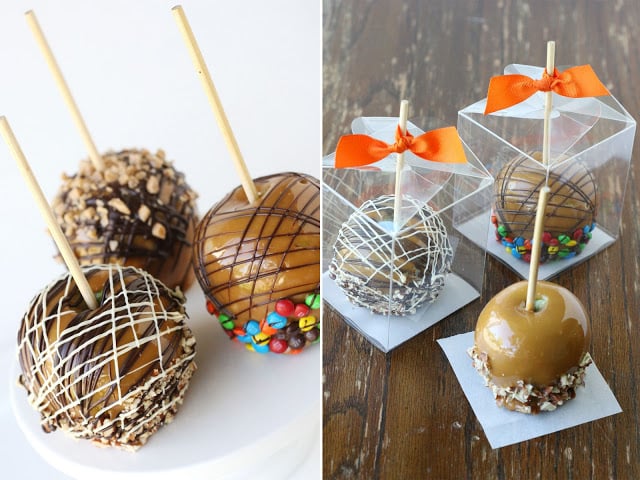 Have a delicious Fall!