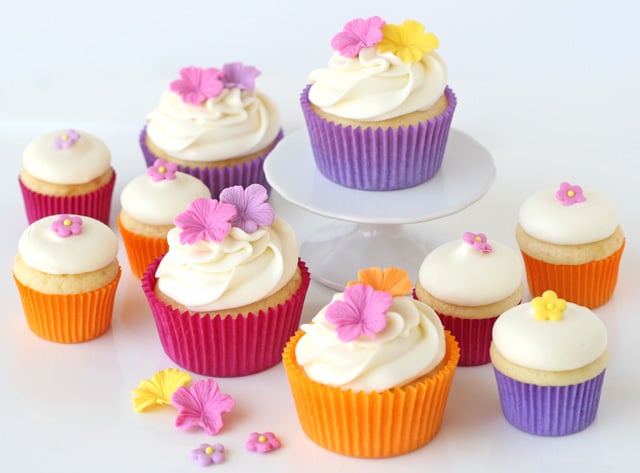 I know many of us are gearing up for fall, and I'm looking forward to lots of fall baking…. but I have a few more desserts to share from last weeks' Luau party before I dive fully into fall!   So let's relish in just a couple more bright summery treats….
For these colorful cupcakes I used my favorite Vanilla Cupcake Recipe and Chocolate Cupcake Recipe, along with my Vanilla Cream Cheese Frosting.
I used pretty, colorful liners from Confectionery House (I have a full post HERE on my favorite cupcake liners, and liners that keep their color after baking).
I decorated the cupcakes with the Fondant Flowers I shared how to make last week.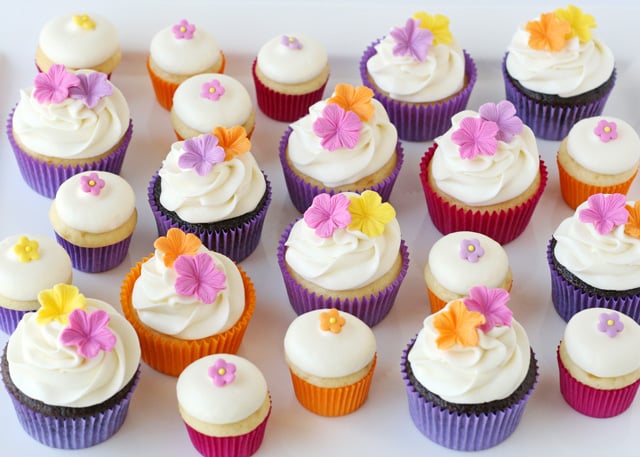 The large/standard sized cupcakes I frosted using a Wilton 1M tip.  I have a full post on How to Frost Cupcakes if you are new to cupcake decorating.
For the mini cupcakes, I used a large round tip (with about a 5/8″ opening) and simply held the piping tip above the center of the cupcake (about 1/2 inch from the surface of the cupcake), gave a good squeeze, then stopped squeezing and pulled straight up.  Then I added a little fondant flower on top of the frosting tip.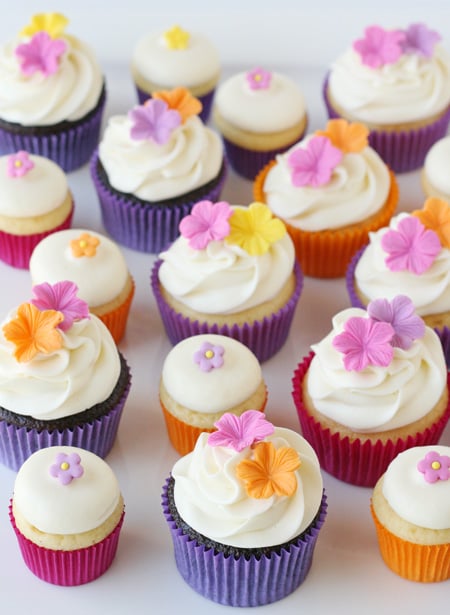 By preparing fondant flowers ahead of time to match the occasion, then using pretty, colorful liners, this simple style could be adapted to fit most any color scheme or occasion.
Happy Cupcake Decorating!