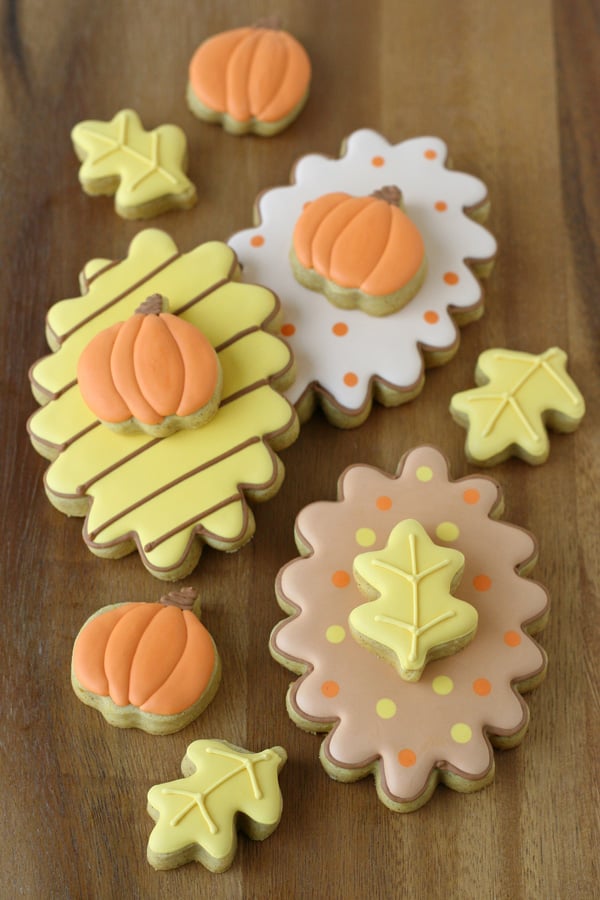 I love baking year round, but there is something extra special about baking in the fall!  Cooler weather seems the perfect background for a warm oven and fragrant fall spices!
These double-decker fall decorated cookies are as delicious as they are beautiful!  I started with my Pumpkin Spice Cutout Cookie Recipe and then took decorating inspiration from Decorating Cookies Party, a new book by the lovely Bridget of Bake at 350.  Bridget makes all kinds of cute cookies and treats on her site, and she has a super sweet personality to match!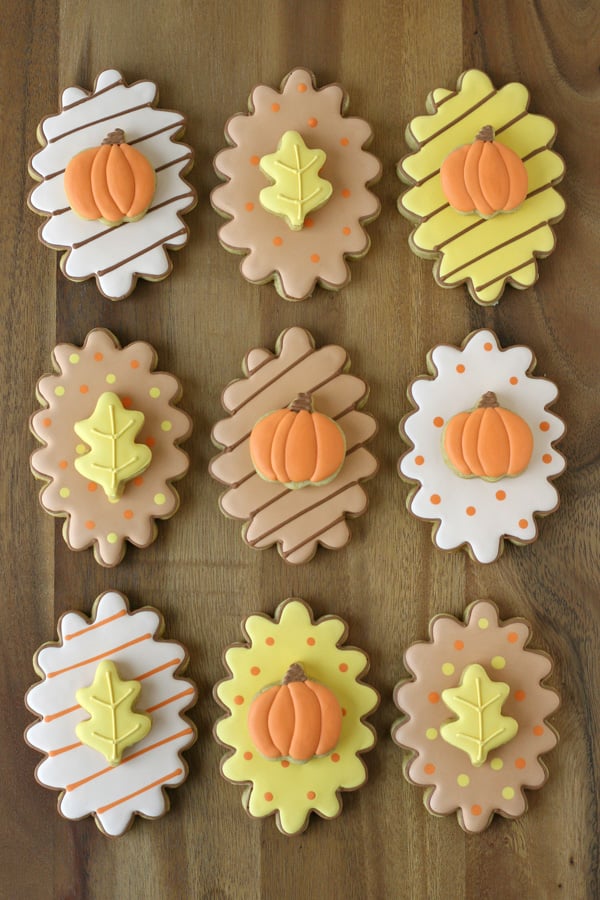 When I first looked through this pretty book I was drawn to some adorable double-decker wedding shower cookies (pictured below).  Bridget first popularized this fun double-decker cookie idea a couple years ago and it's seriously brilliant!  I mean what's better than one cookie… two cookies of course!
Although I love Bridget's wedding shower design as is, I thought I could take the inspiration and turn it into something perfect for fall.  I used the same base cutter, a scalloped oval, and used a simple mix of stripes and polka-dots for the background, just as Bridget did.  Then I added mini pumpkin and leaf cookies in place of the wedding themed cookies.  I really love the way they turned out!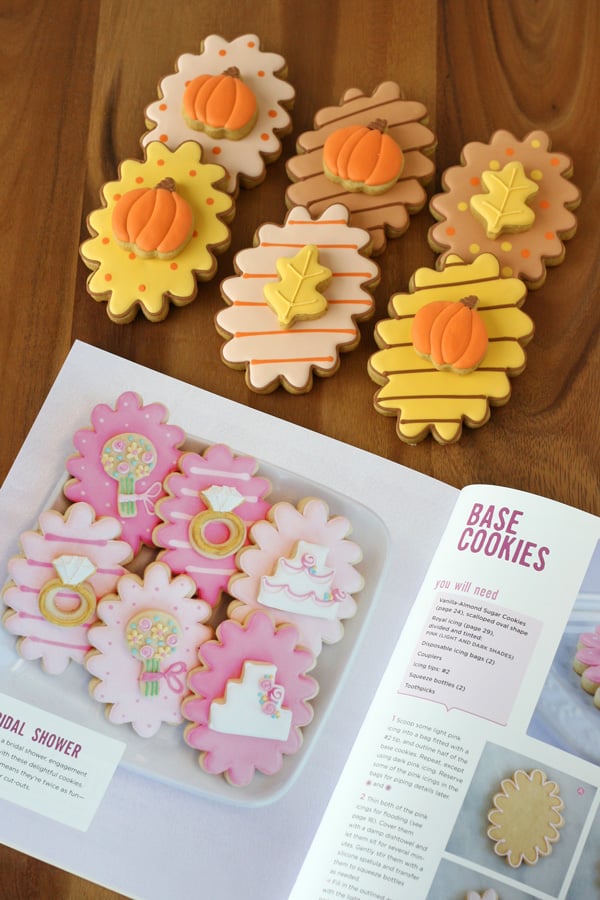 Here's the simple step-by-step decorating tips…
Start with a batch of your favorite sugar cookie dough.  I used my Pumpkin Spice Cookie Recipe, but feel free to use my basic Sugar Cookie Recipe.
You'll also need a batch of Royal Icing.
For each cookie you can follow the step-by-step photos below.
The basics are as follows…
Mini pumpkins- Pipe stem with piping consistency, allow to set up.  Add pumpkin segments that are not touching, using medium/flood consistency.  Allow first segments to set up before adding final segments.
Mini leaves- Outline (using a piping consistency), then immediately flood.  Allow to dry, then add details, as pictured.
Scalloped oval- Outline, then allow the outline to dry a bit.  Flood with a contrasting color (if desired).  Immediately add stripes or dots to the wet icing.  Allow to dry before adding mini cookie (with a bit of icing).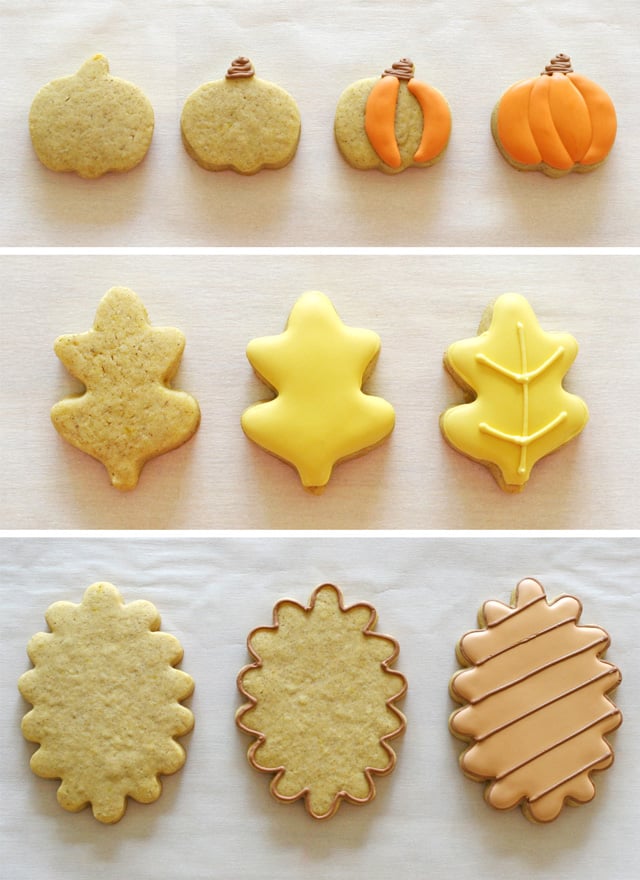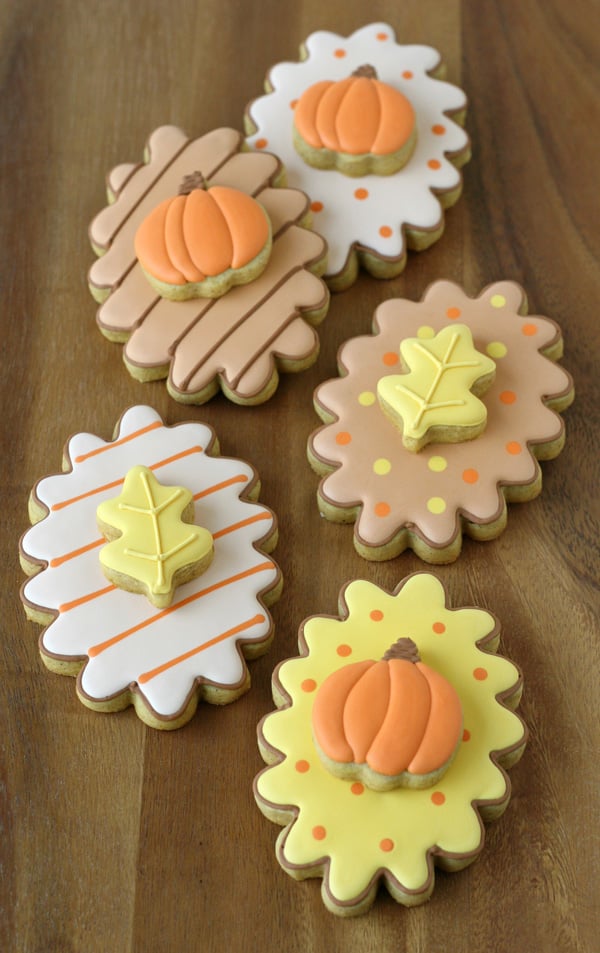 This general concept could be adjusted countless ways!  The addition mini cookies onto a larger base creates such a fun and unique treat!
This design is just one of the beautiful and creative ideas in Decorating Cookies Party, which is currently available on Amazon for $10, what a steal!!
And if you hop on over to Bake at 350, Bridget's celebrating her book launch with an awesome giveaway (P.S. a KitchenAid Mixer is involved!!).
Happy Baking!