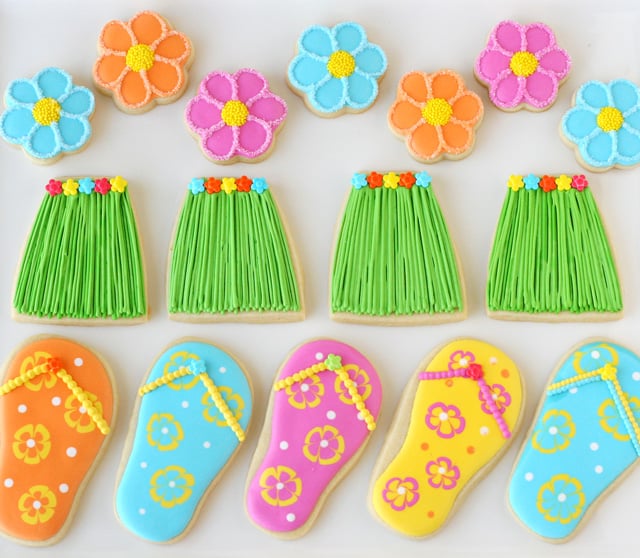 I guess summer must end eventually, and for me, it's ending today.  I may have gone a teeny bit overboard on Luau treats… but you'll be set with ideas for next summer!
Today I'm concluding my Luau treats parade with two simple, yet cute designs… grass skirt cookies and flip flop cookies.  I've made flip flops lots of times before, (they're just so perfect for summer), but the grass skirts were a new one I was really looking forward to.  As I was making the skirts I was almost giddy with joy!  When anyone in my family walked by (while I was decorating) I would say… "aren't these skirts cute?"  Maybe I'm crazy… (my husband has suggested that a few times) but I just think they are so cute!
Want to make some?
All you need is…
A batch of cookies made with my Sugar Cookie Recipe (or your favorite)
A batch of Royal Icing.
For the grass skirts, I also used some flower sprinkles (from Wilton– purchased at my local craft store).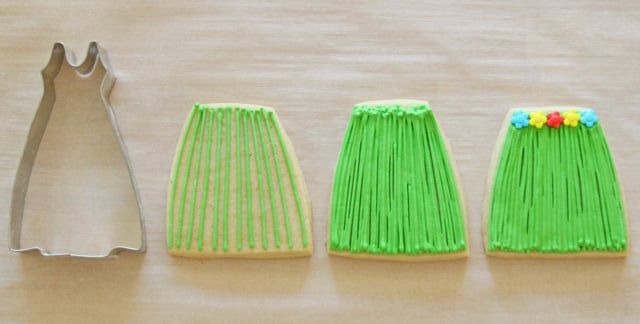 Let's decorate!
(Sorry, I forgot to number the photo, but the directions are describing the image from left to right)
1.  To start, you can see the cutter I used to make the skirt design.  You could use most any dress cutter and trim as necessary, or create a template, and hand cut the shape.
2.  Using thick/outline consistency green icing, simply make lines from the bottom to the top (or vise versa, but I found that I preferred bottom to top, so the little tip left at the end would be covered).  I used a #2 tip.
3.  Continue adding lines, lots and lots of lines… until you are satisfied with the coverage.   It is important that your icing is thick enough that the lines do not simply melt or merge into one another.
4.  When you have added all the "grass" you want, add flower sprinkles (or small fondant flowers) along the top.  Another option would be to wait until the grass dries and use royal icing to create a flower border.
Allow to dry fully (4-8 hours) before packaging.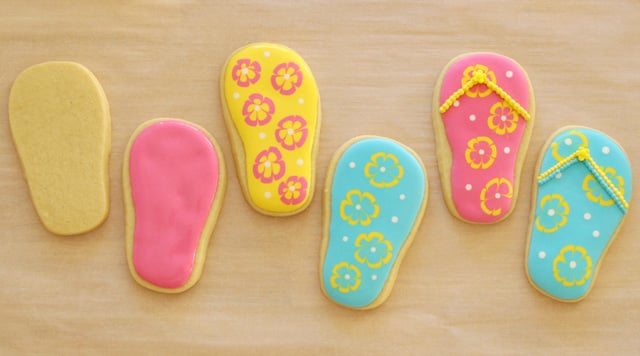 Now, for the flip-flops…
1.  Fill/flood a cookie in the color of your choice.
2.  While the base icing is still wet, add polka-dots or designs of your choice.  For the flowers shown I simply piped a circle shape, then used a toothpick to drag from the outside edge of the circle, toward the inside, creating a flower.  I've shown this technique in detail in this post.
3.  Once you have the designs you like, allow the icing to dry (at least 1 hour)
4.  When the icing has set, use a thick/outline consistency icing to create the strap.  I did a row (or two) of dots, using a #2 or #3 tip.  Add a flower sprinkle, if desired, as an accent.
Here are the grass skirts and flip-flops, along with the full collection of luau cookies…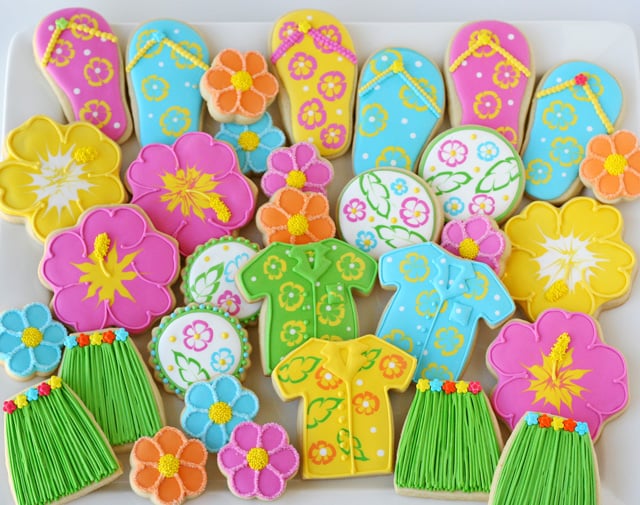 Here are links to the full tutorials for each part of this set…
Grass Skirts and Flip Flops (you're already here!)
Tropical Leaf and Flower Design (round cookies)
Hawaiian Shirt Cookies (this takes you to the awesome tutorial by Sweet Sugar Belle).
And just in case you possibly need any more luau cookie ideas, here are a few tutorials I've posted in the past…
Luau Cookies with Fondant Flowers
Pineapple and Seashell Cookies
Now I think it's time to bid farewell to these bright and summery treats, as we embrace the beauty of the fall season.  I'm heading to the store to stock up on pumpkin, cinnamon, apples and sugar…
Have a wonderful weekend!