Polka-Dot Easter Egg Cookies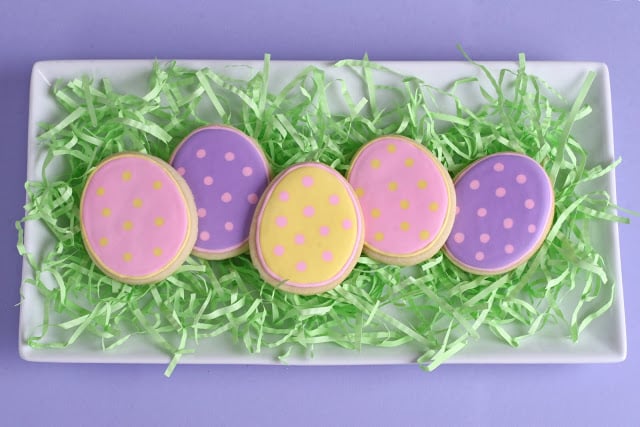 Looking for a simple Easter cookie project? This is it! With just a few colors of icing and a simple design that requires no waiting between steps, you can make beautiful Easter cookies to share with family and friends.
I love polka-dots on most anything… clothes, ribbon, party decor and cookies!
The only "secret" to this technique is that the icing you flood the cookie with and the icing you use to make the dots should be the same thickness (thinned to about the consistency of corn syrup, or shampoo).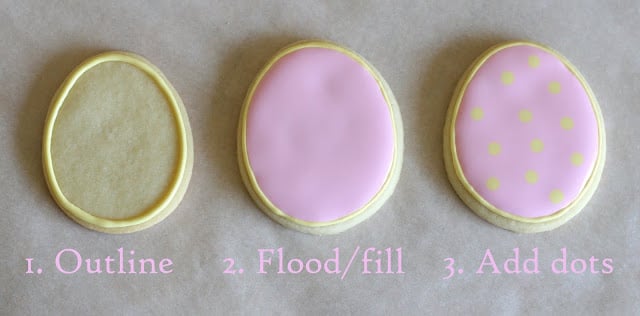 Getting Started…
My sugar cookie recipe is posted
HERE
My royal icing recipe and lots of decorating tips are posted
HERE
.
~ Easy Polka-Dot Eggs ~
1. Outline cookie with a medium/thick royal icing (using a #2 tip). If you plan to fill the cookie with the same color as the outline, fill immediately. If you are using a contrasting color on outline (like above), wait just a few minutes before filling.
2. Fill in (flood) the cookie with desired color (using a #2 or #3 tip).
3. As soon as the cookie is flooded (and the icing has settled nice and flat), drop a contrasting color of icing in little drops (using a #2 tip) to create the polka-dots.
Allow cookies to dry (8-12 hours), and package as desired. I found some cute polka-dot take-out style boxes at Party City (shown below). And sweet mini baskets at Michael's. Decorating directions for the chick and sheep cookies (as shown below)
HERE
.