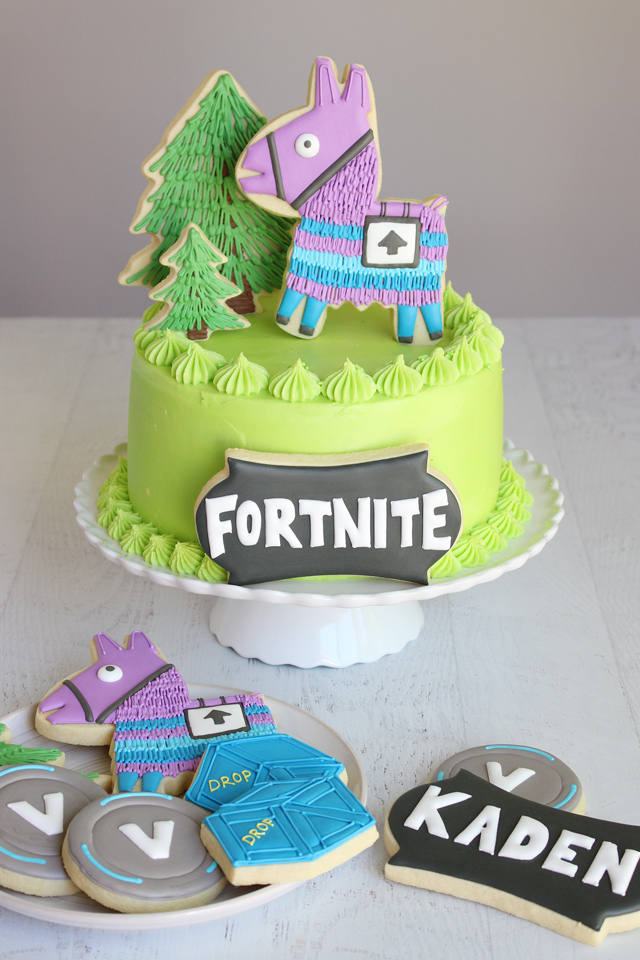 This fun Fortnite Birthday Cake & Cookies set is sure to wow the Fortnite fan in your life!
If you're not familiar with the video game Fortnite… you're likely a good bit over the age of 18 and/or don't have young boys in your life!
Fortnite has quickly become one of the most popular and successful video games ever!  Fortnite is described as an "open-world survival game, in which players collect resources, make tools and weapons, and try to stay alive as long as possible." (source, NBCnews.com)
I do not take cake or cookie orders, but I do love making treats as gifts for close friends when I am able.
One of my very good friends has a sweet son (and four more sweet children) I adore.  He's just so dang cute!
His birthday request (to me) was a Fortnite Birthday Cake… so I did my best to deliver!
Although I have heard of the game Fortnite, no one in my house plays it… so this cake and cookies set required a bit of research on my part!
PIN IT NOW to save for later!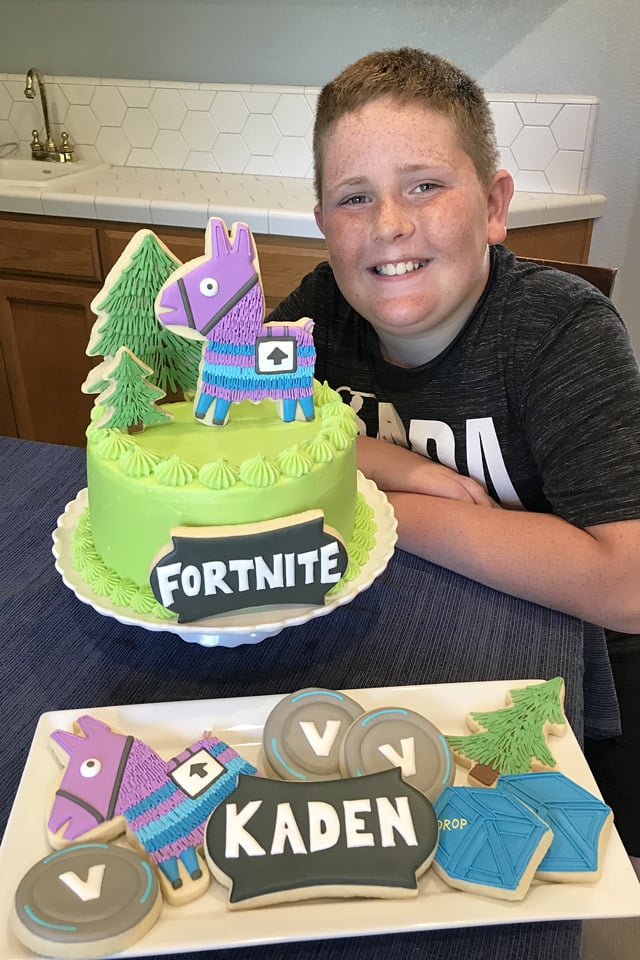 A bit of googling revealed some popular items associated with Fortnite, so I printed out a few graphics from the game and got to work.
The birthday boy had requested a "llama" be included on the cake… and my research revealed the llama he was referring to is the Fortnite Loot Llama.  I couldn't really tell you what it does, or what it's for in the game… but I thought it was cute enough to try to re-create with frosting!
I think I set a new personal record with this loot llama cookie for the amount of time spent decorating a single cookie!
Because I was creating a design I'd never done before, and trying to make the cookie both adorable and instantly recognizable, this single cookie design took several hours to complete (due in part to drying time between numerous steps).
I am going to to give you all the details and tips I can for this cake and cookie set, but please know that this is NOT the set to start on if you are a beginner decorator.
It's really only a set you should take on for a someone you REALLY love (or for a LOT of money)!  =)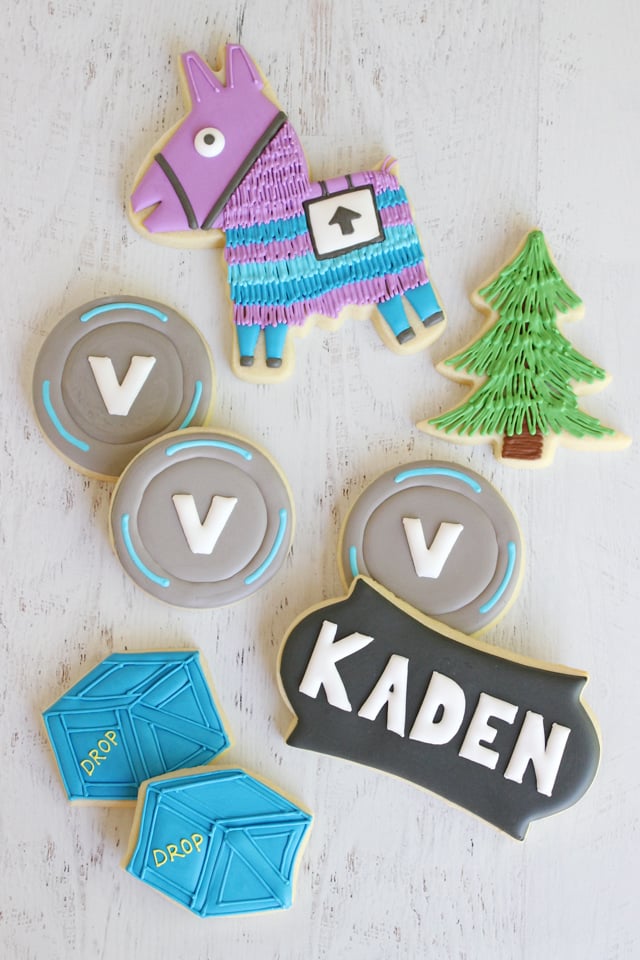 Here's a fun little video showing my process for decorating the Fortnite Loot Llama Cookie.  As mentioned, this design took several hours to create in real time, so this one minute video includes LOTS of edits and cuts to allow drying time.
Fortnite Loot Llama Cookie Decorating Video
A few general notes on the llama (recipes are listed below in this post)…
You'll notice in the video some light yellow drawing on the cookie (early in the process).  I often do this on more complex designs to give me an idea of what I'm going for.  The lines are just drawn free-hand with an edible marker.  I use yellow because it's just enough to see, without me needing to worry about it showing up if I don't cover it perfectly.  I don't have a projector of any kind, but if you do, you may not need to do the marker step at all.
For each layer of fringe I added lines of icing in a row so that they were not touching, then allowed that to dry a bit (about 10 minutes in front of a fan) before filling in with more fringe on that row.
The cookie cutter I used is designed to be a pinata and was a gift from a friend several years ago, so I'm not sure of the exact source.  I found this pinata cookie cutter on Amazon that looks quite similar (but I have not ordered cutters from that particular company before).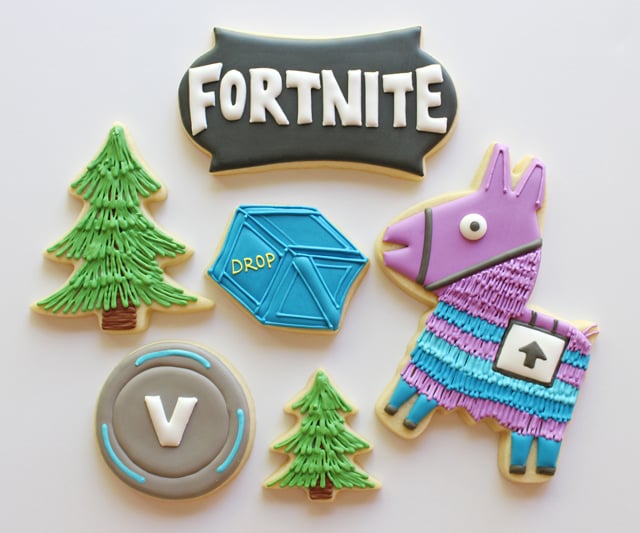 How to make a Fortnite Birthday Cake & Cookies
Fortnite Birthday Cake…
For this cake I started with my favorite Chocolate Cake Recipe.
I frosted the cake with Cream Cheese Frosting.
If you are new to cake decorating, hop over to my Chocolate Malt Cake post for a photo tutorial on how to frost a cake.
I colored the frosting with Americolor Neon Green and Americolor Mint Green and used a French Star Tip to add the little accents.
Fornite Cookies…
For the cookies I used my Perfect Sugar Cookie Recipe.
I decorated the cookies with Royal Icing.
For nearly all of my cookie decorating, I used two consistencies of icing.  A thicker one for outlining and for detail work, and a thinner icing for filling in/flooding.  The thicker/outline icing should be about the consistency of toothpaste, or a bit thicker.  The flood icing should be about the consistency of shampoo…just thin enough to fill in and lay flat without too much effort.
Cookie cutters used…
Large Tree, from Ann Clark Cutters
Present Cookie Cutter (used for the "drop" boxes, I just trimmed off the top bow)
Pinata Cookie Cutter (this is very similar to the cutter I used for the loot llama)
Circle Cookie Cutters (for the "V-bucks" cookies)
Plaque cookie cutter – The cutter I used for the "Fortnite" wording was from Karen's Cookies online shop, which has since closed.  There are lots of similar options if you search on Etsy or Amazon.
Baking & decorating schedule…
This is how I generally break up the work if I'm making both cookies and a cake for a party.
Day 1 – Make cookie dough and bake cookies. Cool cookies, and then store in a sealed container (in a single layer, or layered between parchment paper).
Day 2- Make icing and decorate cookies.  Allow decorated cookies to dry in front of a fan for at least 1 hour, then dry fully (without the fan) for 8 hours (or overnight) before packaging in any way.
Day 3- Bake cake, cool, then wrap in saran wrap and freeze individual cake layers for 30 minutes, or wrap in a double layer of saran wrap and freeze individual layers up to 2 days in advance).
Day 3 (or 4, your choice) – Make cake frosting and decorate cake.  Share cake with someone you really love!
Four days of work for this sweet smile… for me, that's worth it!  =)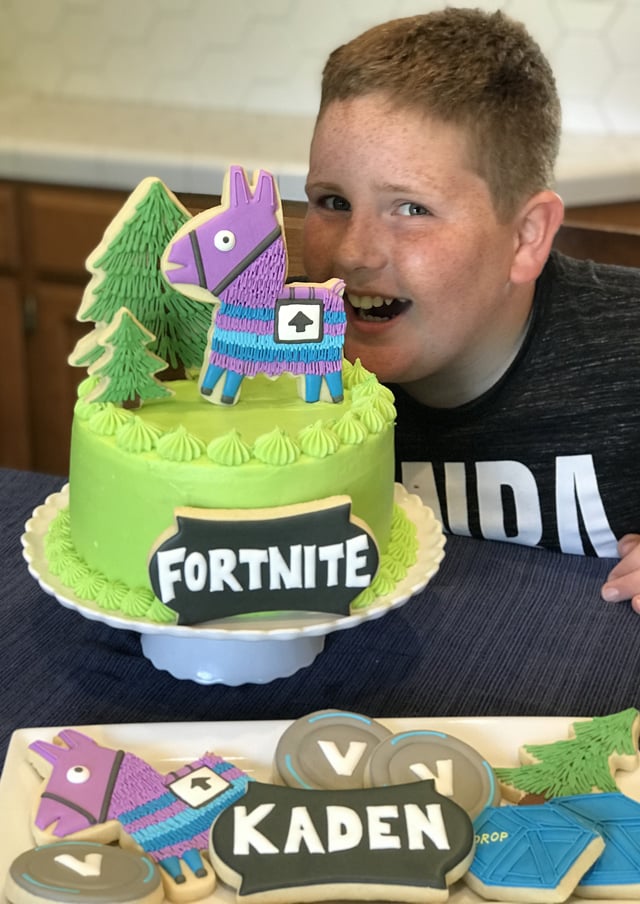 PIN IT NOW to save for later!

Happy decorating!