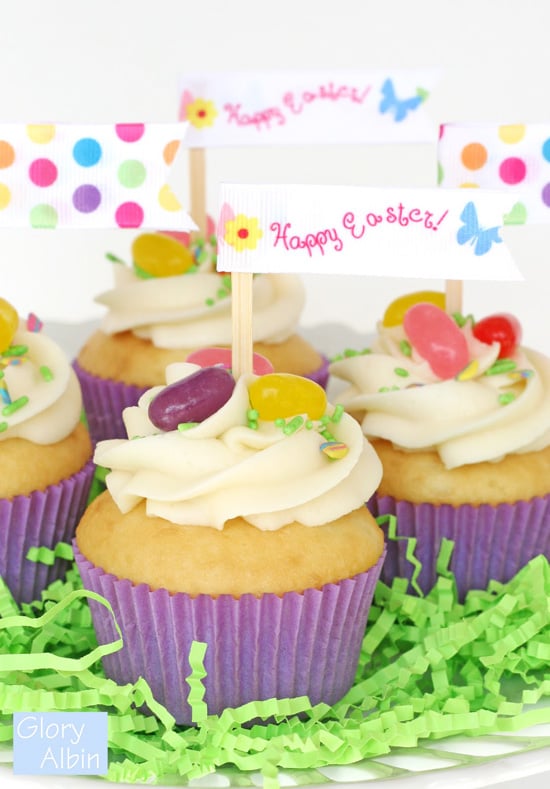 I love ribbon.
I also love cupcakes…
Put the two together and what do you have?  Ribbon cupcake toppers!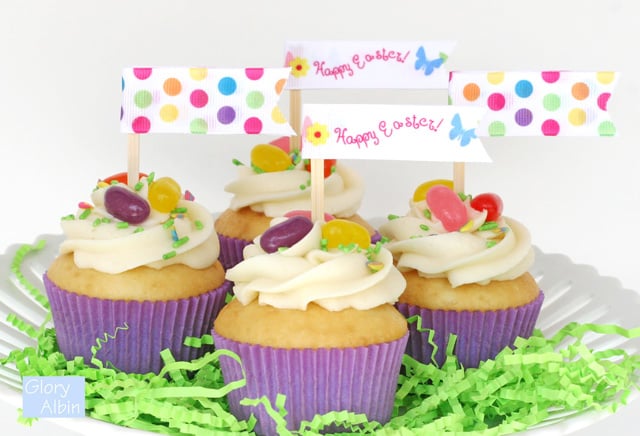 I've made lots of variations of cupcake toppers over the years, mostly with paper and my various scrapbooking supplies.  One of the things I really like about cupcake toppers is they can be made far in advance, and then take no time at all to add to the cupcakes.
I knew I was going to make some Easter cupcakes for a little party my daughter's are going to this week, so I looked through my ribbon, pulled out a few fun colors and made these cute and very simple toppers.  These ribbon cupcake toppers are an easy way to add color, and dress up the cupcakes, for very little cost or effort.
Here's how to make cute ribbon cupcake toppers…
All you need is some ribbon (I found that ribbon about 7/8 inch to 1 inch wide  worked nicely).
You also need some kind of stick, this could be white lollipop sticks (available at most craft stores), or a coffee stir stick (available for free at any coffee shop… maybe buy a coffee too, so it doesn't feel so much like stealing), or this time I just used some little bamboo forks (from Target, sold near toothpicks).
Then cut your ribbon about 4 inches long, trim the ribbon at an angle, or into the little "v" shape like I did,  add some glue (from a glue stick, or some double sided tape).   Lay down your stick in the middle, and fold the ribbon over.
Then, when your cupcakes are baked and frosted, just pop the toppers in and voila!  Instant cuteness!  I won't even tell if you want to add ribbon toppers to store-bought cupcakes.
Anyway, go look through your ribbon, or head to the craft store, and look at ribbon in a new way!  I can see them now… red, white and blue for Independance Day… pretty pinks and florals for Mother's day or a tea party… the possibilities are endless!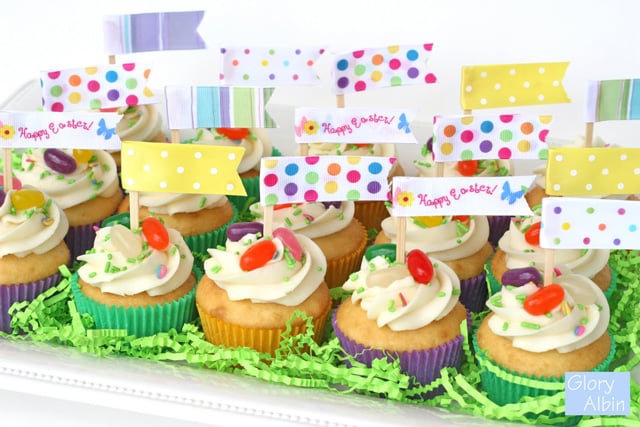 For the cupcakes themselves, you'll need a batch of my Perfect Vanilla Cupcakes (or Perfectly Chocolate Cupcakes) and Buttercream Frosting.
Happy Easter!