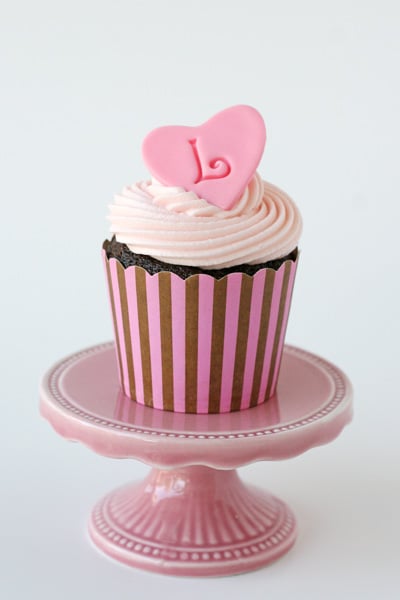 I've been enjoying sharing lots of fall recipes, but today is a little break from fall themed treats.
Today we're part of a baby shower!
Ok… so it's just a "virtual" shower, but when your a super sweet blogger like Kristan of Confessions of a Cookbook Queen, you're bound to have friends from every end of the country.  Since we couldn't all celebrate with Kristan in person, some of her blogging buddies have teamed up to "shower" Kristan with some special treats, made in her honor (but eaten by us!).
Kristan is due any day with a sweet baby girl, Lucy.
Lucy and Kristan, these are for you…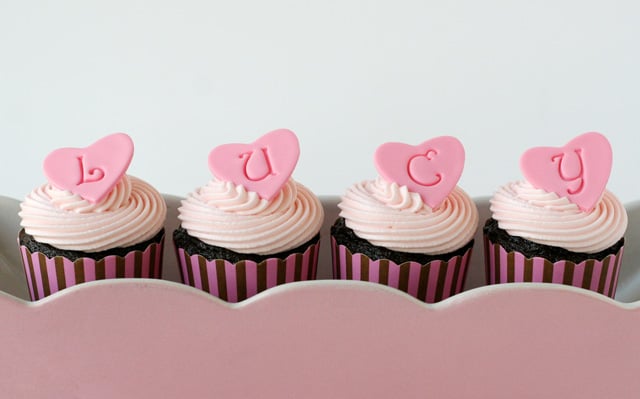 I made a batch of my favorite Chocolate Cupcakes and topped them with Vanilla Cream Cheese Frosting.
Then, I added some personalized fondant toppers for this special occasion.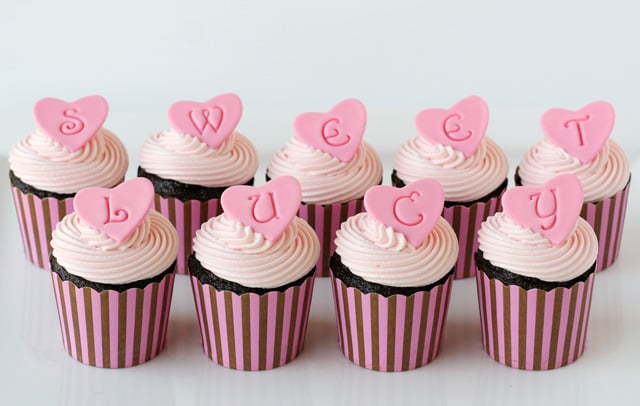 This style of topper could certainly be made for any variety of occasions!  You could spell out a message (as shown above), or include a single initial for a wedding, or personalized gift.
Want to make your own stamped fondant toppers?  They're quite easy and so versatile!
Let's get started!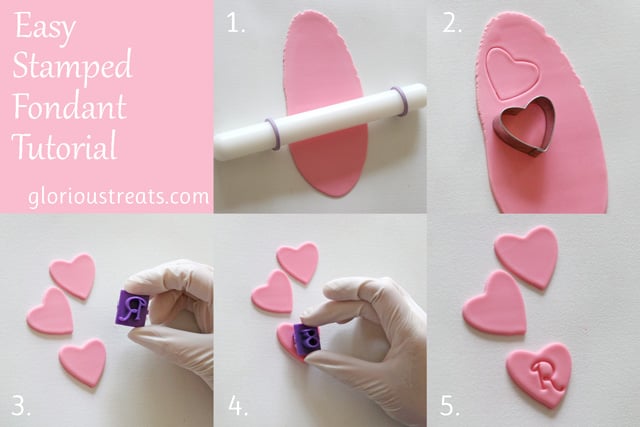 If you're not familiar with working with fondant, start with a previous post of mine, Fondant 101.
Directions (as shown above)-
1.  Roll out fondant.
2.  Cut a small heart, or any shape desired.
3.-4.  Press a stamp into the heart.
5.  Set the fondant accent on a paper plate or lint free paper towel to dry.   Allow to dry several hours (preferably 1-2 days) before adding to cupcakes.  Fondant accents may be made several weeks in advance and stored in a tupperware type container.  I keep mine sealed, but in more humid climates you may want to leave the container slightly cracked open.
The stamps shown are from a set I bought a Michael's a while back, that was designed to be used for clay or cement crafts.  You can use most anything that creates an impression, such as a stamped designed for paper crafts.  There are also lots of fondant impression tools on the market, sold in the baking section.   (*Note- obviously use new stamps that have not been used for other non-food crafts.  Also, paper craft supplies may or may not be made with food-safe plastics, use at your own discretion.)
Prop note- The cupcake liners I purchased recently at Home Goods.  Similar cupcake cases available from The Tomkat Studio or Shop Sweet Lulu.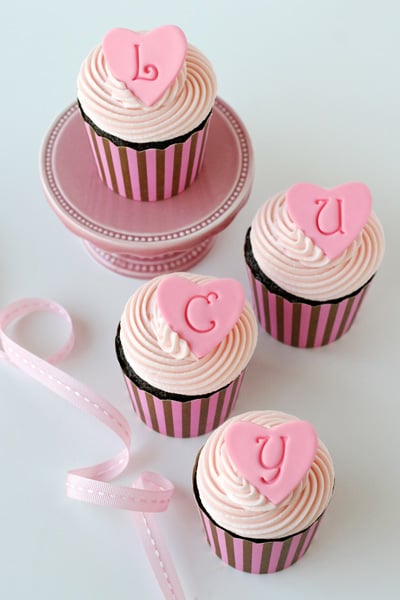 And what's a baby shower without lots of yummy treats?
Check out all of the beautiful and deicious things Kristan's friends have whipped up!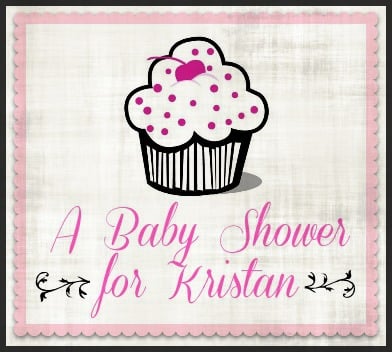 Cookies and Cups | Zebra Cake Cupcakes
The Hungry Housewife | White Cupcakes 
She Wears Many Hats |  Pretty in Pink Party Marshmallows
Two Peas and Their Pod | Dark Chocolate Raspberry Cupcakes
Bluebonnets and Brownies | Apple Cider Cupcakes with Salted Caramel Frosting
My Baking Addiction | Sugar and Spice Cupcakes
Picky Palate | Pumpkin Brownie Cupcakes with Vanilla Bean Buttercream
Blooming on Bainbridge | Twinkie Cupcakes with Pink Cherry Frosting
Food For My Family | Pomegranate and Lime Olive Oil Yogurt Cupcakes
Bakingdom | Homemade Twinkie Cupcakes
Sprinkle Bakes | Princess Torte Cupcakes
Glorious Treats | Sweet Baby Cupcakes with Easy Fondant Toppers  (you're already here!)
Sweet Sugarbelle | Damask Cookies
Buns In My Oven | Maple Cupcakes with Maple Frosting
Dine and Dish | Neapolitan Cream Filled Cupcakes
Chocolate and Carrots | Whole Wheat Chocolate Cupcakes
Bake at 350 | Little Pumpkin Cupcakes
Living Locurto | Baby Shower Printables (coming soon)
Congratulations Kristan!  We can't wait to meet your sweet little girl!