This week we celebrated my youngest daughter's 5th birthday.  To me, 5 is that number where a child is no longer a "baby", or even a "toddler"… they're a kid.  And in this particular case, when your 5 year old shares clothes with her almost 8 year old sister, and would probably be well suited to play pee-wee football (based on both size and personality)… she hasn't been much of a "baby" for a while!  I love seeing my children grow, but of course it's somewhat bittersweet.
Last year I put together a fun Ladybug Birthday Party for Joy.  We generally do "big" parties for our girls every other year, so this is her "little" party year.  We celebrated with two of Joy's little friends (along with our daughter, Grace), and enjoy cake and presents at home, then headed to a local indoor trampoline "park".
When I asked my daughter what she wanted as a birthday cake the list was quite long and ranged from butterflies, to dragonflies, to rainbows, to pink and purple… so I had to narrow it down a bit and hope she'd be happy with it.  I think the end result was very sweet and would work quite well for almost any age woman who loves pretty and feminine things.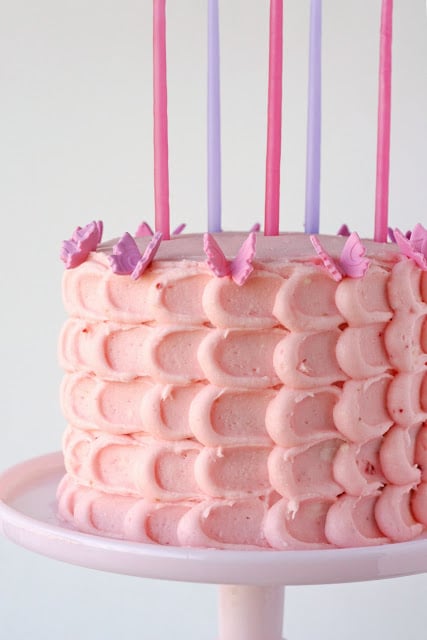 For the outside of the cake I tried a fun decorating technique I first saw on My Cake School.  I was very pleased that it was quite easy to execute and I think I'll definitely try it again.  It's quite quick, and I think it creates a beautiful, and unique look.
Updated: I loved this decorating technique so much (called the "petal effect") I used it again for a pretty Lemon Cake, and have included some step-by-step photos in that post.
I dressed up the frosted cake even further with fondant butterflies in pink and purple tones.  I'll try to do a tutorial on the butterflies very soon.
A few pretty candles (available at Sur la Table, or Shop Sweet Lulu) finished the cake and added an additional element of pink and purple.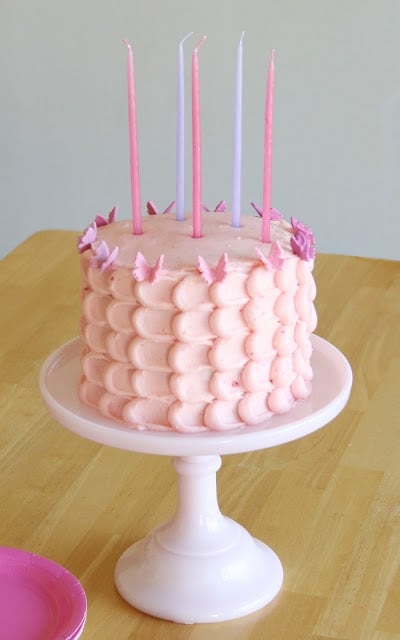 Happy birthday to my sweet Joy… who will always be my "baby"!