4th of July Flag Cake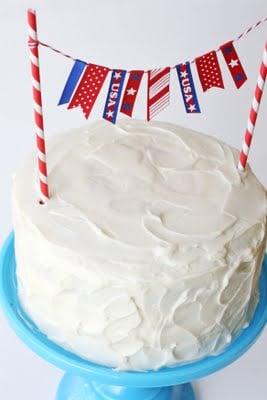 I recently made a simple vanilla cake in preparation for 4th of July.  You know, just your average white cake…
with an American Flag inside!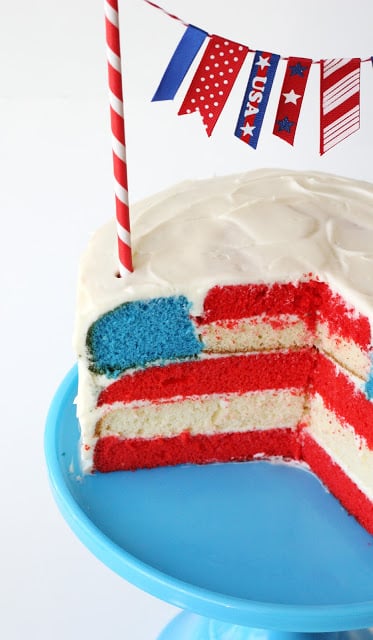 Kind of cool, right?
I've seen this fun cake idea on several wonderful baking blogs.  The earliest post I found was from 17 and Baking, who credits her dad for the creative idea.
I opted for an extra simple decorating style on the outside of the cake, knowing the "wow factor" would be on the inside.  I made a sweet patriotic cake bunting using stripped paper straws, a little twine and some festive ribbon.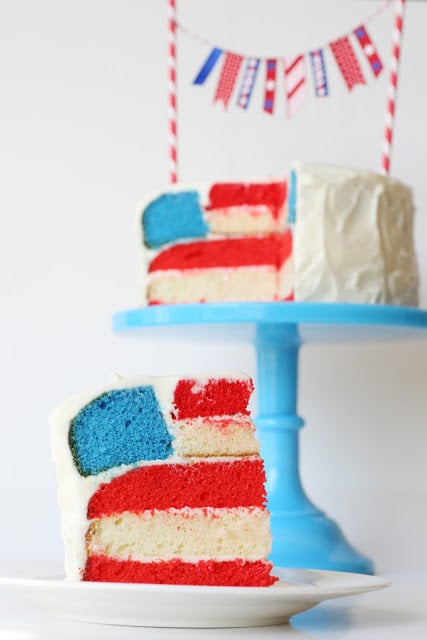 There are several different ways this could be done.  I assembled the cake using a slightly different technique than the original cake shown on 17 and Baking, but she has a video showing how she did hers, so you may want to check that out as a starting point.
~ How to put an American Flag inside a cake ~
I prepared a total of two Vanilla cake mixes (from a box- but feel free to use any Vanilla cake recipe you love).  Prepare two 8″ cake pans by coating with a small amount of butter and flour, and placing parchment paper in the bottom.  Prepare one batch of batter and color it red (I used Americolor super red gel).  Divide the batter equally and pour into the two prepared pans.  Bake as instucted by your recipe.
While the red cakes are baking, prepare another batch of batter.  Divide the batter into two bowls and color one of the bowls of batter blue (I used Americolor royal blue).  Leave the remaining bowl of batter uncolored.
When your red cakes have baked and cooled, remove from pans.  Wash and then prepare pans for the white and blue batter.  Bake.
However you get there, what you want to end up with is..
1- 8″ round blue cake
1- 8″ round white cake
2- 8″ round red cakes
(below I had already cut out a 4″ circle from one of the red cakes)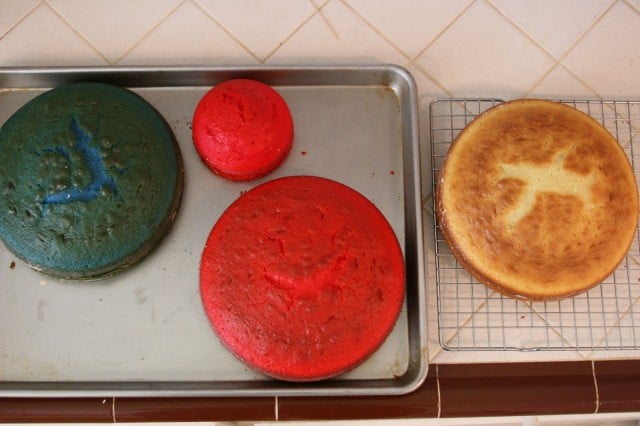 Then…
Slice the two red cake in half (horizontally), so you'll have a total of 4 red layers.  Set aside one layer, this will not be used for the cake.  Cut a 4″ circle out of one of the layers.  So you want to have two 8″ round layers and one 4″ round layer.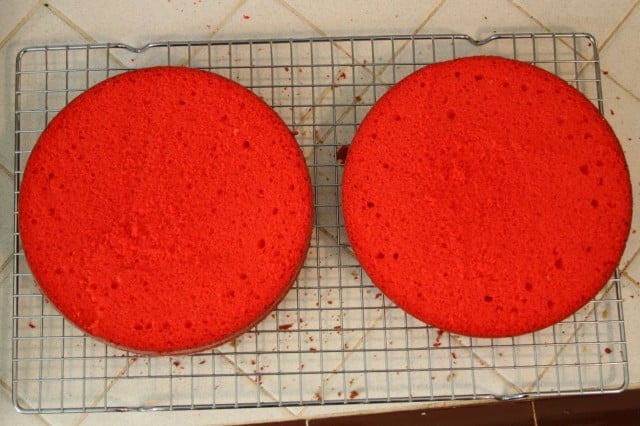 Cut the white cake in half as well.  Then use a 4″ cookie cutter to cut a circle out of one of the halves.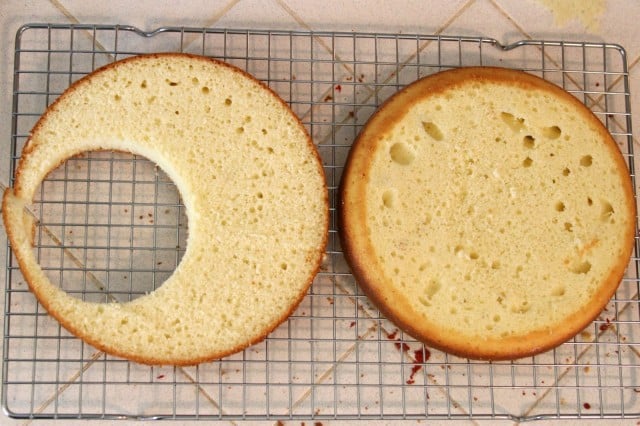 Use a 4″ cookie cutter again (or make a 4″ circle of cardboard and use that as your template) to cut out the center of your blue cake.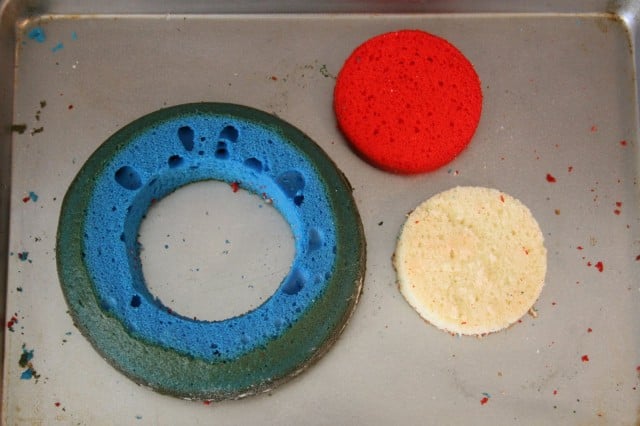 You're ready to assemble your cake when you have…
1 thick layer of blue, with the center cut out
2- 8″ layers of red
1- 4″ layer of red
1- 8″ layer of white
1- 4″ layer of white
Prepare a batch of Vanilla frosting. I used my favorite Vanilla Cream Cheese Frosting recipe.
Assemble cake with a thin layer of frosting between each layer of cake, starting on the bottom with red cake, then white, then red, then blue.  Add some frosting along the inside "ring" of the blue cake to hold in the next two layer which will fit inside the opening.  Fill the hole in the blue cake with a 4″ round layer of with cake, some frosting, then the 4″ round of red.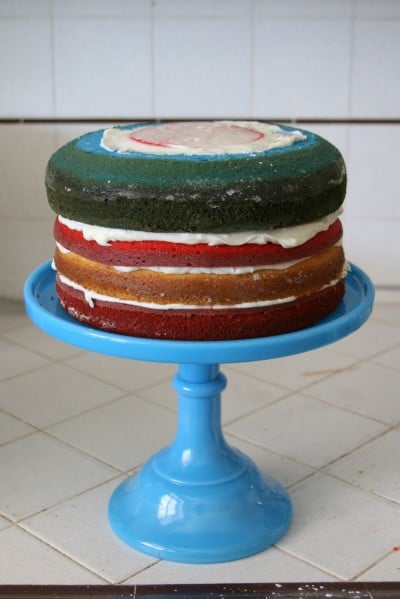 Simple right??  Hopefully my photos explain it better than all the words!  Once assembled, frost the cake as desired.  Chill the frosted cake in the refrigerator until you're ready to serve it.  Then cut it open and smile at the pretty surprise inside.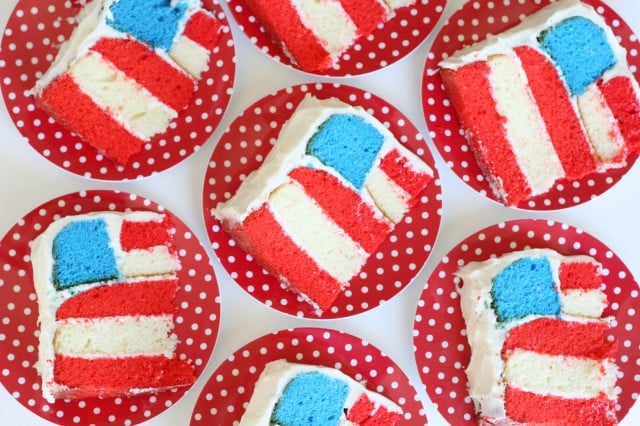 Happy Birthday my beloved U.S.A.!