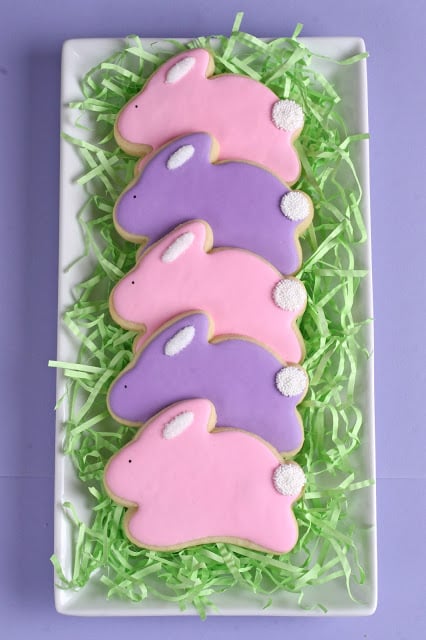 A few weeks ago, when I made a set of pastel Easter cookies, I wanted to see if I could make the hopping bunny shape (like above) really appear to be "hopping"… by making him (or her) 3-D.
I cut a notch out of the bunny, and also cut an extra cookie shape to act as grass for the bunny to jump over (and to hold him up).  I'm pretty happy with my first 3-D cookie experiment…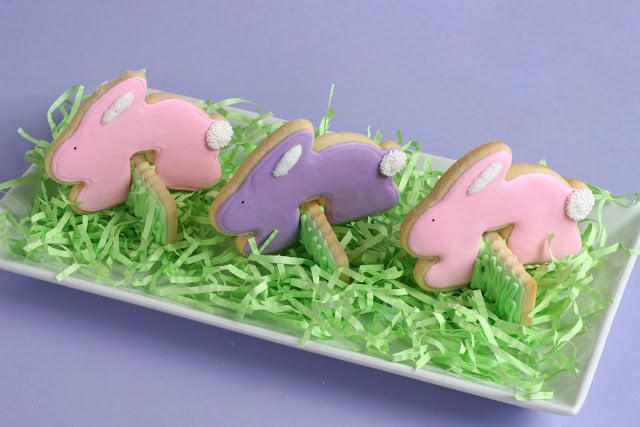 ~ 3-D Bunny Directions ~
1.  (Before baking) Cut a notch out of the bunny shaped cookie (slightly wider than you think you'll need, since the dough may spread a bit as baking).  Also, use a knife or rectangle shaped cutter to cut a shape like a strip of grass.
2. Outline and flood both the bunny and the grass and allow to dry completely. (Complete the bunny ear and tail too-as show in THIS post- I just took the photo too early).
3.  Slide the grass cookie into the slot on the bunny cookie and use some thick royal icing to act as glue.  Embellish the grass as desired (adding some flowers could be really cute too).
The links to my Sugar Cookie and Royal Icing recipes are HERE, along with the full set of cute Easter cookies.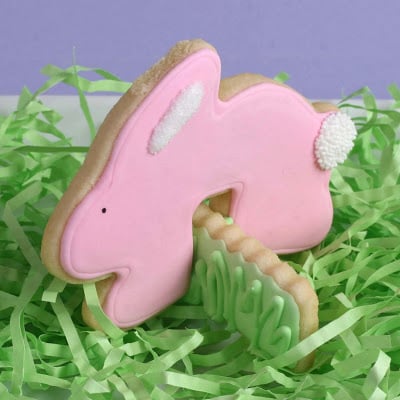 'Hoppy' Easter!