Peanut Butter Cookie and Strawberry Ice Cream Sandwich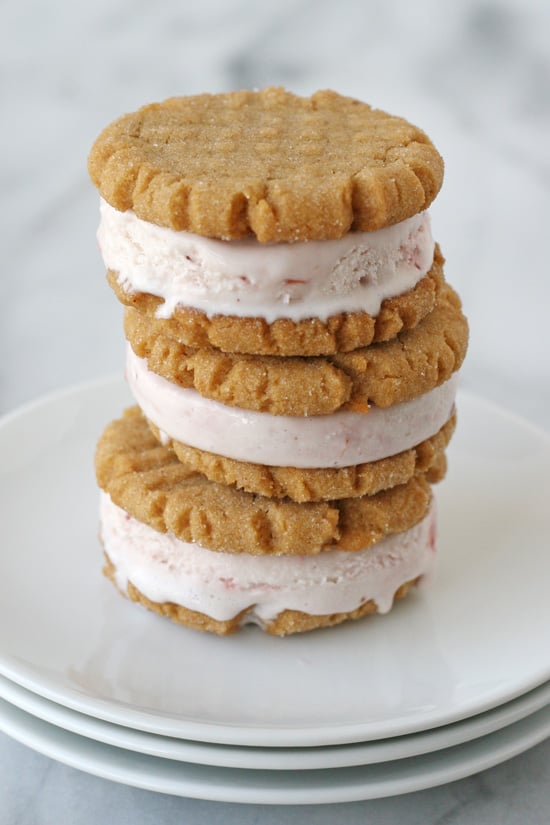 There is something so indulgent about a homemade ice cream sandwich!
This Peanut Butter Cookie and Strawberry Ice Cream Sandwich is a surprisingly delicious combo you can't fully appreciate until you bite into it!
A few weeks ago I enjoyed a trip to Oregon (along with a group of 11 other bloggers) to visit the Tillamook factory and a Tillamook dairy.  I had a wonderful time and ate lots of delicious things… amazing cheese, yogurt and ice cream!
One of my favorite foods on the trip was an ice cream sandwich made by the Imperial Restaurant using chewy peanut butter cookies and the most perfect Tillamook Strawberry Ice Cream!  This delicious treat was part of a trio of ice cream sandwiches all featuring Tillamook Ice Cream.
When I first read the menu for the evening and saw the Peanut Butter Cookie and Strawberry Ice Cream Sandwich listed I didn't think that sounded like flavors that went together… and then it hit me, peanut butter & jelly!  One bite and I was totally sold!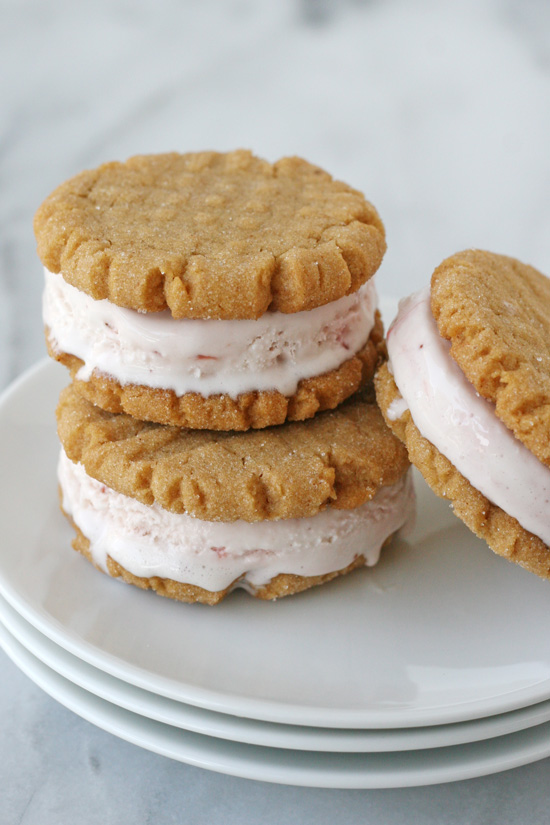 Peanut Butter Cookie and Strawberry Ice Cream Sandwich
Directions-
Earlier this week I shared the recipe you'll need for these Chewy Peanut Butter Cookies.
Mix the cookie dough as directed, but roll just 1 tablespoon of dough into a small ball, then flatten (with the bottom of a glass) to about 1/3 of an inch tall.   You want the cookies to be pretty flat so the finished sandwich is not too giant to bite into.  Create a criss-cross (hashtag) pattern on the top of the cookies with a fork (before baking) if desired.  Bake the cookies 7- 8 minutes.  Cool as directed in the full recipe.
When the cookies have fully cooled and you are ready to assemble the sandwiches, match up pairs of cookies that are very similar in size, scoop a generous scoop of strawberry ice cream on one cookie, top with another cookie and enjoy immediately.
I do not recommend preparing the sandwiches a head of time and storing in the freezer.  I tried this and although they were still delicious, the cookie became a bit too firm and then the ice cream was pushed out of the sandwich with eat bite.
*Note – I used Tillamook Strawberry Ice Cream and it is truly my favorite!  If you can find it, I would highly recommend it with this recipe (or anytime!).
Here is a peek of the ice cream sandwiches we enjoyed at the Imperial Restaurant….
In addition to the amazing Peanut Butter Cookie and Strawberry Ice Cream Sandwich our Tillamook #Blog2Farm group enjoyed in Portland, there were two other delicious ice cream sandwiches made especially for our dinner party (pictured above).
There was a Chocolate Cookie and Tillamook Udderly Chocolate Ice Cream Sandwich and a Soft Ginger Cookie and Hazelnut and Salted Caramel Tillamook Ice Cream Sandwich.  The Ginger/Caramel Combo was a very close second for my favorite of the bunch!
My friend (& neighbor) Heather, of Heather's French Press was one of the other bloggers in our group and fell in love with the Ginger/Caramel Ice Cream Sandwiches too!  While I was busy at work making these Peanut Butter Cookie Sandwiches, she went right to work re-creating the Ginger ones!
Head on over to Heather's French Press for the delicious recipe for Soft Gingersnap Cookie Ice Cream Sandwiches.
If you follow me on Instagram (and you totally should!), you've already seen a few more highlights from the trip.
I've long been a fan of Tillamook products, and we pretty much always have a "baby loaf" of Tillamook cheddar in our fridge!   Now that I've seen the Tillamook factory, met many of the people who run the business, learned a bit about how their products are made, and visited a Tillamook dairy farm, I am more of a fan of Tillamook than ever!  They really go the extra mile to create quality dairy products!
Here is a little peek into the fun our group had during our visit…
(*Note – the video has music)
This trip was extra fun due to the amazing group of bloggers included on this #Blog2Farm adventure!
I loved sharing this adventure with  Dorothy, Heather, Lizzy, Anita, Stephanie, Jesseca, Deseree, Rachael, Lisa, Jane and Liren!
Thanks to Tillamook (and the amazing ladies of Soda Pop PR) for including me on this trip!
Although my visit to Tillamook was sponsored and facilitated by Tillamook, this post is not a sponsored post.  All of the text and opinions are my own.