Candy Party Planning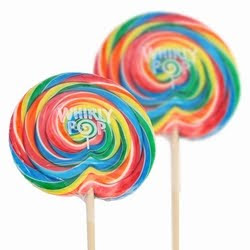 Over the past year I've become a bit obsessed with Candy Buffets. I've searched the web high and low and found so many beautiful displays. I've been looking for a reason to put a candy buffet together, and so some time last fall I decided to do a candy themed party for my oldest daughter's next birthday. Luckily, my daughter is only 5 (soon to be six), and so she can still be formed by my suggestions as to her birthday theme. So, with over 6 months until her birthday, I began my planning. I love planning parties around a color theme, so that was the first step. Pink was a color that had to be in the mix, and I love green with pink, so that was a natural choice too. Then I came across some brightly colored metal pails in the dollar section of Target, and they helped me cement the color theme… bright pink, lime green and bright blue. I thought the pails would be perfect for the birthday guests to fill up with candy from the candy buffet, so I snatched up 19 of the pails, trying to estimate how many I may need for a party that was still 6 months away. After buying the pails I looked through my (massive) ribbon collection and put aside ribbon that would fit the color scheme. I also began my search for candy in the party colors. As the idea searching continued I came across some adorable party
invitations
on Etsy, and made sure to bookmark the seller,
Littlebeane Boutique
so I could order the invitations as the party date (March 2010) came a bit closer.
Below is the candy party inspriation board I created. This gave me something to dream on, and something to come back to as the party planning continued.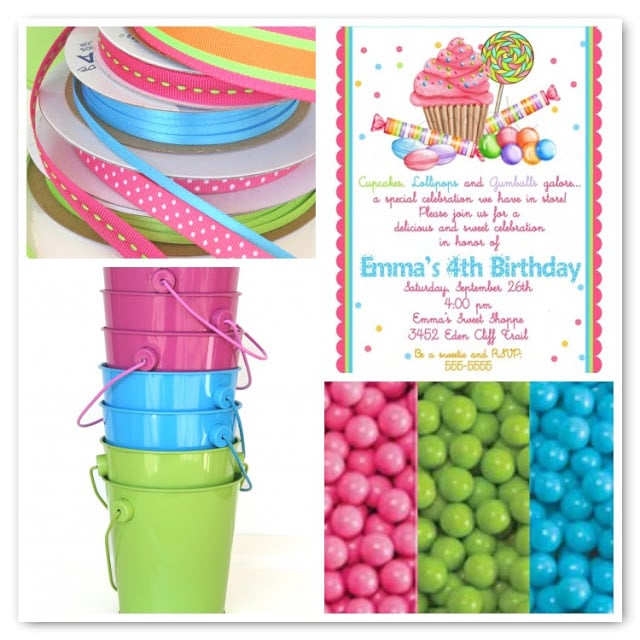 Top left- Ribbon in the party colors (my photo)
Bottom left- Metal pails from Target (my photo)
Bottom left- Sixlets candy in the party colors from
Ohnuts.com
In addition to the adorable
invitations
(sample above) that I ordered from
Littlebeane Boutique
, I also ordered coordinating stickers from the same seller that I backed with a circle of white cardstock and attached to favor bags. The tags read "Thank you for making my 6th birthday so sweet! Grace." I really love the tags and think they add such a personalized touch, and help pull in the party theme.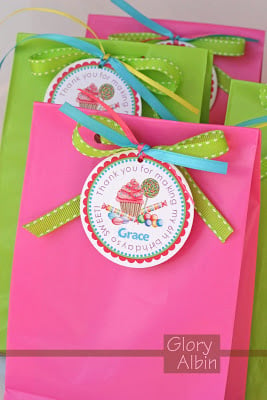 Inside the paper bags (from Party City) are stickers (all candy designs), pencils (with cupcake and candy designs- from Michael's in the $1.00 section), crazy straws (in bright colors), bubbles, and a toothbrush (I found cute kid toothbrushes at Dollar Tree in packs of three, but each toothbrush is still individually packaged). In addition to the metal pails that the kids will each be filling with candy to take home (see inspriation board above), I wanted the guests to each get a little something that wasn't just candy.
(Photo credit- Lollipop photo at the top of post, Ohnuts.com)