I recently explored a city that I'd truly never even considered as a travel destination… Columbus, Ohio.
After several fun days eating my way around the city, I'd love to share my thoughts on where to eat and stay in Columbus.
When I was invited to attend a food blogger's press trip hosted by Experience Columbus, I didn't know quite what to expect.
I love food, and love to see new places, so I happily agreed to see what Columbus had to offer.
As a west coast girl, I guess Columbus had just never been on my travel radar.  If you happen to be in the same boat, I'm going to tell you now… you need to add Columbus to your travel wish list!
I was truly blown away by the beauty of the city, the variety of food experiences available, and I was reminded again just how fun it is to explore somewhere new!
Join me for a little "virtual" tour of Columbus, and then check your calendar and see when you can add a real life tour of this fun city!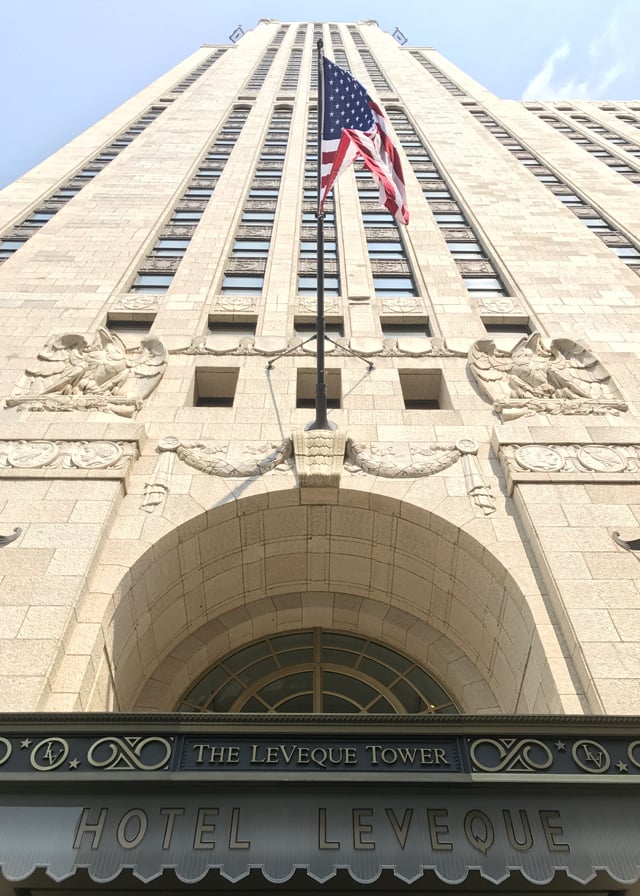 The home base for our group while in Columbus was the beautiful Hotel Leveque.
Hotel Leveque is located in downtown Columbus in the historic Leveque tower.  The building was built in 1927 and is just brimming with Art Deco charm.
The hotel itself has actually been fully renovated very recently and the marriage of modern details with vintage styling is a match made in heaven!
If I didn't love my family quite so much… I would have been very tempted to just move in to Hotel Leveque!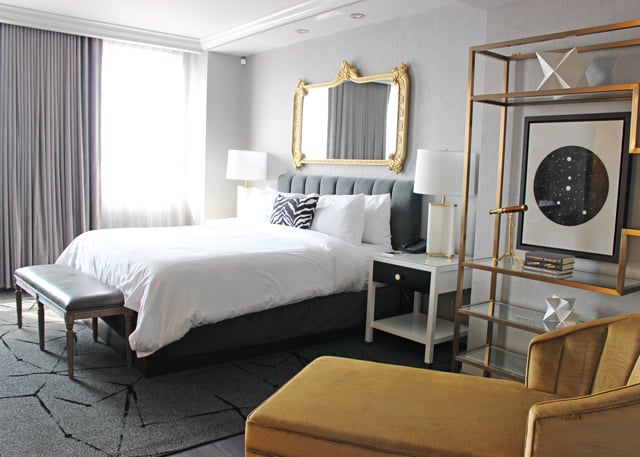 After settling into our beautiful hotel, we began our foodie tour!
We kicked off our tour of Columbus with an incredible meal at The Kitchen.
The Kitchen is a beautifully charming space featuring hardwood floors, exposed brick, vintage inspired lighting… and most importantly delicious food!
The Kitchen is not a traditional restaurant, it's a participatory cooking experience where guests are guided by professional chefs and help prepare the meal.  It's a mini-cooking class, an ice-breaker, and a delicious meal all in one!  Such a fun setting for a group!
The Kitchen hosts all kinds of events from weddings to team building, to drop-in events like Taco Tuesday!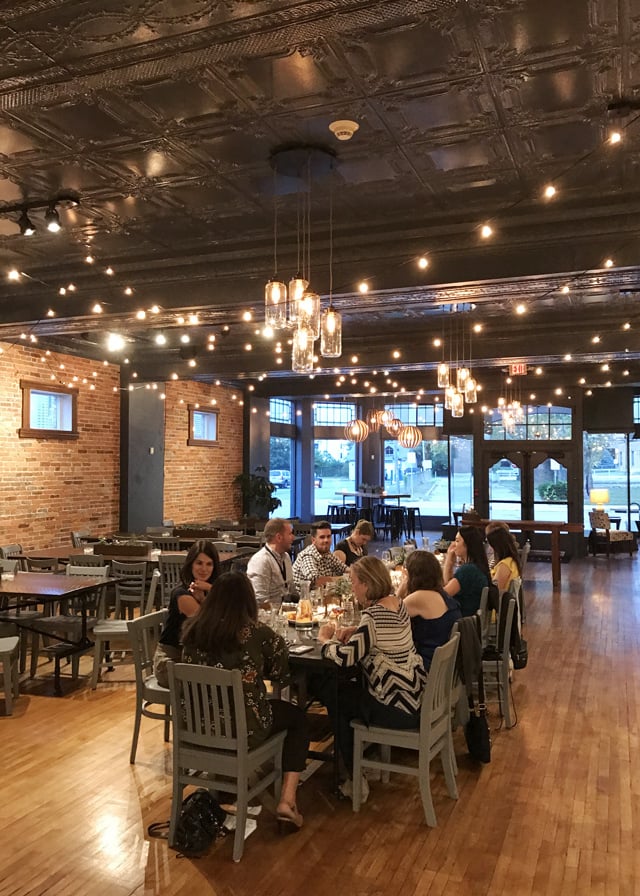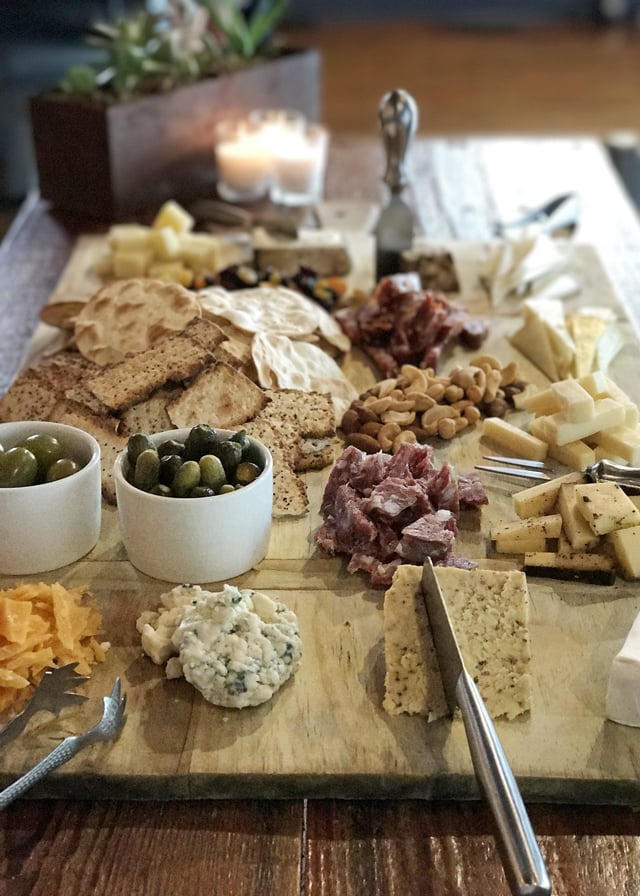 The next morning our group was in for a fun and food filled morning!
Local blogger and food tour guide, Nick of Breakfast with Nick took us on a breakfast tour I will not soon forget!
Our morning included not one, not two, but FIVE breakfast stops!
Our first stop was Kolanche Republic.
Kolaches are a traditional Czech pastry I've never had the opportunity to try before.  This little shop makes all kind of delicious sweet and savory versions, perfect to grab and go, or sit and enjoy the quiet neighborhood vibe.
Next up was Fox in the Snow.
This beautiful cafe is somewhere I would visit VERY often (maybe too often) if I lived in Columbus!  We enjoyed pretty cappuccinos, the most incredible breakfast sandwiches, and several pastries I still find myself day-dreaming about!
All three photos below are from Fox in the Snow.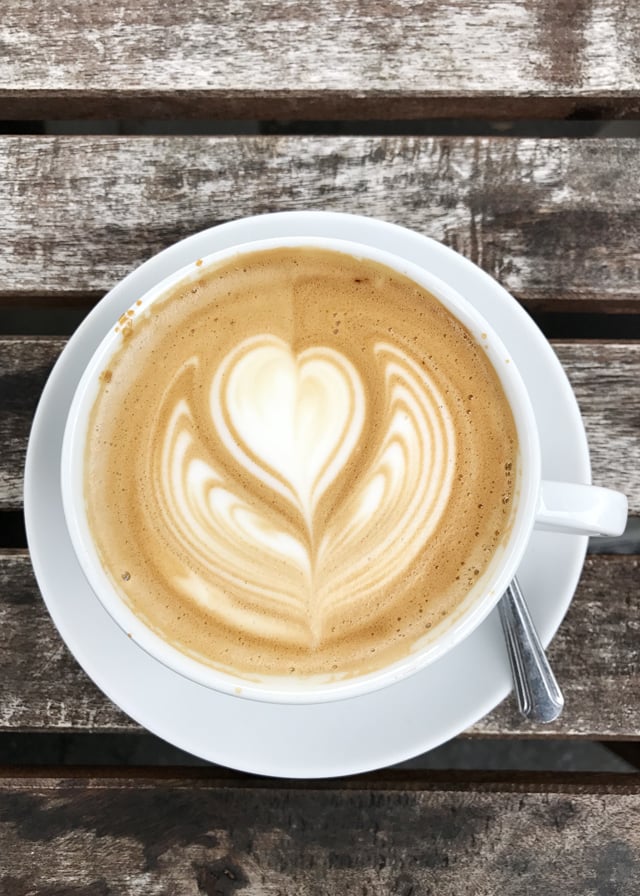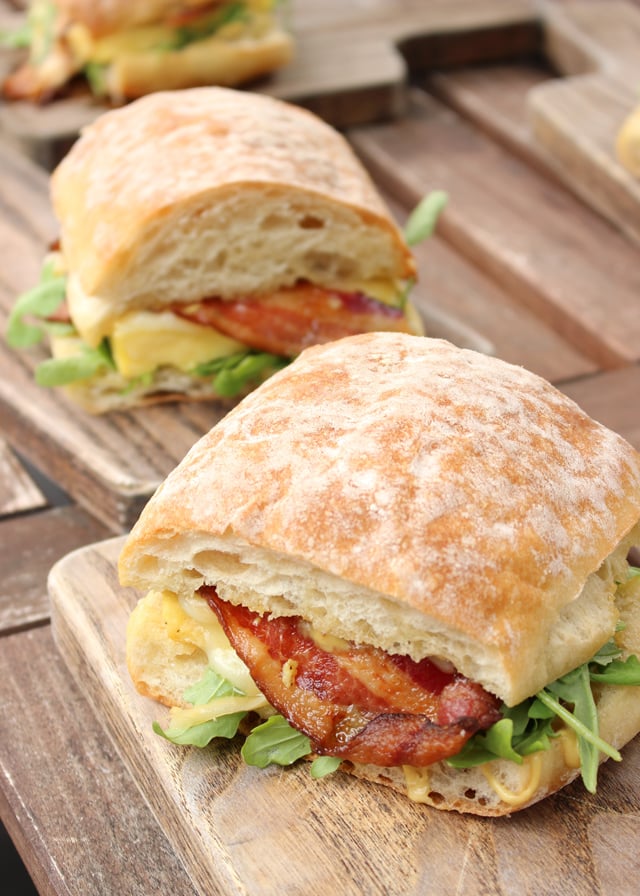 Our third breakfast stop was at The Market Italian Village.
The Market is not only a nice stop for breakfast, but as the name suggests is actually a beautiful little gourmet food and meat market.  A perfect spot for a casual breakfast, lunch or dinner… or to find some beautiful ingredients to take home.
Next up was Buckeye Donuts.
You can't quite have a breakfast tour without donuts, can you?
Located just across the street from Ohio State University, Buckeye Donuts has been a Columbus fixture since 1969.
If you love fresh, classic American donuts you don't need to check the shop hours before you visit… because they're open 24 hours a day, every day of the year!
The final stop on our breakfast tour was at The Table.
A beautiful restaurant filled with perfectly mis-matched furniture, gorgeous natural light and a menu you'll want to come back for every meal of the day to enjoy!
The Table is definitely a place I'd love to come back to and enjoy a full meal with friends and family.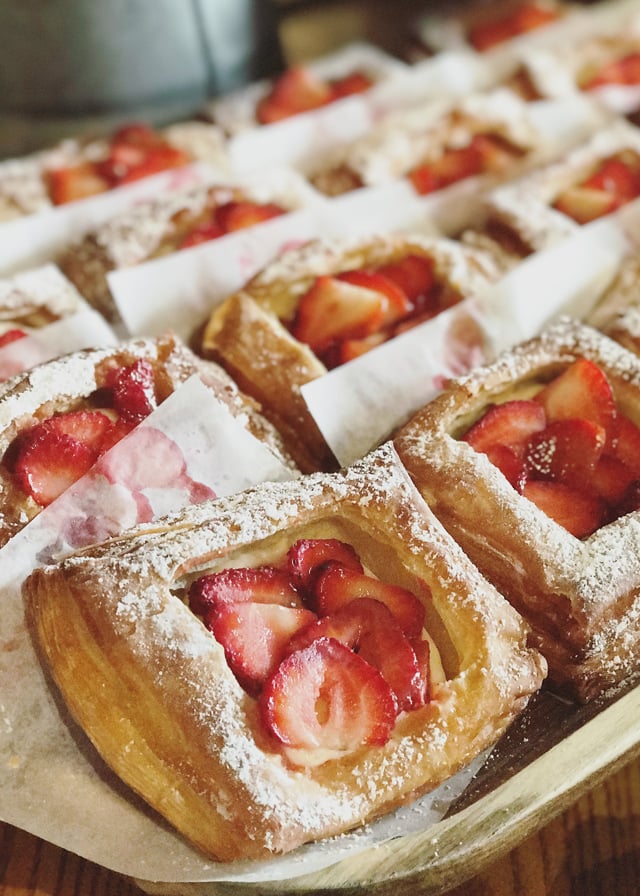 After our incredible breakfast tour it was nearly time for lunch!
I'm not sure anyone in the group was actually hungry after all of the incredible treats we'd already sampled, so luckily our next stop required a little drive out of the city.
Our lunch destination was in a beautiful country setting… the property of Rockmill Brewery.
We spend some leisurely time enjoying the beautiful patio and yard, while learning about (and sampling) a variety of Rockmill Brewery beer.
The chef prepared a beautiful assortment of fruits, cheeses and crackers to pair with the beer selections.
Rockmill Brewery would be a gorgeous location to host a party or wedding!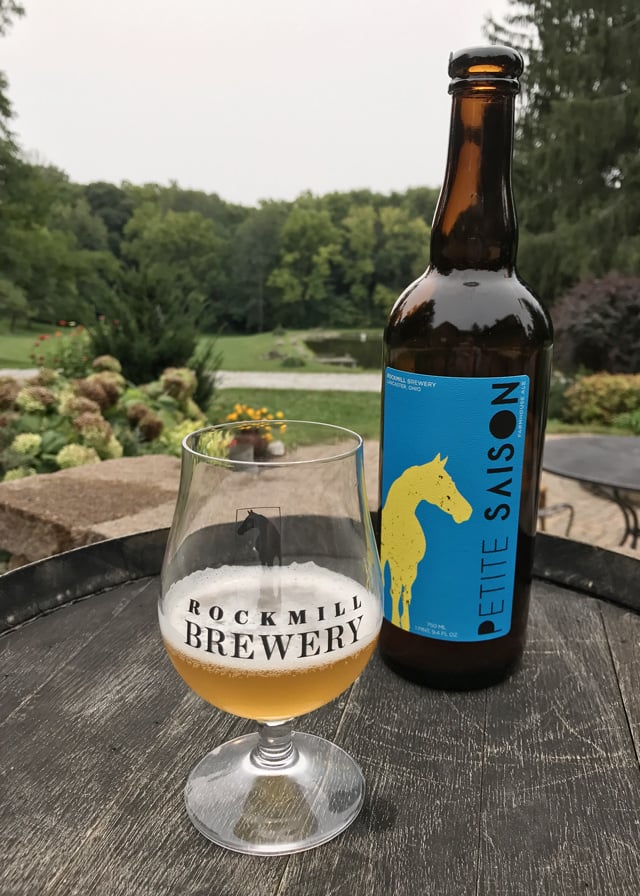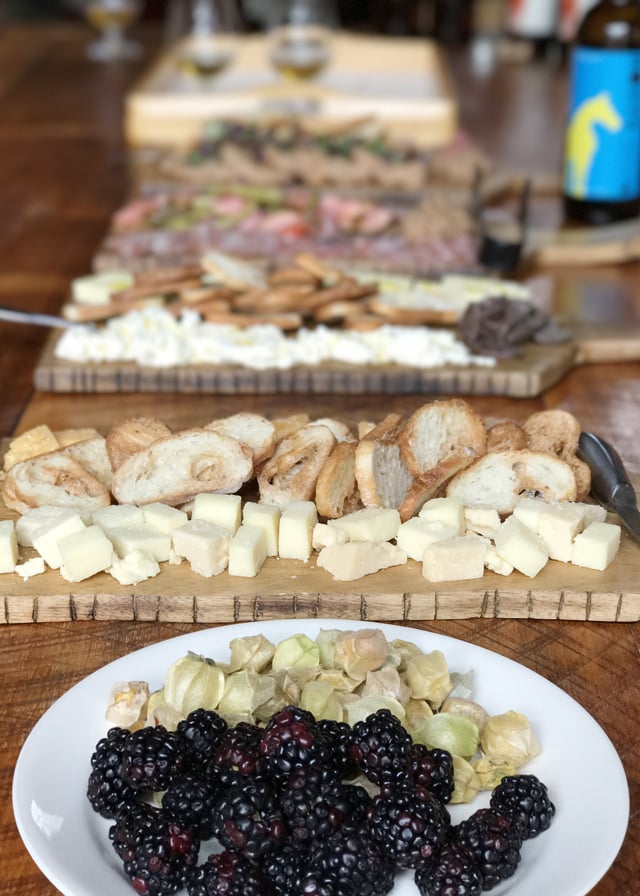 Yes, there was still one more meal to enjoy on our first full day in Columbus…
Dinner was at the Watershed Kitchen.
After a tour of the Watershed Distillery and sampling their signature spirits, our group enjoyed a meal that included fried brussels sprouts, braised beef short ribs, roasted cauliflower, and an espresso panna cotta dessert.
The menu at the Watershed changes seasonally, so there's always something new and delicious to try!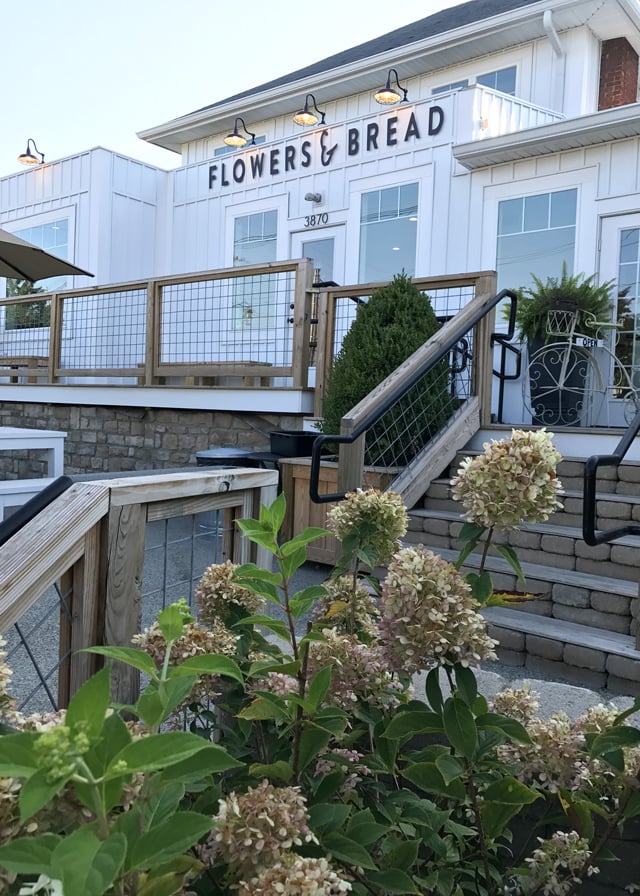 The next morning our group was ready to explore even more of what Columbus had to offer!
Our second full day started at the beautiful cafe and studio space, Flowers and Bread.
Now as an ex-florist, and now baker… this gorgeous business was right up my alley!  I practically wanted to move in!
Flowers and Bread is a beautiful cafe that serves breakfast and lunch.  Additionally, Flowers and Bread offers classes in their gorgeous bread kitchen, as well as in their airy studio space, where classes include floral design, painting, wire pairing and more!
If I lived anywhere close to Columbus I would be a frequent customer!
Flowers and Bread would be a simply perfect place to host a baby or bridal shower, ladies craft night, or simply meet a friend for morning coffee and a gorgeous pastry.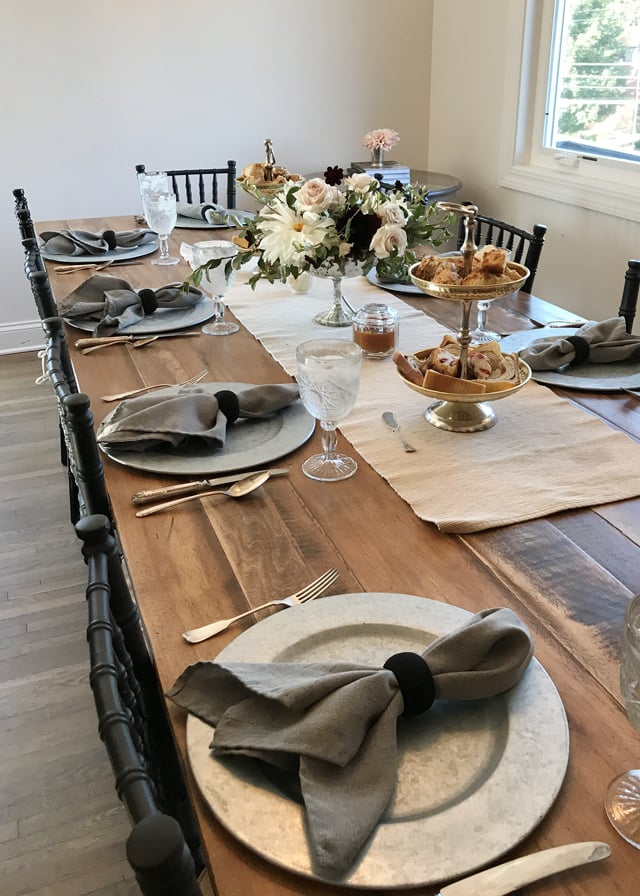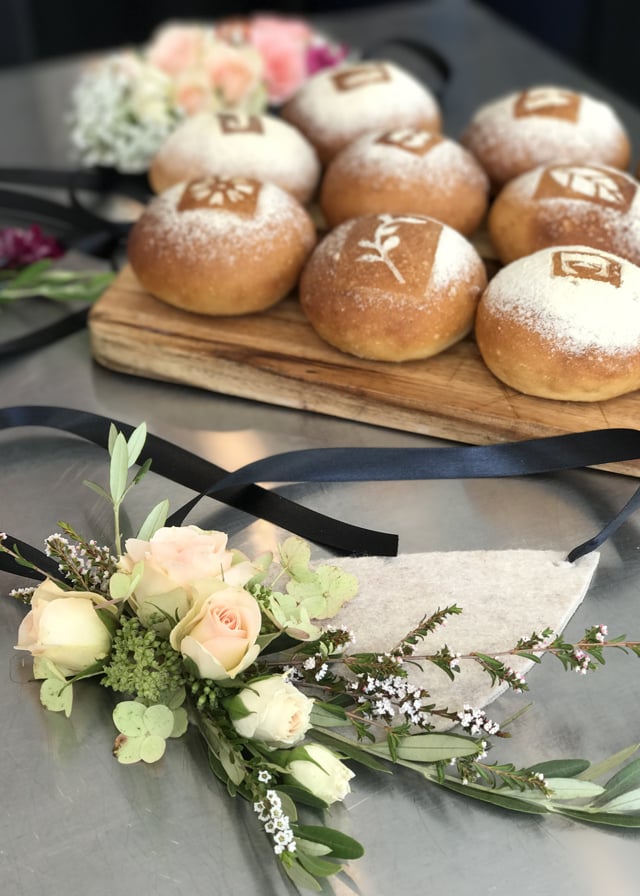 Our lunch destination (and activity) included a visit to the vibrant North Market.
The North Market is filled with vendors showcasing food of almost all kinds…. from Hot Chicken to vegetarian cuisine,  beer, cheese, soft pretzels and desserts.  In addition to the variety of delicious prepared food options, there are also vendors selling everything cooks and food lovers need (and love) including fresh produce, spices, olive oil, and fresh flowers.
The North Market is a "must stop" for any foodie!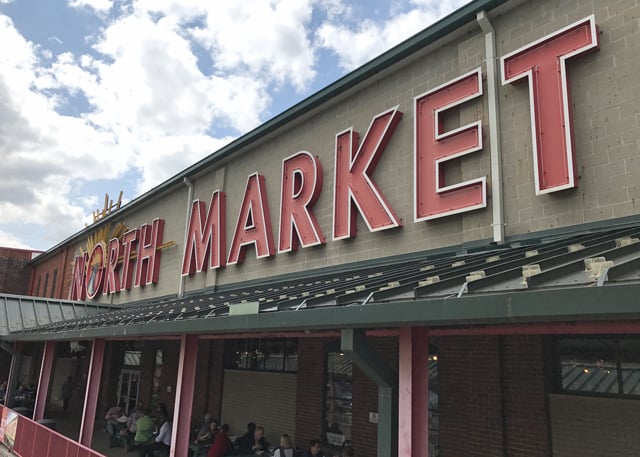 As a dessert lover, one of my favorite stops in the North Market was Pistacia Vera.
Anytime I can enjoy a gorgeous, fresh macaron, I'm a happy girl!
In addition to their booth in the North Market, Pistacia Vera also has a beautiful cafe and bakery location in the German Village, a charming section of Columbus I spent a bit of time exploring on my first afternoon in town.  Definitely a beautiful neighborhood to walk around!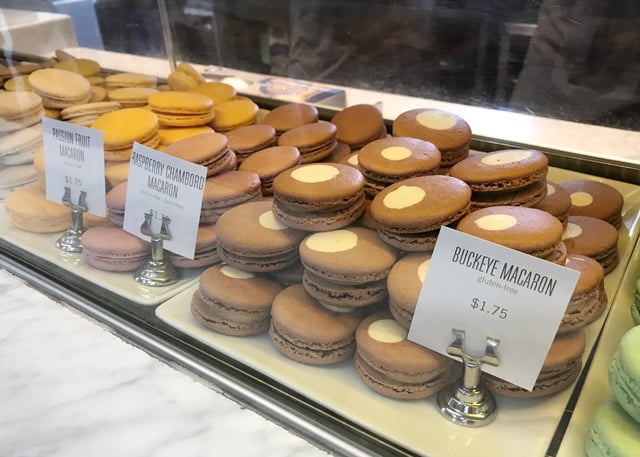 After our tour of the North Market we made a stop I'd be looking forward to all day…
A visit to Jeni's Splendid Ice Cream!
I've heard lots of amazing things about Jeni's ice cream from friends around the country, but I had never gotten to experience it myself… oh how I've been missing out!
Jeni's ice cream is truly the ultimate indulgence!  Incredibly high quality ingredients are source from around the globe to create the most amazing, creamy, rich and flavorful ice cream ever!
See the ice cream pictured below?  Yep, mine is the bowl with FOUR scoops!  =)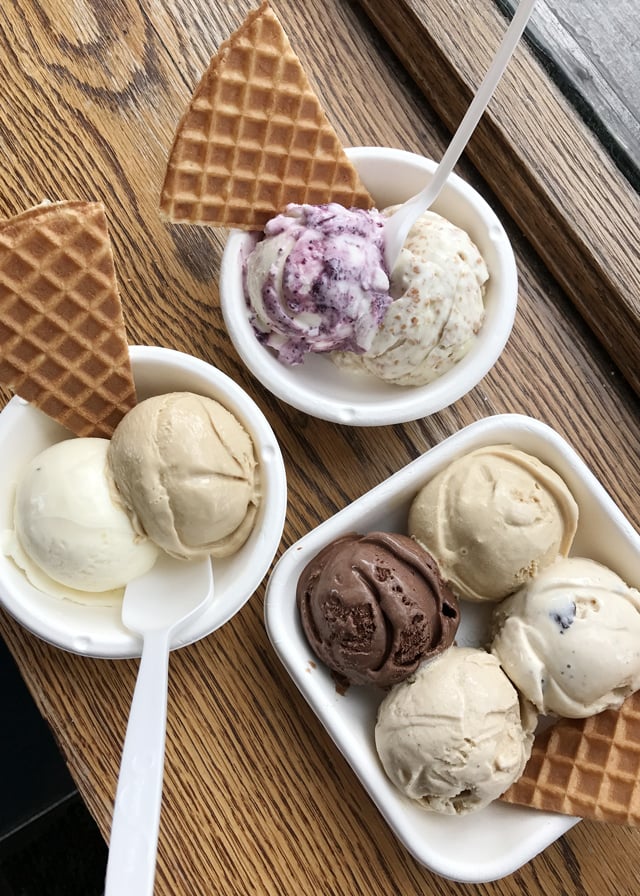 Dinner that evening was at a beautifully quaint Italian restaurant, Basi Italia.
We enjoyed their outdoor patio and were treated to an incredible variety of fresh Italian dishes.
Italian food is one of my very favorites, and the dishes we enjoyed at Basi Italia are really in a league of their own!  Fresh and flavorful, and much different from the standard bowl of heavy pasta you might expect.  One of their signature dishes is Zucchini Pronto, and it was easy to see why it's a favorite!  Every dish we enjoyed was fresh and delicious and presented beautifully!
Our final morning in Columbus our group capped off our foodie adventure at Katalina's.
Katalina's is a cute and edgy little restaurant that serves delicious soups, sandwiches, many Mexican inspired dishes, and they are famous for their Nutella-filled pancake balls!
Such a perfectly SWEET way to close an amazing trip!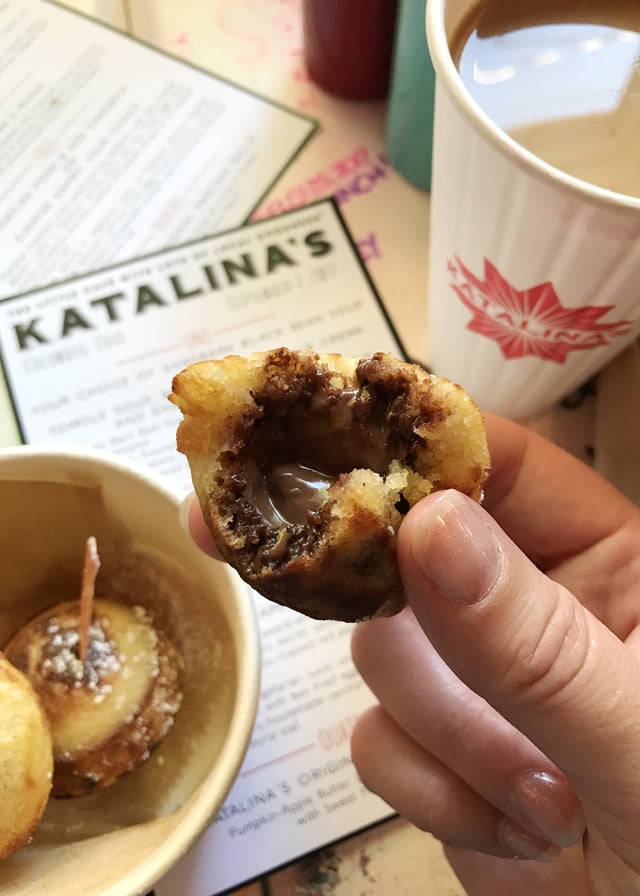 In just a few days it was easy to fall in love with Columbus, Ohio!
When you combine food and friends it's always a winning combo… and Columbus truly has something for everyone to love!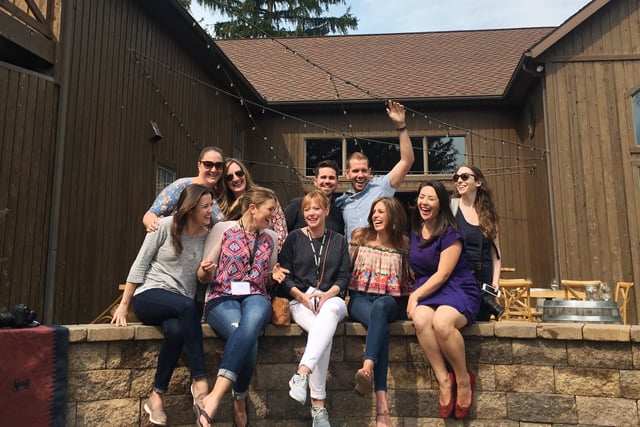 Here's our adorable group of bloggers from around the country…
(back row L to R) Me, Brenda, Phillip, Michael, Jen
(front row L to R) Lindsay, Laura, Allie, Erin, Joanne
Thanks so much to Experience Columbus for helping me discover (and enjoy) this mid-west gem!
ExperienceColumbus.com is the perfect place to start when planning your Columbus, Ohio adventure!
Disclosure – This trip was organized by Experience Columbus and my food and accommodations were complimentary.  I was not required or compensated to write this post, and I paid for my flight to Columbus.  All images, text and opinions are my own.  I had a wonderful experience in Columbus and was happy to share this city with you!