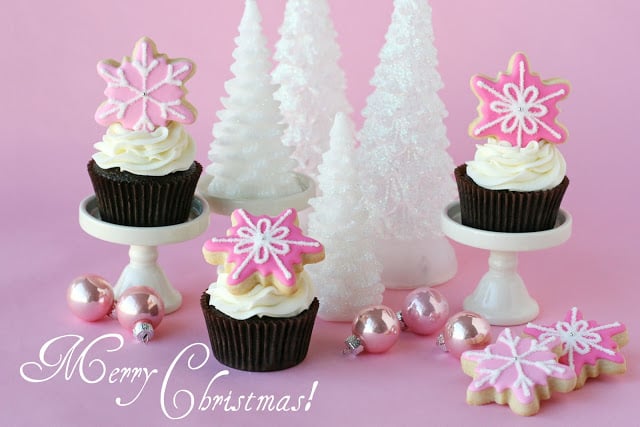 As I'm sure is the case with many of you… this week will be very busy in our house!  Finishing off the gift lists, wrapping, baking, cleaning.. oh yeah, and we have to have something for dinner each night!  I love the Christmas season, and I treasure the special activities, parties, time with family, and delicious food!   This week there was a hitch in my plans, when my main computer (the one I store all my photos on) went haywire.. and is currently in the shop in the "hopes" of being able to recover my photos.  So… my nice organized plan of having a few more delicious treats to share with you was foiled!  But this weekend  I "whipped up" some pretty cupcakes as one last treat to share for the year.  After today I'll take a little break from posts until New Years and enjoy a little extra family time.
These pretty pink treats were made using my favorite basic recipes…
Rolled Sugar Cookies (with royal icing)
For the cookies… simply outline and flood in the desired color, allow to dry fully (6-8 hours).  Then using (outline consistency) white icing, pipe a snowflake design.  Hold the cookie over a paper plate and sprinkle with white sanding sugar.  Dust off excess with a dry paint brush.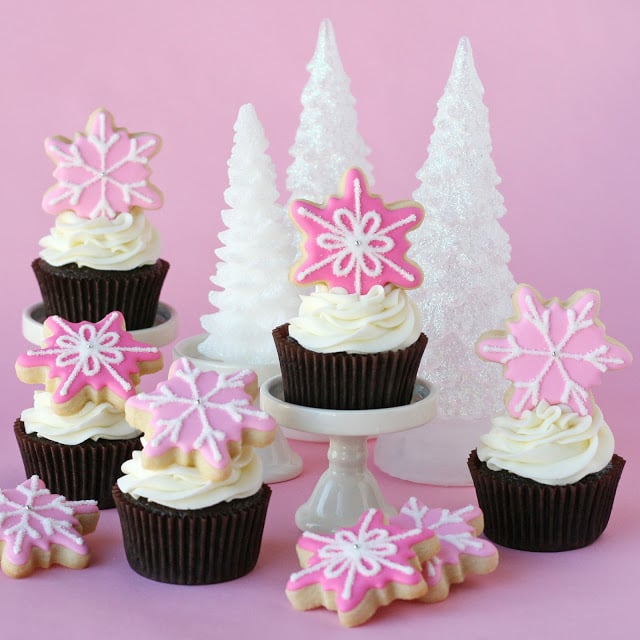 Merry Christmas from our family to yours!
"But the angel said to them, Do not be afraid, for behold, I bring you good news of a great joy which will come to all people.  For unto you is born this day in the city of David a Savior, who is Christ the Lord."
Luke 2:10-11