A couple months ago, a good friend (Amy) called to ask if I would help her with a baby shower she was hosting, for a mutual friend.  I quickly agreed, until I heard the shower date.  The baby shower was going to be the day after my daughter's candy party and I realized I couldn't really guarantee if I was still going to be walking after that day!  So I asked what the theme and colors were going to be and started thinking of things I could help with ahead of time.  She said the party theme was "She's about to POP".  I instantly thought of an amazingly original party I had recently seen with that theme… just by chance the same place Amy had seen the idea.  Here is the original, She's about to POP baby shower from My Insanity.
The colors of the shower were going to come from the colors of some cute tin buckets Amy had bought for the shower; bright pink, bright green, bright blue and purple.  Although the shower was for a baby girl to come, the mommy is not really a baby pink kind of girl (she's more fun), so the colors were chosen to reflect her style a bit.
With the theme and colors in mind, I got to crafting!
I designed custom water bottle labels (I'll be sharing the how-to's in an upcoming post), soda POP labels, cupcake toppers (which read, "She's about to POP), and tags for the favors (which read, "Thanks for POPPING by!").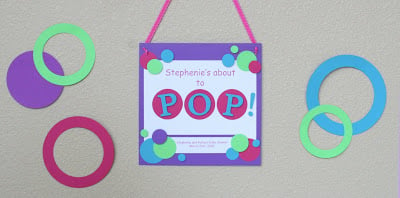 In addition, I made a sign to welcome guests as they entered the home which read, "Stephenie's about to POP".  I made the sign on a 12″ x 12″ scrapbooking page and I left plenty of open space, so guests could sign their names and it could be used as a keepsake for the shower.
I also got to work on some labels for the food.  Amy and I had decided on a fun and simple snack menu of POPcorn (in three flavors- caramel, cheese and chocolate/caramel), cupcakes, and some fresh fruit and veggies (with labels that read "POP something healthy").
Amy also put together some fun games that included a couple POP quizes, and tested our knowledge of POP music.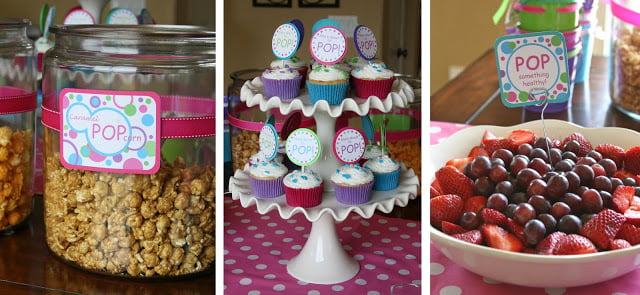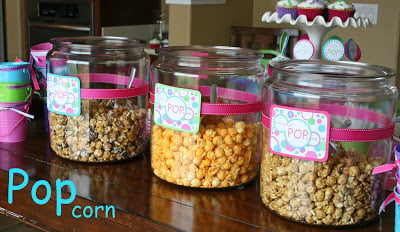 Here's the yummy POPcorn (and on the left you can see the tin buckets guests filled with the popcorn).
Pretty drinks- water and soda POP (above), and the food table set up (below).
How-to's for making your own custom water (or soda) bottle labels HERE.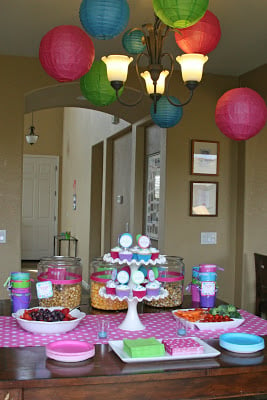 Marshmallow POPS as favors (marshmallows on a lollipop stick, dipped in white chocolate then dipped in sprinkles).  Amy tied groups of three pops together and added the tags that read "Thanks for POPPING by!"
All in all, it was a fun day to shower the mommy-to-be with love and gifts, and a good excuse to spend the afternoon with friends.
Just wondering…
Do any of you feel a sudden craving for popcorn?