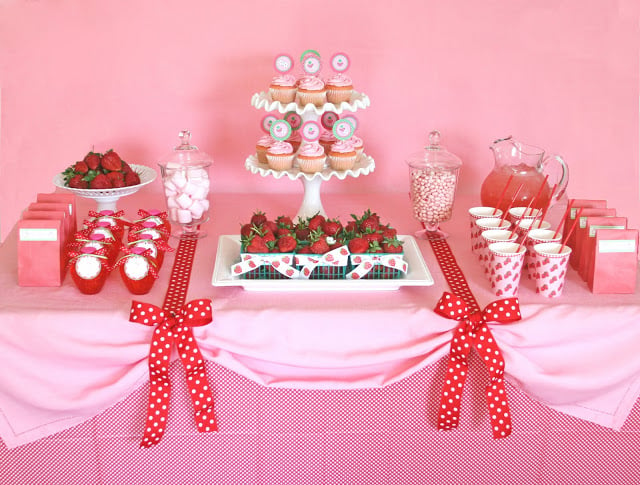 This weekend I added some sweet details to my niece's 9th birthday party.  I got to be in charge of the things I love best, the sweets and the favors!  I set up this little dessert table to display the treats together.
Forever inspired by Amy Atlas and my good friend Sharnel, I always start planning a party with lots of grand ideas.  But somewhere along the way, a pesky little thing called a "budget" often gets in my way!
For this party, I used dishes, linens and ribbon that I already had on hand, and kept the entire cost of the sweets and favors (for 8 girls) under $40.00 (all the details at the bottom of the post).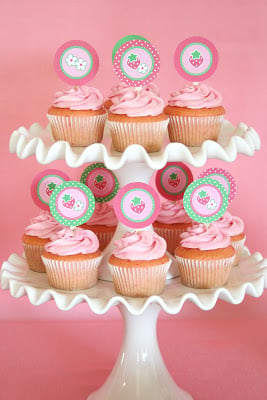 What's a party without cupcakes?  In my mind, not much of a party at all!  The center of the table included these simple strawberry cupcakes with strawberry frosting (my recipe HERE).  I used an adorable FREE download for the cupcake toppers (found at Sweetly Sweet, thank you!)
(below)
I filled two pretty candy jars with sweets, one held strawberry marshmallows, the other was filled with strawberry cheesecake flavored Jelly Bellies.  We served strawberry lemonade in some cute cups I found this week at Michael's (for $1.00!).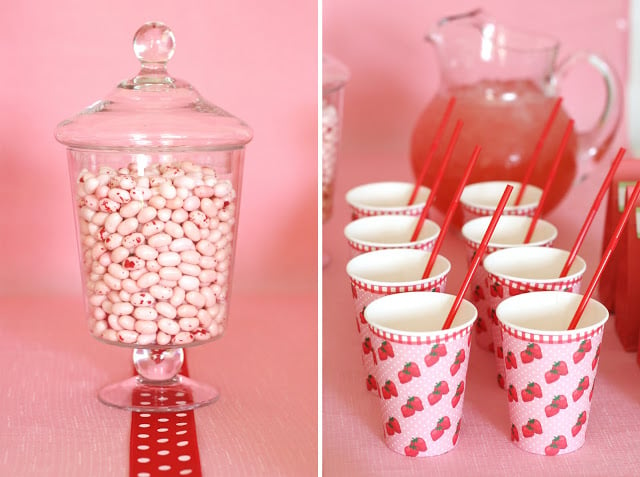 (below)
When my niece first mentioned wanting a strawberry shortcake party, I knew I had seen some cute little (strawberry shaped) bottles of bubbles at the dollar store.  I dressed them up with some custom tags I made, and a bit of pretty ribbon (the tags read  "Thank you berry much for coming to my party!  Love, Mary").  The little guests each got one bottle of bubbles and a little paper sack of sweets (containing a mix of strawberry candies).  The bags were sealed with labels I designed and printed on adhesive backed paper.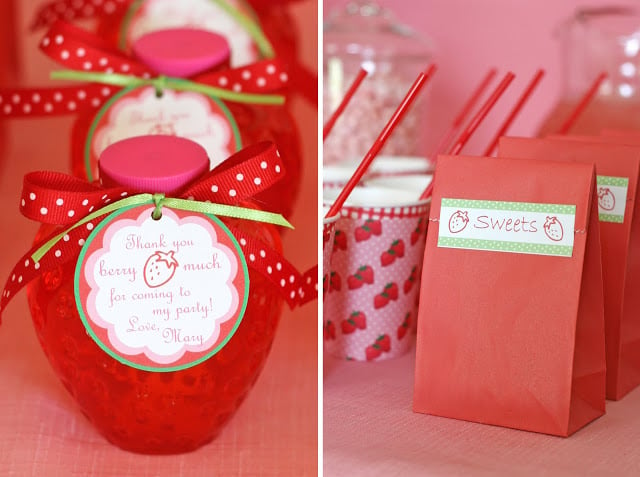 The mommies got a little favor too, a basket of fresh strawberries (picked by my sister and myself).  Even the strawberries got dressed up with ribbon!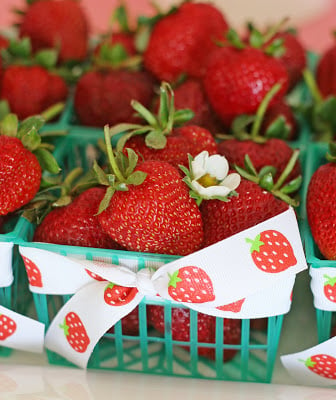 Last year I did a Strawberry Shortcake themed party for my "baby" (now 3), and I made the cupcakes below.  I made the little strawberries, leaves and flowers from fondant.  These would have worked perfectly for my niece's party too, but sometimes a 24 hour day is just not enough to get it all done!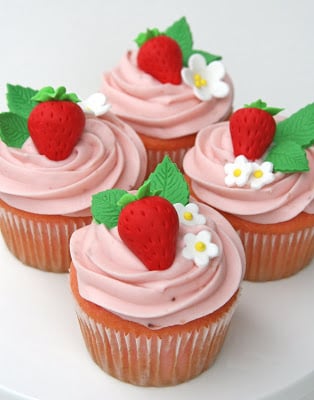 For some reason, this photo (above) is one of the most stolen photos from my Flickr page.  I've either discovered it myself or been notified by Flickr friends (it's so nice to have "eyes" around the world!) of several different bakery web sites using the photo (without permission or payment), and claiming it as their own.  Needless to say, please don't do this =)
Back to the party…
One of the details I was a bit proud of was the double layered effect of the table cloths, accented with red polka-dot bows.  The pink table cloth I already had, and the red check table "cloth" (actually plastic) I found at Michael's (next to the strawberry cups) for $2.00.  The ribbon I already had as well (I've tried to tell you I have ribbon issues!)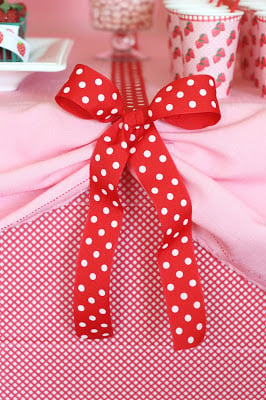 Now, all the shopping details…
Ingredients for cupcakes (apx.) $6.00
Cupcake toppers (free download, from Sweetly Sweet)
Strawberry marshamllows $1.00 (Winco grocery store)
Strawberry cheesecake Jelly Bellies (about 1.5 lbs) $8.00 (Winco grocery store)
Fresh Strawberries (sorry, this price will be hard for you to match) $5.00 (picked by sister and myself)
Strawberry ribbon (around baskets of strawberries) $2.00 (Michael's)
Red paper treat bags $1.50  (they are $2.99 for a pack of 16 bags at Michael's)
Strawberry cups $2.00 (they are sold in packs of six for $1.00 at Michael's)
Red straws $0.08  ($1.00 for pack of 100 at Michael's)
Red check plastic table cover $2.00 (Michael's)
Strawberry shaped bubbles $8.00 ($1.00 each at Dollar Tree)
Strawberry lemonade $2.50 (Winco grocery store)
Total cost for sweets and favors for a party of 8 = $38.08
Update:  To answer the question many of you have sent in… The center cake plates (with the ruffled edge) were a set I bought at Costco earlier this year.  As far as I know they were only sold for a very short time, and I haven't been able to find them again.  Sorry!