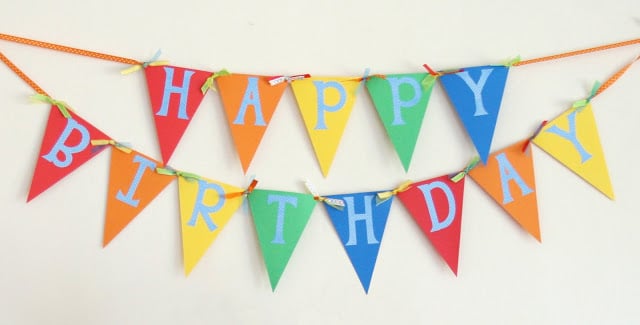 I recently helped a good friend plan a birthday party for her two sweet children, a boy and a girl, who share the same birthday month.  The kids were turning 3 (Tim) and 1 (Annabelle), so they are young enough to "share" a party without thinking they missed out by not having their "own" party.
I spent a bit of time thinking up a party theme that would work for a boy/girl party and we settled on a theme of "Rainbows and Race Cars".  I used primary colors to pull the "Rainbows" and "Race Cars" ideas together, with added emphasis on red and purple.
It was a casual, home party designed with the children (and the young guests) in mind.  The day included some colorful sweets, a yummy BBQ, lots of water balloons and a pinata.
Here is the colorful table of treats I prepared for the party…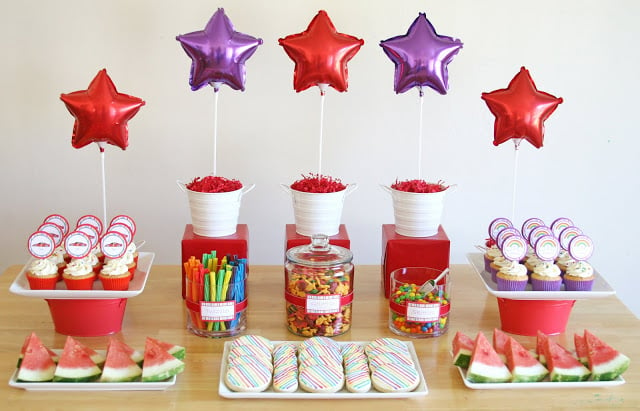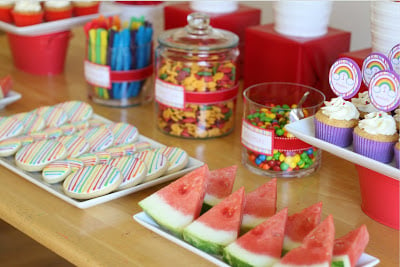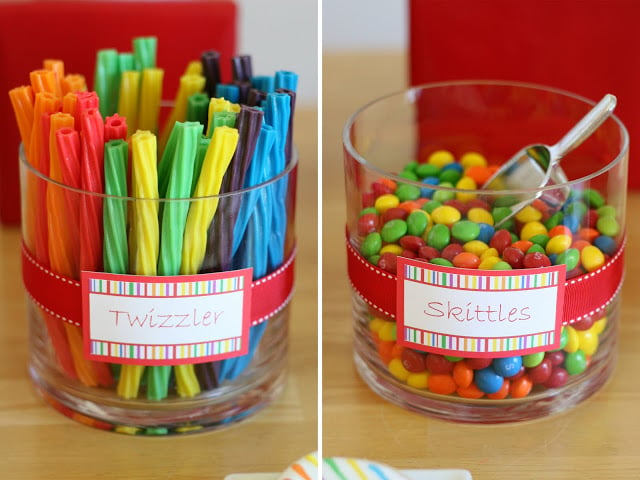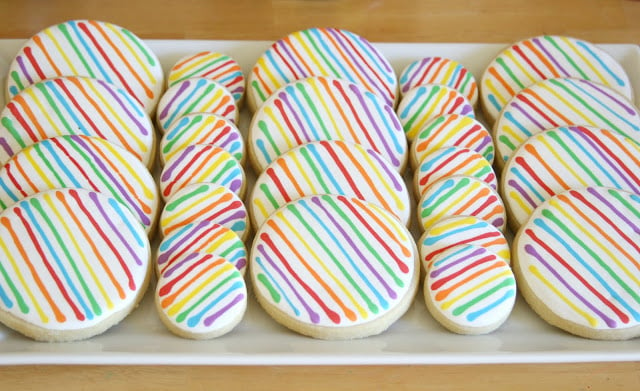 For these cookies, it took me almost as long to make all the bags of icing colors as it did to decorate them!  I used the "wet on wet" technique, by outlining and flooding the cookies in white and then adding the lines of color on the still wet icing.
To create these cookies you'll need…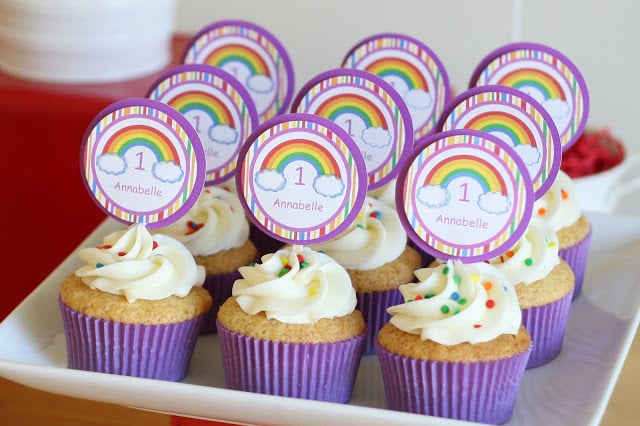 These cute cupcakes are my Perfect Vanilla Cupcake Recipe with my Vanilla Cream Cheese Frosting Recipe.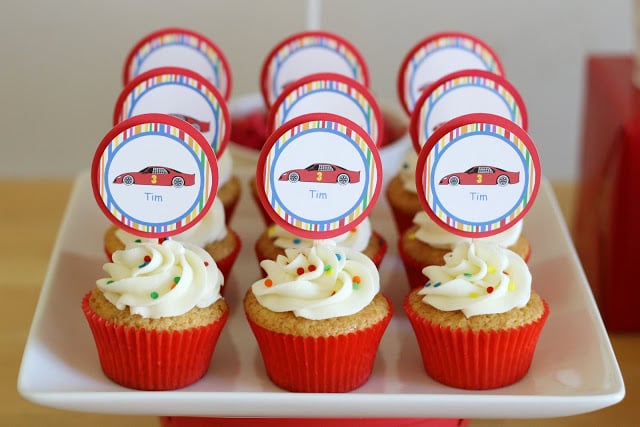 I designed the cupcake toppers, water bottle labels, food labels and napkin wraps using Photoshop (please don't quiz me too much on that, I'm really no expert on Photoshop and these took me hours and hours to work out!)
I do have a tutorial on How to Make Custom Water Bottle Labels HERE.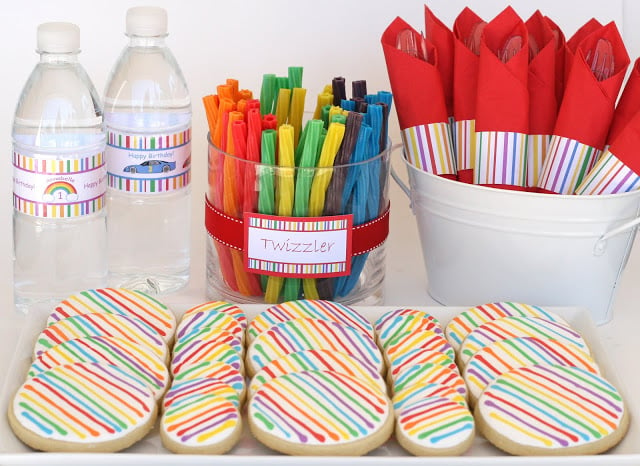 Party favors included rainbow ribbon hair bows for the girls (HERE is the how-to on the bows), and Hot Wheels race cars for the boys.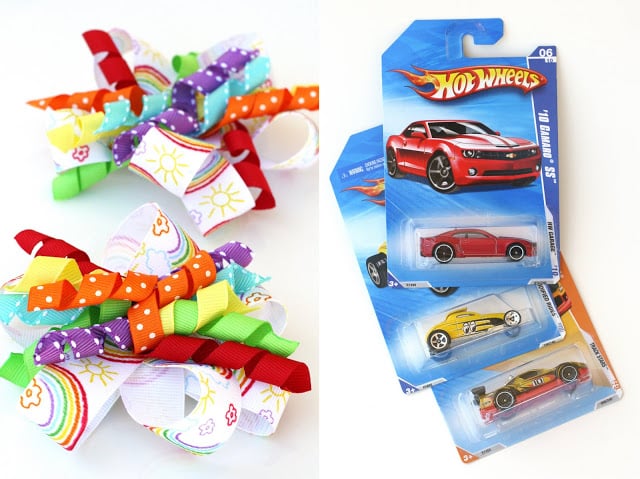 I was able to find a perfect rainbow pinata (from Party City), which of course the kids enjoyed thoroughly!  And here is the sweet birthday girl modeling a mini version of the hair bows I made.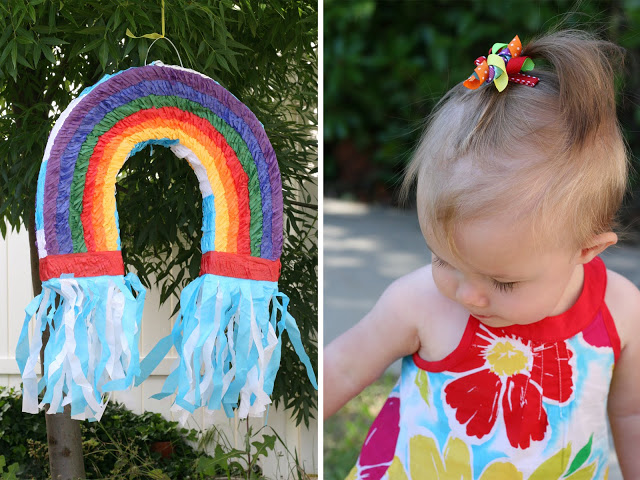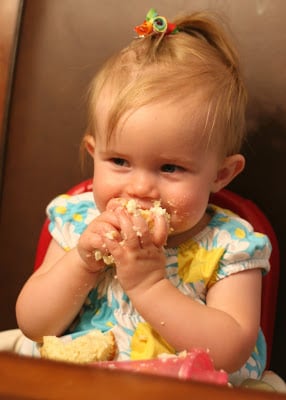 It was a colorful and sweet-filled day and I think the birthday boy and birthday girl both felt celebrated.  And little Annabelle is a girl after my own heart… she knows how to enjoy a cupcake!  =)