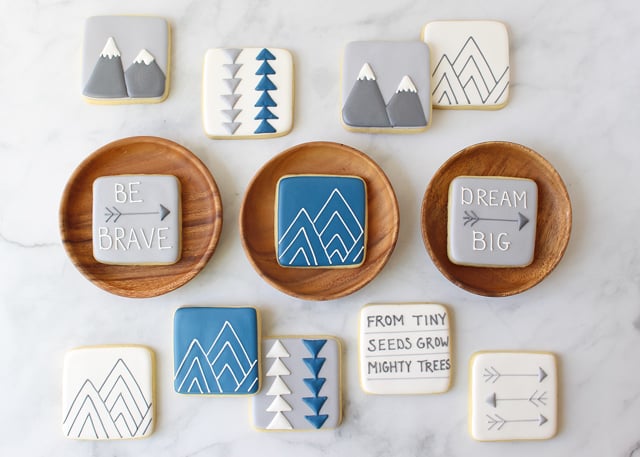 These Mountain Baby Shower Cookies are a modern take on classic baby boy decor.
Clean lines, simple designs and just a few colors were needed to bring this modern theme to life.
The inspiration for this set came from a photo my friend Julianne of Beyond Frosting sent me of the baby room she and her husband Kevin are setting up for their soon-to-arrive baby boy.
Julianne has a sleek, modern style and I wanted to create a special set of cookies in her honor as she counts down the days until she gets to meet her little bundle of joy.
In fact, today you're all guests at a surprise "virtual" baby shower for Julianne! Hooray!
A group of Julianne's blogging friends from around the country have each created a special treat to celebrate our sweet friend!
Be sure to read along and at the end of this post you'll find links to each of the treats.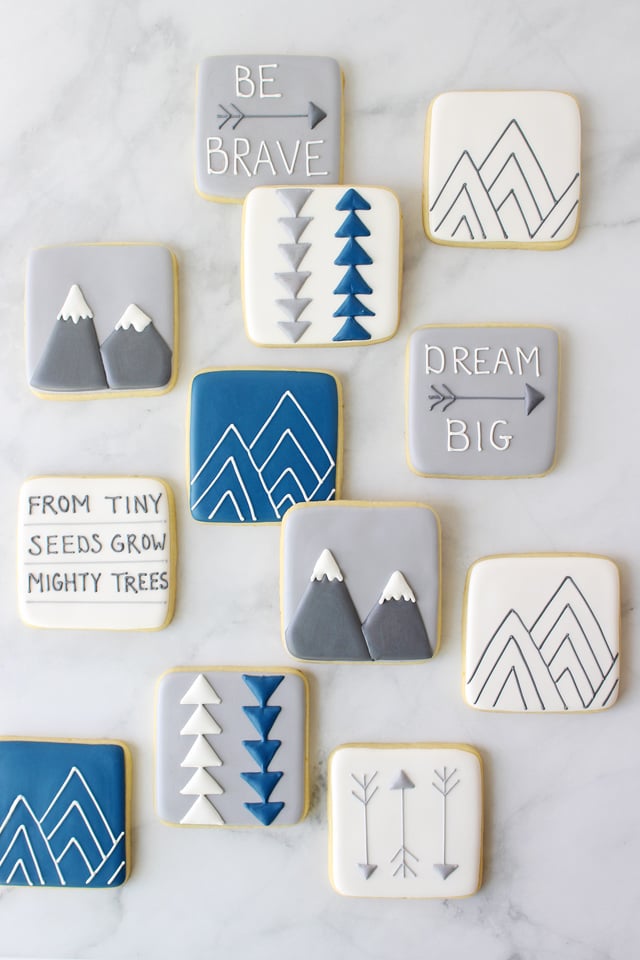 Modern Mountain Baby Shower Cookies How-to
To create this set you'll need…
A batch of cookies using my Perfect Sugar Cookie Recipe.
A batch of royal icing using my Royal Icing Recipe.
A set of Rounded Square Cookie Cutters.
Gel food coloring. I used Americolor Gels in Navy Blue, Electric Pink & Electric Blue (the three combined for the blue color shown), and then Ash Gray and Super Black for the two shades of gray shown.
I used tipless piping bags for this set (available from Truly Mad Plastics), but you could also use standard piping bags fitted with tips. For outlining, I like to use PME #1.5 tips and for flooding I use PME #2 tips.
After following my royal icing recipe post, create two bags of icing of each color… one thicker consistency (about the consistency of toothpaste), and then one thinner consistency (about the consistency of shampoo or honey).
Using the decorating video above as a reference…
For each design, outline the cookie using the thicker icing, then immediately fill-in (flood) with the same color icing in the thinner consistency.
Depending on the design, set aside the flooded cookie and allow the icing to set up for 1-2 hours before adding details.
Once you've completed the designs, set aside the cookies to dry for 8 hours (overnight) before packaging.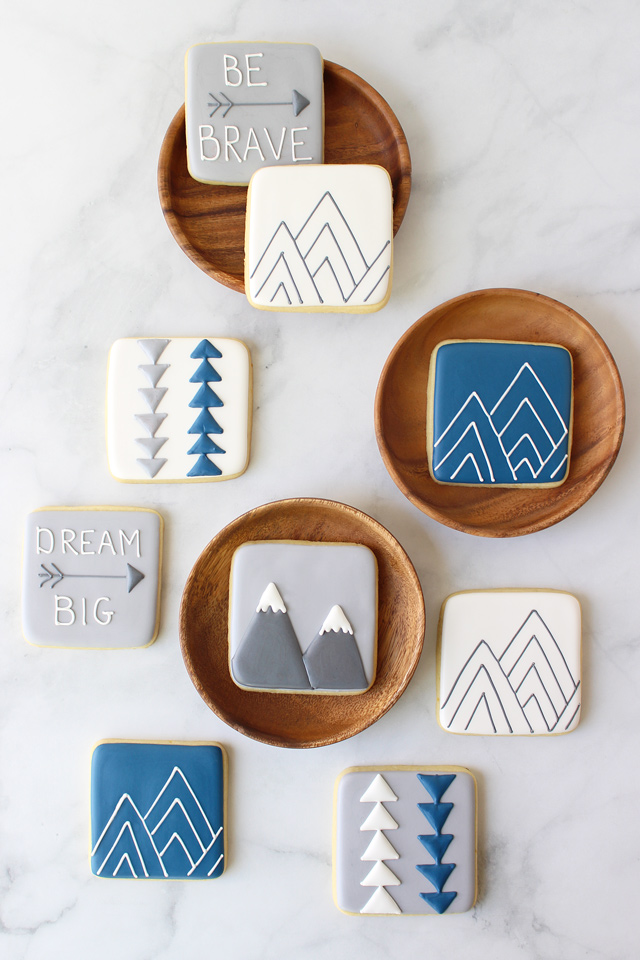 What fun it is to celebrate Julianne… even when we can't all gather in person.
Hop over to each of these sites to find lots of deliciousness!
Banana Fritters from Grandbaby Cakes
Mama's Best Banana Pudding from The Novice Chef
Snowy Mountain Baby Shower Cake from Life, Love and Sugar
Fruity Pebbles Muffins from Crazy for Crust
Mountain Baby Shower Cookies from Glorious Treats (that's me!)
Instant Pot Cheesecake from Dinners, Dishes and Desserts
No Bake Turtle Dream Bars from 365 Days of Baking and More
Churro Cupcakes from Spoonful of Flavor
Classic Lemon Bars with Shortbread Crust from A Classic Twist
Peanut Butter Chocolate Poke Cake from The First Year Blog
Chocolate Raspberry Layer Cake from A Dash of Sanity
Potato Chip and Pecan Sandies from Simple Joy
Congratulations Julianne & Kevin!