More Candy Party Planning
This is post 2 of 3 on my daughter's Candy Party. Here is the first post, Candy Party Planning. And the final post (with the actual party!) is here, Grace's Candy Party.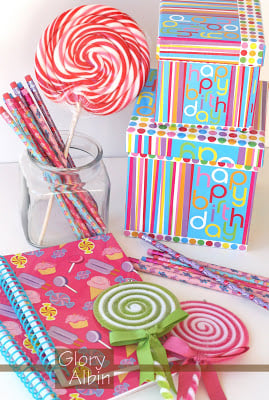 As the date for my daughter's candy themed birthday is moving closer, I've been having a fun time collecting all kinds of sweet things! It seems the stores have been cooperating with me, and I've been finding cute things everywhere I go. I guess there are some big advantages to planning a party 6 months in advance!
Here are a few of the things I've found-
Colorful boxes (Michael's)- I'll use these to add some height and color to the candy buffet table.
Giant red/white/pink lollipop (Target)- I found of few of these discounted after Christmas.
Pencils with cupcake and lollipop designs (Michael's)- I found packs of 8 pencils in the dollar section, yay!
Notebooks with candy designs (Michael's)- Another find from the dollar section.
Plastic green/white and pink/white lollipops (Target)- These were sold as Christmas ornaments.
I came across these cute shirts at Target. They were only $5.00 each, so I didn't have any problem buying two, one long sleeve and one short sleeve. Since I dont' know exactly what the weather will be the day of the party, the birthday girl will have a cute party shirt either way.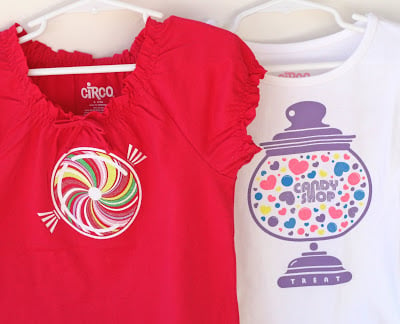 At my request, my (very talented) mom made these adorable pillow covers with cupcake and sprinkle pattern fabrics. She made a total of 6 pillow covers, so I'll have pillows to put on the couch and a few chairs around the house. I have a feeling I may just leave the pillows around even after the party, they are so cute! She also made a bunch small bean bags using the pink cupcake fabric. We'll be using the bean bags for some of the party games.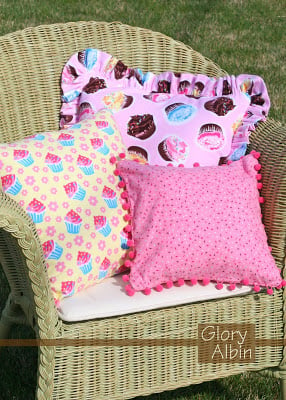 In addition to a few bean bag games, another game I've prepared is a candy version of bingo (photo below- on the left). I gathered a bunch of sweet themed clip art images and then arranged them in PhotoShop to create bingo cards. So instead of calling bingo numbers, I'll pull from the stack of calling cards (the individual images) and say, "Does anyone have a chocolate chip cookie?", and then those who do will mark that spot. The first to have three sweets in a row is the winner. I laminated the cards so then can be used again and again. We've already played with them several times as a family.
Below (on the right), are some more of the fun things I've gathered for game prizes. The large lollipop shapped item is a set of candy shapped soaps (obviously not for the younger guests!)- I picked up two of these at Wal-Mart on clearance after Christmas. The mini gumball machines are from Big Lots (although Wal-Mart has very similar ones in the Easter candy section right now, for $1.00). The bubble gum flavored lip gloss is from Dollar Tree.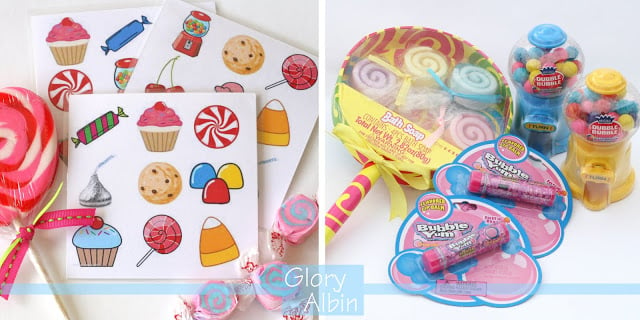 Since first deciding on the candy theme, I've been collecting a variety of jars for the candy buffet. I knew this would be one of the larger financial investments for the party, so it was the first thing I started searching for. I wanted to spread the cost over several months and also, not be running around town searching for them a couple weeks before the party. The most I think I paid for any of the jars was $16.00, which sure beats the $30-$50 Pottery Barn charges for apothecary jars. Once I thought I'd collected enough jars, I played around with arranging them until I found a display I was happy with. Then I thought through which kind of candy, and which colors of candy would go in each jar. I labeled the jars with the kind of candy they would hold, so then I could figure out how many pounds of each kind of candy I would need. I didn't want to order 5 pounds of something I would end up putting in a smaller jar, or not order enough candy for the larger jars.
Shopping info.- Back row, L to R- Antique store, Wal-Mart, Home Goods, Wal-Mart, Antique store
Front row, L to R- (box) Michael's, Home Goods, Antique store, Michael's, (box) Michael's