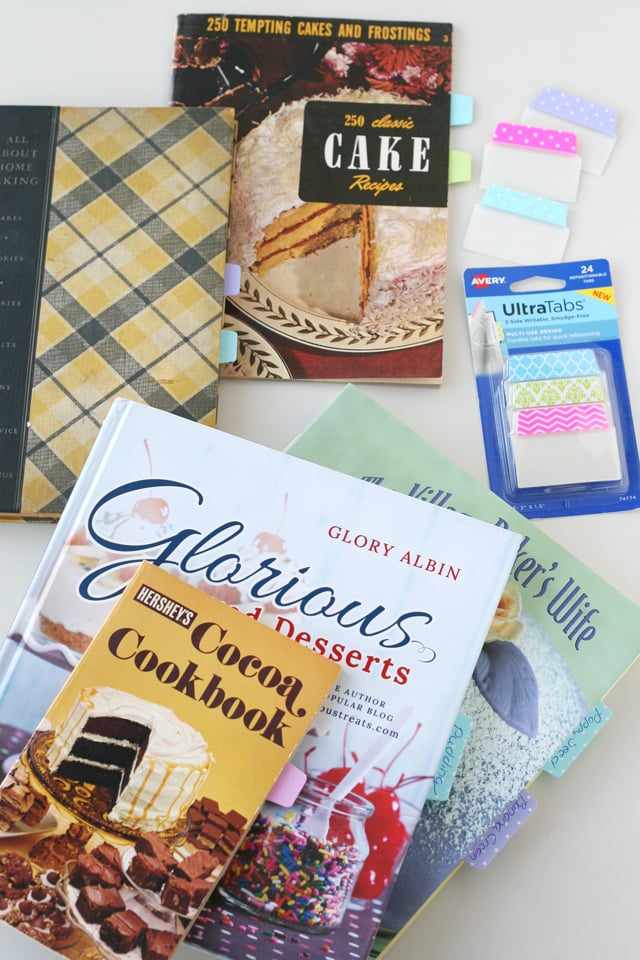 As we dive into this new year let's tackle one thing on our list of resolutions… get more organized!
I recently spent some time organizing my home office and when it was all said and done I was left with a giant pile of recipes and cookbooks that needed to be better organized!  Can anyone else relate?
I love collecting vintage cookbooks, new cookbooks, printing recipes from blogs, and saving recipes from magazines… but then I'm left with quite a mess!
I've happily partnered with Avery Products to help me get a handle on my recipe and cookbook organization!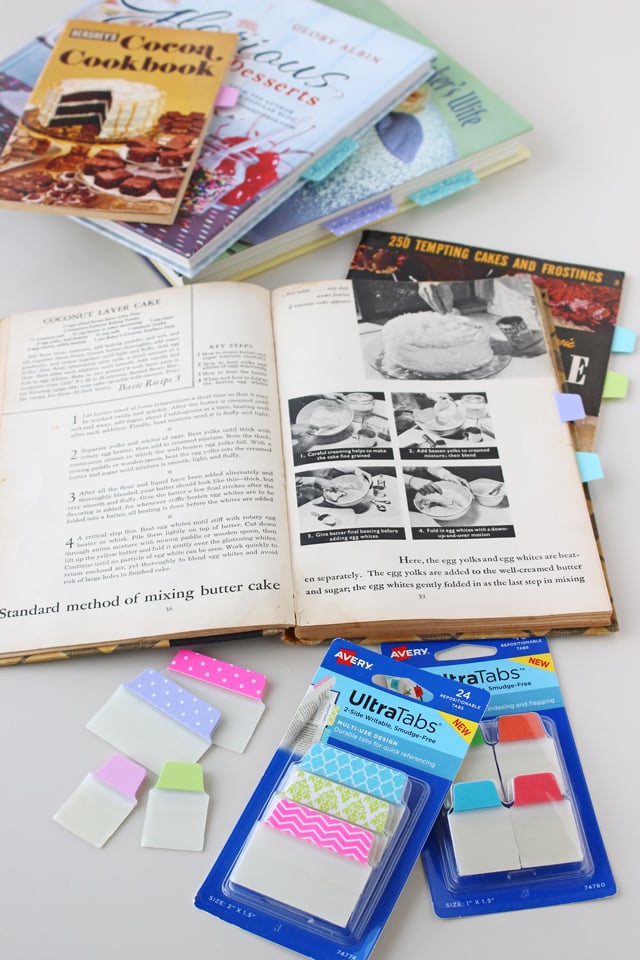 I love vintage cookbooks and have fun picking them up at antique stores or simply scrolling through ebay.  So many classic dessert recipes originated in the 1940s-1960s and I love finding the original sources of recipes that are still popular today!
Additionally, I am so blessed to be in the food blogging world and have many talented friends who've written cookbooks… so my collection of new cookbooks seems to be ever growing as well!
My night stand is more often piled high with cookbooks than novels!
With a large collection of cookbooks it's hard to keep track of my favorite recipes, or bookmark all the recipes I'd like to try!
I recently stocked up on Avery Ultra Tabs and was able to make some great progress in labeling recipes I want to easily find.
Avery Ultra Tabs are self-adhesive tabs that are sturdy, repositionable, and have a smudge free surface for writing!  The tabs come in several sizes and colors, so they're perfect for organization at home, work and school.
For organizing cookbook recipes you could choose one color to represent recipes you want to try, and another color for recipes you've already tried and love!  Or, use a color coding system to mark recipes of different types, such as one color for cake, one color for cookie ideas and another color for dinner recipes.
Or simply write directly on the tab with the recipe title, or your note about the recipe.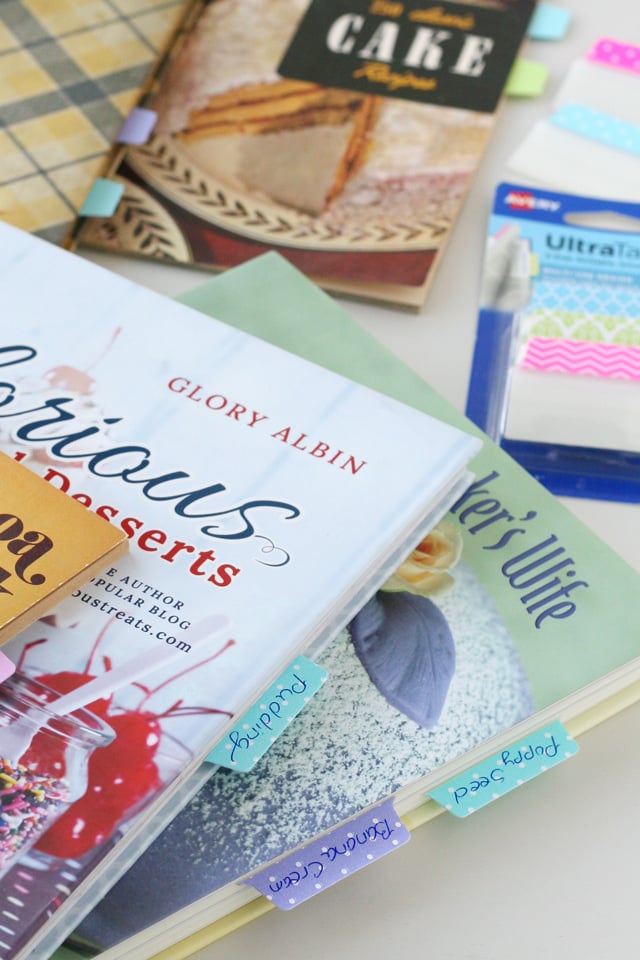 Once I'd labeled my cookbook recipes it was time to move to all the recipes I've printed from websites and blogs, and cut out from magazines.
I even print recipes from my own blog because I generally prefer to work off a printed recipe than have the iPad or phone with me in the kitchen.  Yes, I realize that sounds funny from someone who makes their living from a website (this one!)… but I still love to have my hands on paper!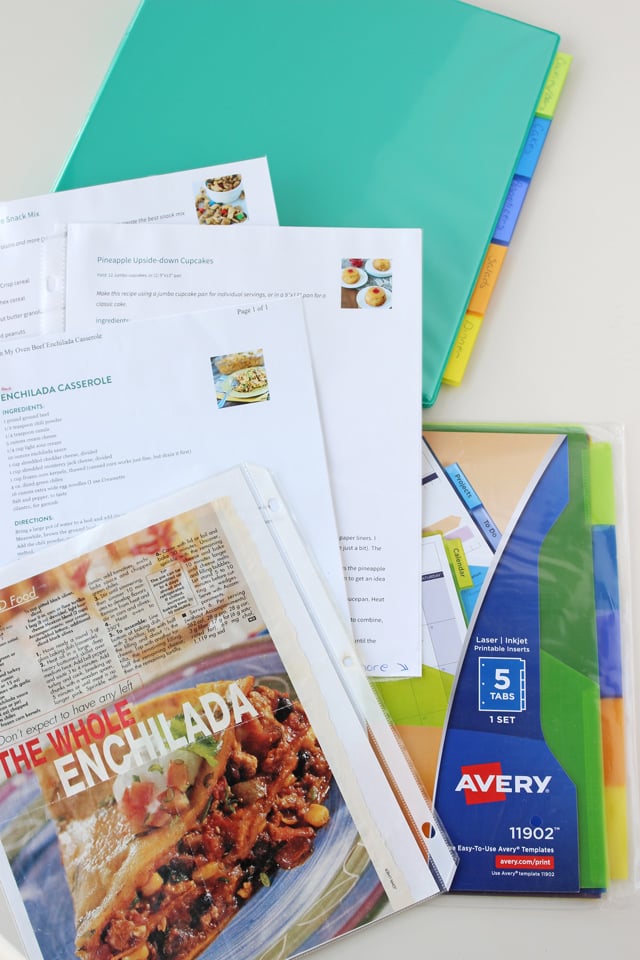 I started with an Avery Durable View Binder and a set of 5-Tab Dividers with pockets. I labeled the dividers with the recipe categories I needed (Cakes, Cookies & Bars, Appetizers, Salads, and Dinners). Yes, in my world "Cakes" should always be prioritized before "Dinner." =)
I put the printed recipes in Avery Sheet Protectors…perfect for protecting the recipes from inevitable spills in the kitchen.
Now I have all of my favorite recipes from blogs and magazines in one place! Horay!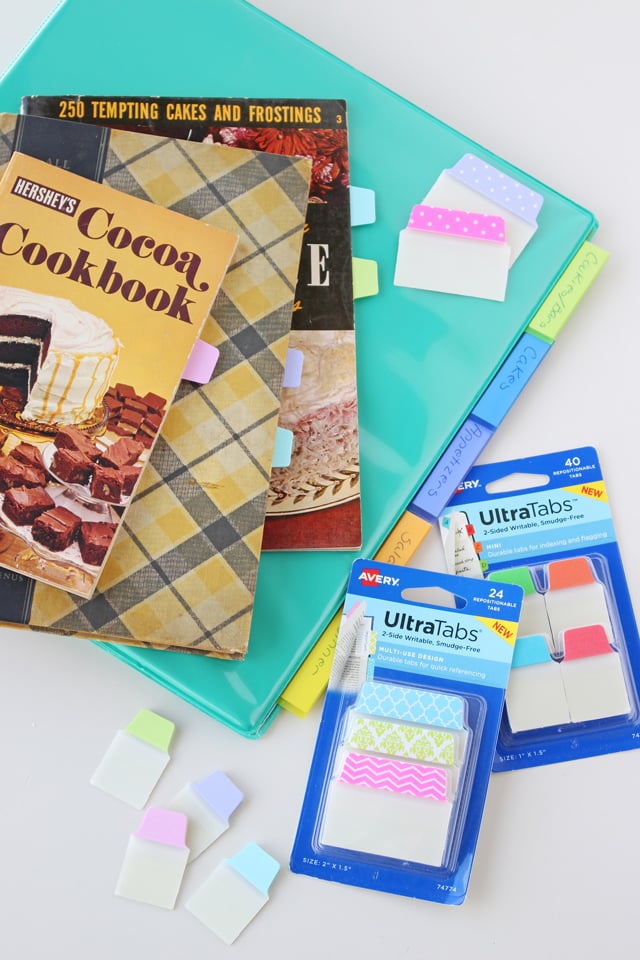 Organizing my cookbooks and printed recipes has me feeling super inspired to make lots of delicious new things this year, and I'm excited I'll be able to find my old favorites without searching through my whole house!  =)
I'd love to hear any tips you have on keeping track of your favorite recipes, and I'd love to hear what cookbooks you go back to again and again for your favorite recipes!
Happy baking and organizing!
Disclosure – This post is sponsored by Avery Products.  Partnering with brands I love allows me to provide you high quality content at no cost to you.  I only work with brands I use and love.  All images, text and opinions are my own.