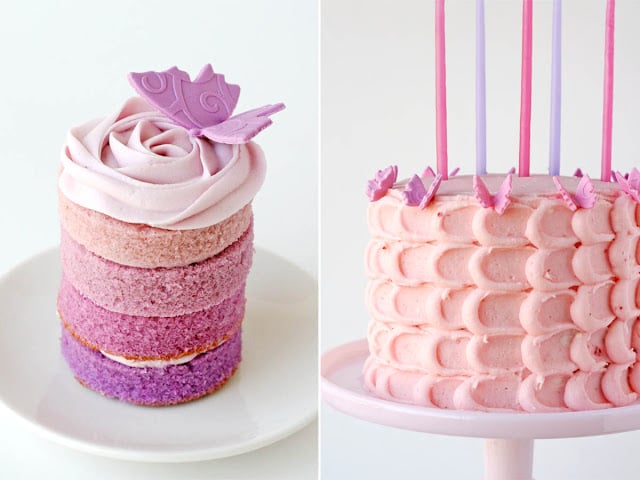 I've recently shared two cakes that were embellished with fondant butterflies, my daughter's Butterfly Birthday Cake (above, right) and most recently the Purple Ombre Mini Cakes (above, left).  As promised, I've prepared a tutorial for making these easy and beautiful fondant accents.
~ How To Make Fondant Butterflies  ~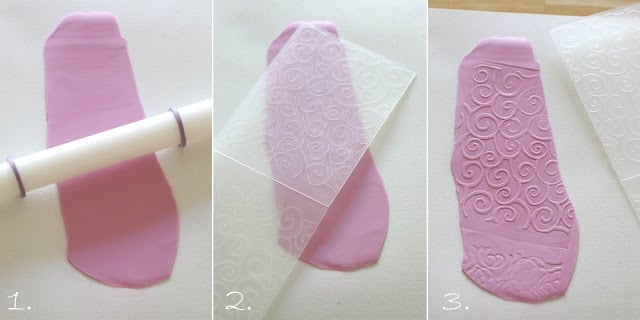 1.  Color your fondant as desired, and roll out to about 1/8 inch thick.
Note ~ If you are new to working with fondant, I have a full post, Fondant 101 that shows how to color and roll out fondant, and lots of different ways to use fondant.
2.-3.   Use an impression mat of some kind to press a pattern onto the fondant.  I used an Embossing Folder by Cuttlebug, which is really a scrapbooking tool, sold at craft stores with paper crafting items.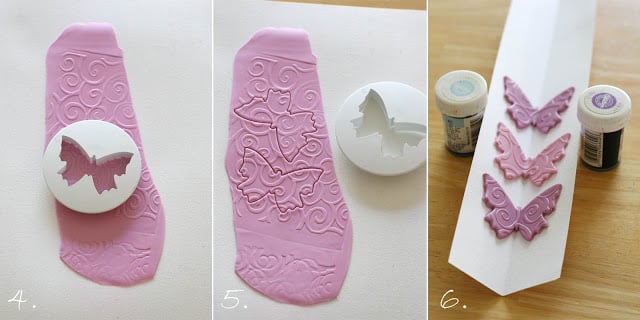 4.-5.   Use a butterfly cutter (this one can be bought at Global Sugar Art or similar cutters from Country Kitchen SweetArt) to cut the fondant.
6.  Carefully lay the butterfly shapes in a "valley" created by folding a piece of sturdy cardstock into a V shape (as shown).  This will allow the butterflies to dry with their wings "in flight".  Of course if you'd like the wings flat, simply dry on a flat surface.  To prevent the butterflies from sticking to the paper, use paper with some texture on it, and/or dust the paper slightly with corn starch or powdered sugar (before laying butterflies on it).  Allow fondant butterflies to dry 12-24 hours (or more) before adding to cakes or cupcakes.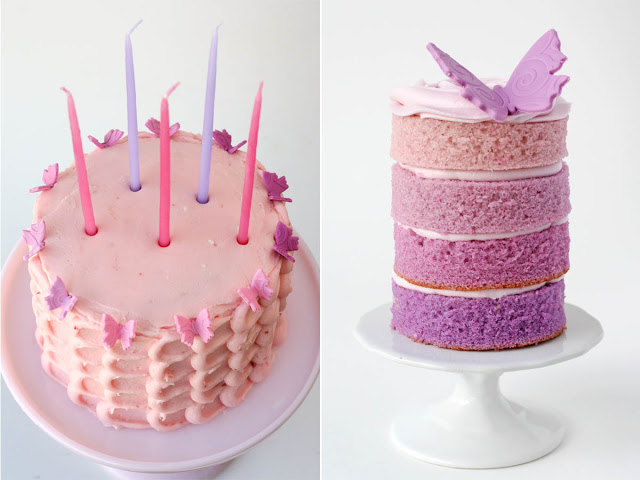 Add your fondant butterflies to cakes, cupcakes or any special treat.  The cakes above show the butterflies in two sizes, small on the Butterfly Birthday Cake on the left, and large on the Purple Ombre Mini Cake on the right (sources for the cutters linked above).
Happy Decorating!