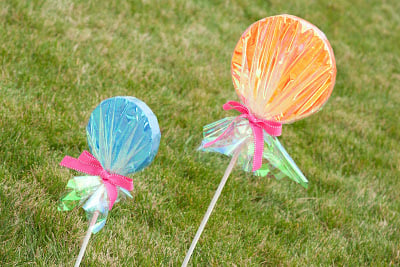 Since my daughter's candy party (back in March) I've had lots of questions about the giant lollipops I made as decorations for the front walkway.  The idea is not my own, I found many similar lollipops on several different sites as I was gathering ideas for my daughter's party.  This was one of the many crafts I prepared weeks in advance.  They are not hard to make, and can be used to add color and whimsy indoors or out.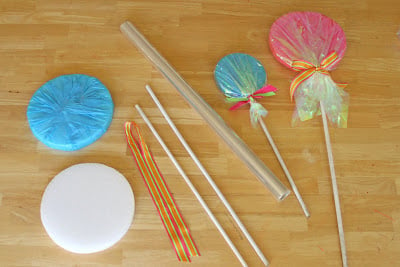 Here are the supplies you need-
Styrofoam circles
(I found them at Michael's and Wal-Mart) The one surprising thing about this craft is that the styrofoam is actually quite expensive!  The larger circles were close to $5.00 each.
Wooden dowels
(available at most craft stores and Wal-Mart for about $0.50 each)
White spray paint
Colored tissue paper
Cellophane
(I used iridescent cellophane- from Michael's)
Ribbon
~ Directions ~
Step 1-  Spray paint the wooden dowels white.  Allow them to dry, then cut the dowels to desired lengths.
Step 2– Wrap styrofoam circles with colored tissue paper.  Wrap them the best you can, but they don't have to be perfect, because the cellophane will cover the imperfections pretty well.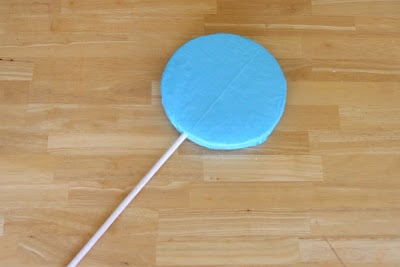 Step 3-  Push a dowel into the wrapped styrofoam.  If you want, you can put a little glue on the dowel before you push it in (I didn't glue mine).
Step 4-  Cut a piece of cellophane and wrap it over the styrofoam, gathering the ends around the dowel.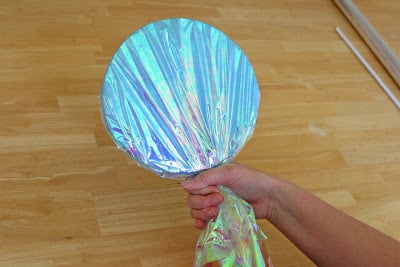 Step 5-  Tie a piece of ribbon around the gathered cellophane, then make a bow.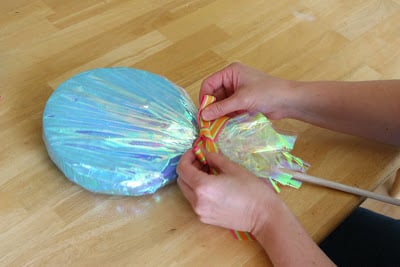 That's it!  Adorable, calorie-free lollipops!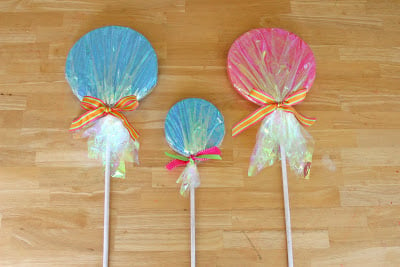 A fun way to welcome guests to a sweet party!