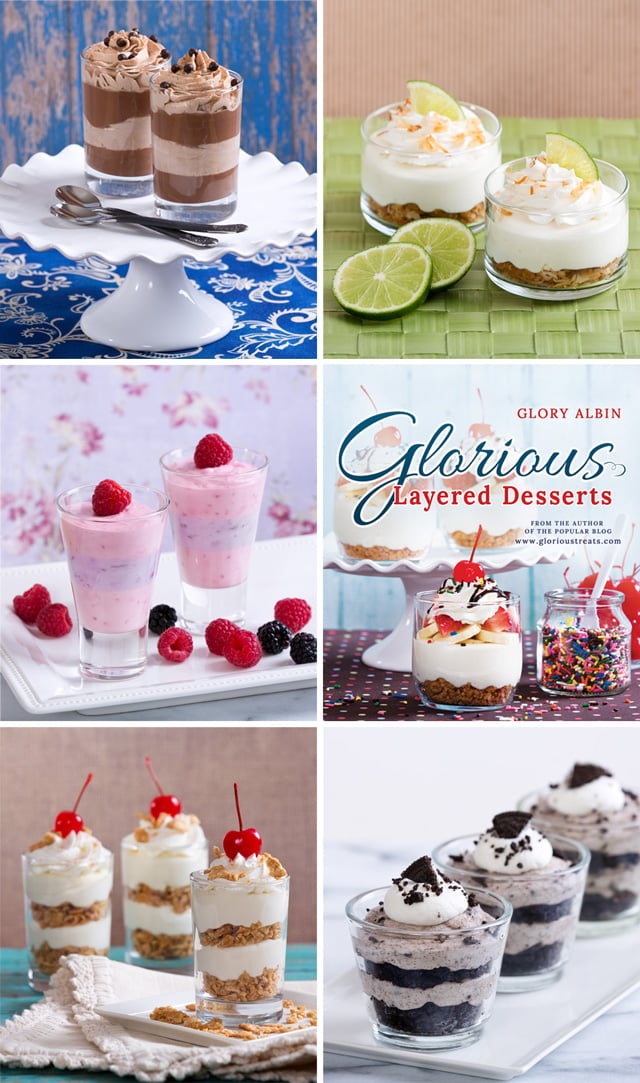 Happy March!!  This is a month I've been looking forward to for nearly a year…. the month my cookbook, Glorious Layered Desserts, is officially available to purchase!!
What an adventure it was to complete this book…. so many recipe notes, so much chocolate, so much cream, and a lot of love!
Each and every recipe in the book was tested and re-tested several times…. by me, in a pretty modest sized kitchen.  Several days during the recipe testing I showed up at my daughter's school with jars of pudding, fudge sauce, caramel sauce… it was pretty funny!  I mean, when in your life have you ever walked up to a friend and said… "here, would you like a jar of pudding, I just made 7 batches of it!"
Every recipe in the book has a full page image.  I enlisted the help of a talented photographer friend, Gene Chutka.  We had a lot of fun working together.  He brought all of his photography equipment to my house and I would have a line up of desserts ready to go.  I would set up a photo shoot, making sure there was just the right amount of crumbs, or drizzle, and then he would take the photo.  We'd look at the photos together on his computer, make little adjustments to the set up, and then move to the next recipe.  I'm sure it would have been funny to be a little mouse in the corner and hear our conversations… "Do you think there should be a few more sprinkles on that dessert?"  "Are there a few too many crumbs on the right side of that plate?"  Gene was very patient with me, and his eye for detail was a perfect fit with mine!
The images in the collage above will give you just a little idea of the recipes in the book.  There are over 60 luscious recipes… from Chocolate Nutella Cream Dessert to Raspberry Blackberry Cheesecake Mousse, to Pumpkin Banana Caramel Trifle… I really think you'll find something for everyone!
In addition to the recipes themselves, I've included notes on ingredients, techniques, where to buy supplies, and recipe shortcuts.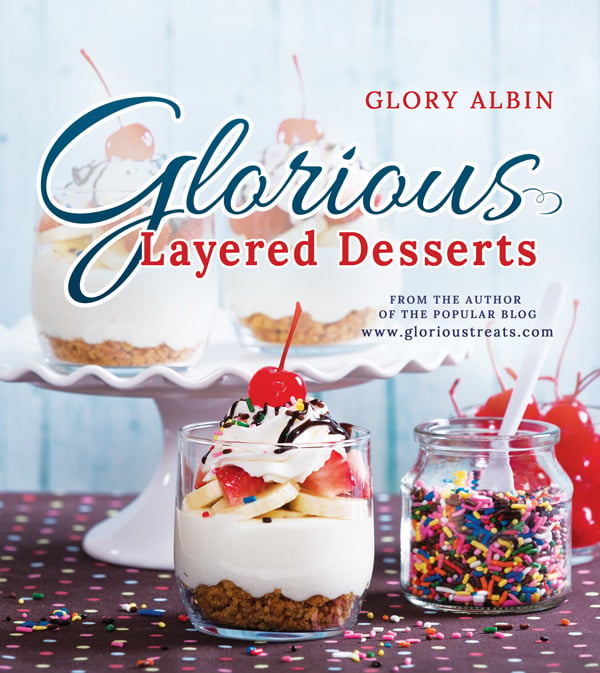 This book represents a lot of love, hard work, and a few tears!  I am very proud of the final results.  I am so looking forward to hearing reports from friends, family and all of you sweet readers, as you try the recipes and share them with the people you love.
There are lots of ways to get your hands on a copy of Glorious Layered Desserts…
To purchase a signed copy directly from me you can find all the details HERE.
Glorious Layered Desserts is available on-line from Amazon, and Barnes & Noble
I will be doing a bit of travel with the book as well, including Folsom-CA, Salt Lake City-UT, Topeka-KS.  You can find a bit more details on those signings HERE.
Thanks so much to each of you who follow this site, leave sweet comments and have already purchased the book!  Your encouragement has meant the world to me!