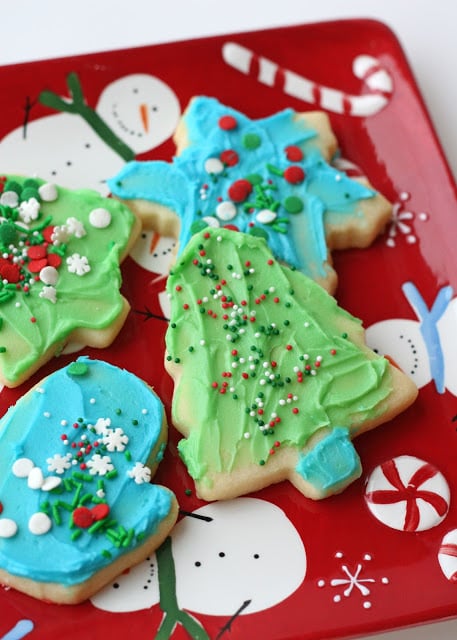 Most children I know really love to decorate cookies!  In fact, last year I realized that my nieces and nephews would probably rather decorate their own cookies, then receive a cookie I decorated for them.  But of course the Christmas season can be a very busy one, and often baking cookies, making icing, and gathering all the supplies needed is just one extra chore.  Last year I thought I could give a special gift to the kids in our family by creating ready to go cookie decorating kits.  I spent a day making cookies and icing, and then packaged all of the supplies together, so that the cookies could be decorated as a special (and easy for the moms) Christmas activity.   I think this could be a great gift to the families in your life with young children.  When I made these kits up, I made one for our household too, and it was great to pull it out on Christmas Day (a day my husband usually works), and do a fun activity with my girls.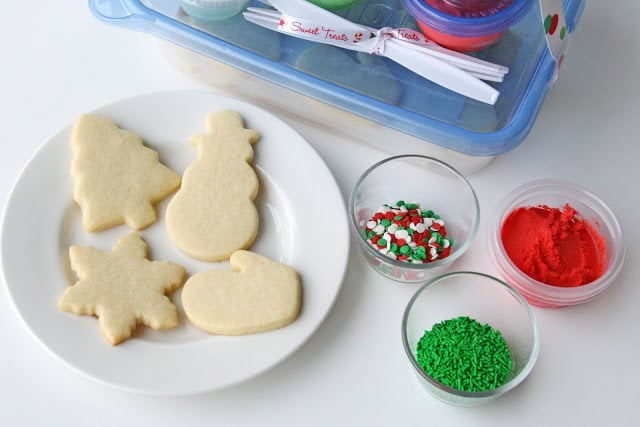 ~ How to make a Cookie Decorating Kit ~
1.  Prepare a batch of Sugar Cookie dough, cut out assorted Christmas shapes, and bake.
2.  Once the cookies are baked and fully cool, layer then in a tupperware type container, with waxed paper between layers.  Plan 3-5 cookies per child in the home.
3.  Prepare butter frosting (Recipe below), and color as desired.  I would suggest 3-5 colors total.  Put icing into small plastic containers.
4.  Add some sprinkles to the gift as well.  I put sprinkles into little plastic dip containers (I picked up a few extra from a restaurant), or use small plastic baggies. You could certainly buy a few containers of sprinkles to include instead (I just happen to have more than enough sprinkles to share!).   Include several different colors and types of sprinkles.
5.  Package everything together.  Include several plastic knifes for spreading the icing.  I used a little tape to keep the smaller containers from moving around.  You could wrap the whole kit in cellophane, or put everything in a pretty basket.
6.  Give to a family you love!
*Note, the baked cookies will remain fresh 7-10 days.   I would recommend storing the icing in the refrigerator, then bringing to room temperature before use.
Easy Butter Frosting Recipe
4 cups powdered sugar
1/3 cup butter (salted or unsalted), melted
1 teaspoon vanilla
2-4 Tablespoons milk
Directions ~
Pour powdered sugar into a large bowl.  Melt butter, then add to powdered sugar, and whisk to combine.  Add vanilla.  Add milk 1 tablespoon at a time, then stir, until desired consistency is reached.  If you add too much milk, and your frosting is too thin, add more powdered sugar, 1/2 cup at a time.  Add coloring as desired.
(Recipe source- My mom.  Original source unknown, similar recipes widely available since the early 1900's)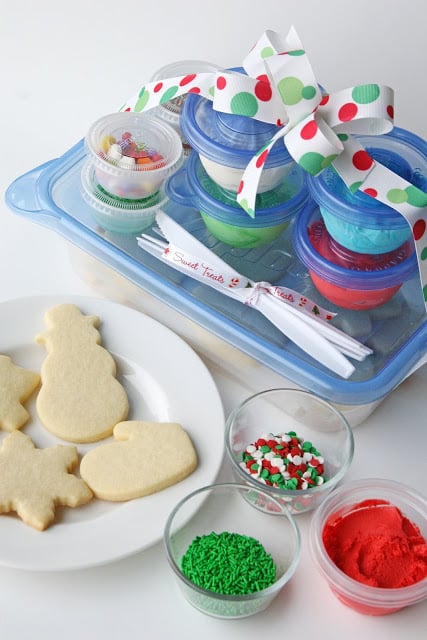 Enjoy some cookie decorating with the little people in your life!  If you're lucky, you may end up with some creations as beautiful as these (created by my 3 and 6 year old)…