Coconut Pound Cake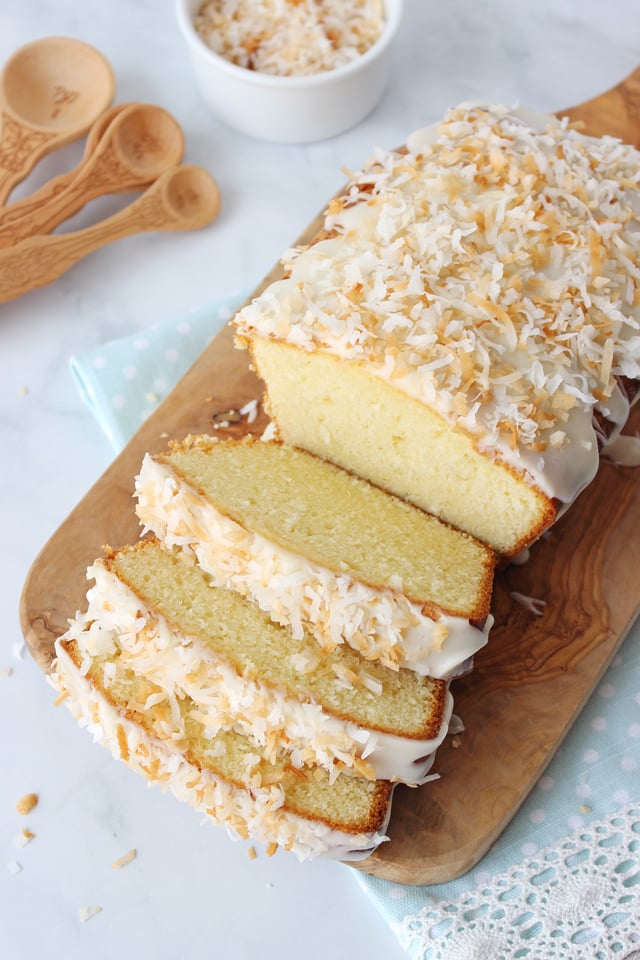 This Coconut Pound Cake recipe produces a loaf cake that is rich, buttery and delicious!
This pretty loaf cake is perfect to enjoy with a cup of coffee, tea or milk…. and maybe a good book too!
I've been finding so much joy in baking during this crazy season.
If we're going to be at home all day, let's fill our homes with the aroma of baking… and then sit and enjoy some special treats!
This recipe was created in partnership with Challenge Dairy.
PIN IT NOW to save for later!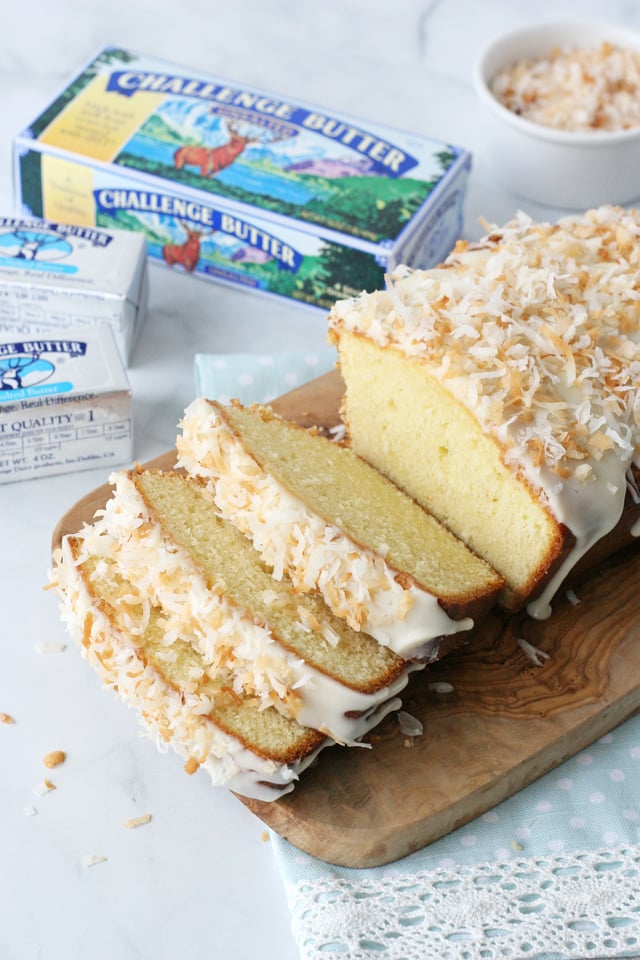 I love simple recipes that can be made using pantry items that are easy to keep on hand.
And I always keep my fridge well stocked with Challenge Butter, so I can bake treats whenever the mood strikes!
To save myself trips to the store, I just freeze packs of butter (just stick the whole box in a large ziplock bag) to keep it nice and fresh for several months.
I use Challenge Butter in all of my baking because I know I can depend on Challenge for fresh flavor and consistent results.
If you're not sure where to find Challenge Butter in your area, be sure to use this helpful map.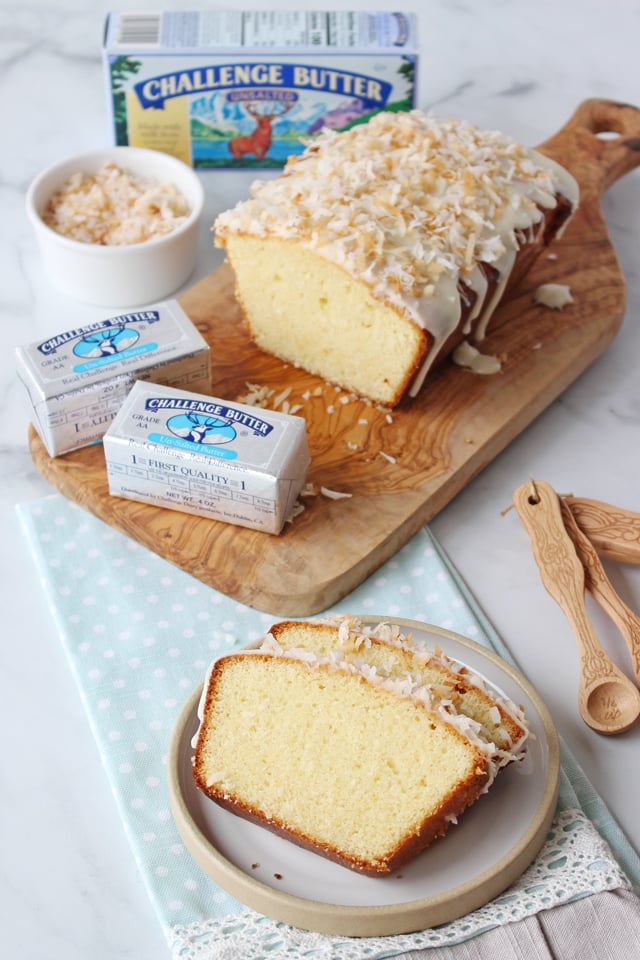 This Coconut Pound Cake recipe produces just one nice sized little loaf cake… perfect to enjoy at home with your family over a day or two, without having any leftovers.
The flavors of coconut, butter and vanilla combine to create a simple and delicious treat!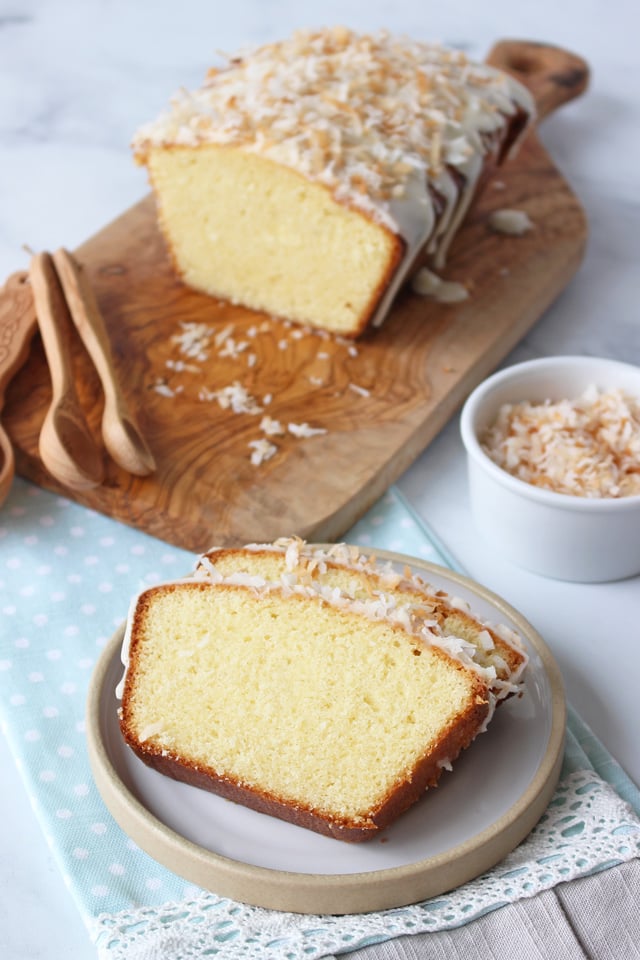 PIN IT NOW to save for later!
Coconut Pound Cake Recipe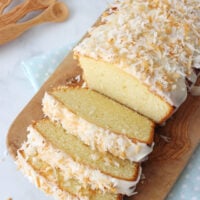 Coconut Pound Cake
Yield: 1 (9"x5") loaf cake
This Coconut Pound Cake recipe produces a loaf cake that is rich, buttery and delicious!
Ingredients:
For the loaf cake
1 and 1/2 cups all-purpose flour
1 teaspoon baking powder
1 teaspoon salt
1/2 cup sweetened flaked coconut - see directions
1/4 cup PLUS 3/4 cup sugar - see directions
1/2 cup (1 stick) Challenge unsalted butter, melted
3 eggs
1 teaspoon coconut extract
1 teaspoon vanilla extract
1/2 cup milk
For the glaze
2 Tablespoons Challenge butter, melted
1/2 cup powdered sugar
1 teaspoon coconut extract
1/2 teaspoon vanilla extract
1 Tablespoon milk or cream
Topping
1/2 cup sweetened flaked coconut, toasted
Directions:
Preheat oven to 350°F and line a 9"x 5" loaf pan with parchment paper (or lightly grease with butter).
In a medium bowl, whisk the flour, baking powder and salt, and set aside.
Blend 1/2 cup coconut in a food processor along with 1/4 cup of sugar, and set aside.  (See notes below)
In the bowl of an electric mixer, blend together the melted butter and 3/4 cup sugar.  Add eggs, one at a time, blending for 10-15 seconds between each egg.
Add the bowl of coconut and sugar that was processed together, and stir until well combined.
Add coconut extract and vanilla extract.
While slowly mixing, add flour mixture and milk in two batches (some flour, then some milk, then the rest of the flour and the rest of the milk).  Stop mixing as soon as it's just combined.
Immediately pour batter into prepared pan and bake for 55-65 minutes, or until a toothpick inserted in the center of the loaf comes out clean.  Cool the loaf cake in the pan for about 30 minutes, then move to a wire cooling rack with a baking sheet below (to catch the glaze you're about to add).
After the cake has baked, leave the oven on, but reduce the temperature to 300°F.  Spread 1/2 cup of coconut onto a baking sheet, and bake for 3-4 minutes (watch it closely).  Remove from oven to cool.
Prepare the glaze by simply whisking together the glaze ingredients.  Depending on how hot the butter was, the glaze may be thin.  Allow to cool a few minutes until the desired consistency is reached, then pour glaze over the loaf cake.
Sprinkle toasted coconut over the top of the cake, allow the glaze to set up a few minutes, then slice and enjoy!
If you do not have a food processor, you may skip the step of blending the coconut and sugar, and simply add those ingredients after the eggs. Processing the coconut (along with the sugar) makes it much easier to get perfectly neat slices of cake, but the cake will be delicious either way.
Recipe source - Glorious Treats
Happy baking!
Disclosure – I created this recipe as part of an ongoing partnership with Challenge Dairy. Partnering with brands I love allows me to provide you high quality content at no cost to you. I only work with brands I use and love. All images, text and opinions are my own.