Snack Lovers Krispie Treats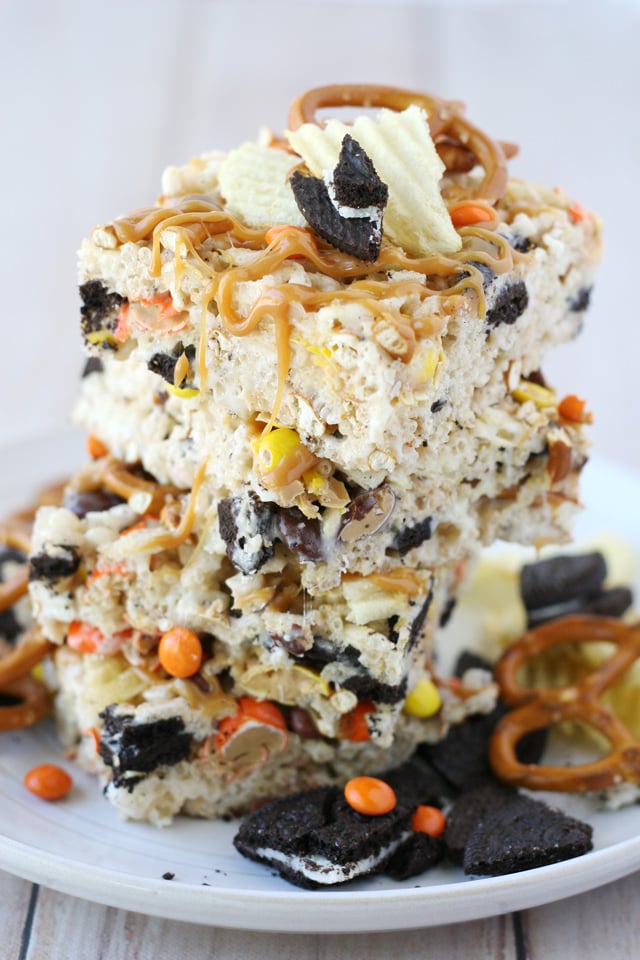 Attention lovers of sweet & salty!!!  These Snack Lovers Krispie Treats are crispy, chewy, sweet, salty and simply AMAZING!
Ok, before you look at the ingredients list here and call me crazy… just go with me on this for a minute!
I had a friend over when I first made these snack filled krispie treats and when I got to the chips (yes, chips!) I know my friend thought I'd lost my mind!
But, she reluctantly tried a slice… and instantly understood my genius!  =)  She declared these crazy treats the best Rice Krispies Treats she'd ever had!
So if you have even a sliver of trust in me… please try this recipe!  They're all your snack dreams come true!  =)
PIN IT NOW to save for later!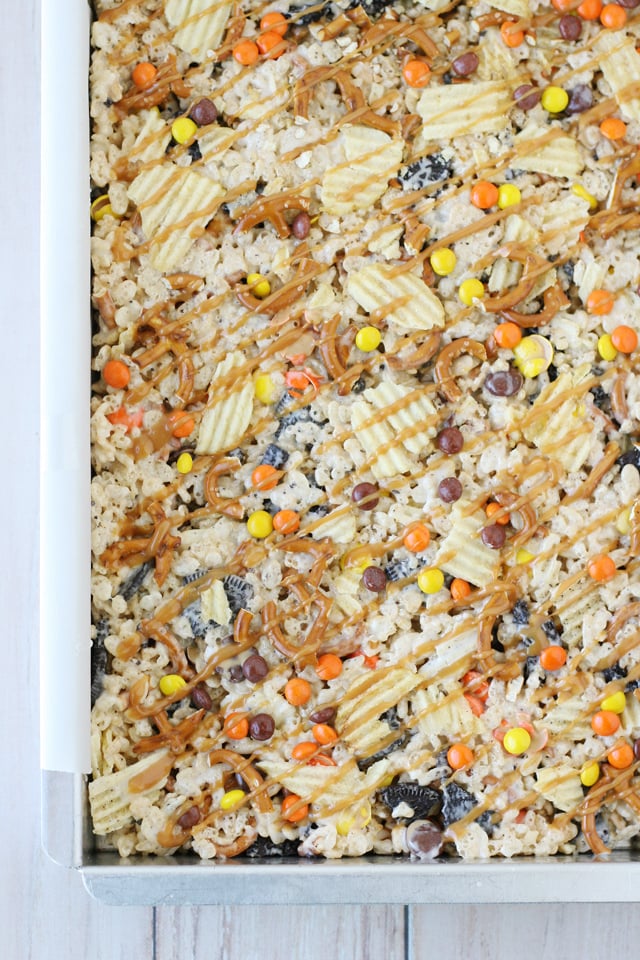 These yummy krispie treats would be perfect for a fall or Halloween party, and they'd even be a great way to use up some leftover Halloween candies!
But you don't have to wait until you're having a party to mix up a batch of these crazy delicious treats!
These Snack Lovers Krispie Treats hit all the right notes… sweet, salty, chewy, and crispy!
They're stress therapy in bar form!  =)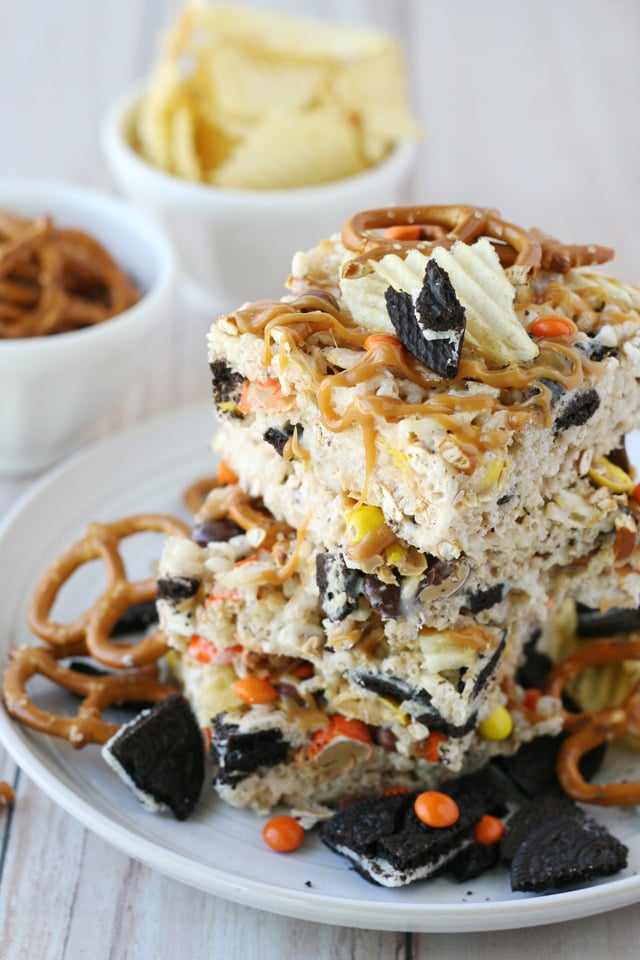 Now, I fully acknowledge that this recipe is filled with lots of beautiful "junk".
So, feel free to have a big salad for dinner so you can enjoy a couple of these for dessert!
I think you'll find the trade off well worth it!  =)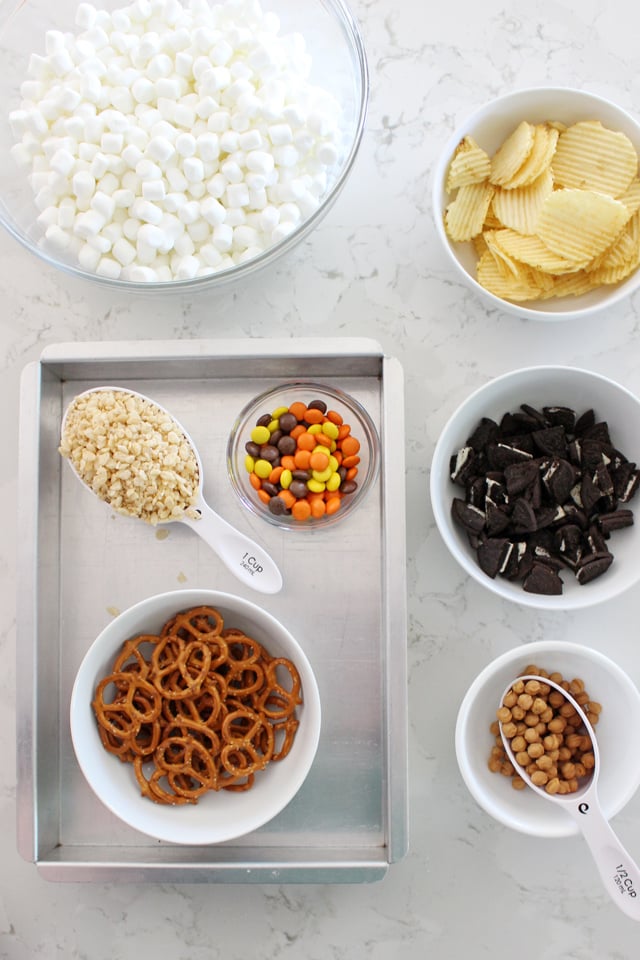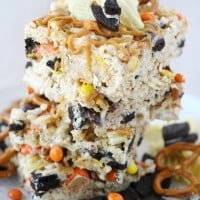 Snack Lovers Krispie Treats
Yield: 1- 9"x13" pan (about 24 slices)
Sweet, salty, chewy, crispy... these treats have it all!
Ingredients:
5 cups Rice Krispies cereal
10 oreo cookies, chopped into 4-6 pieces each
1 cup chopped mini pretzels
1 cup chopped Ruffles (wavy) type potato chips
½ cup (1 movie theater sized box) Mini Reeses Pieces
4 Tablespoons Challenge butter
1 (16oz.) bag mini marshmallows (8 cups)
½ cup caramel bits (sold near chocolate chips)
1 Tablespoon heavy cream or milk
Directions:
Prepare a 9"x13" baking dish (glass or metal) by lightly spraying with cooking spray (or rub pan with a bit of butter).
Prep (chop & measure) all dry ingredients, then add cereal, oreos, pretzels and chips to a large bowl.
In a separate large (microwave safe) bowl, add the marshmallows and butter (chop into a few pieces).
Microwave the butter and marshmallows 2-3 minutes until the marshmallows are super fluffy and melty.
Spray a rubber spatula slightly with cooking spray, and then quickly stir the butter and marshmallows until combined.
Pour melted marshmallows over bowl of dry ingredients and stir quickly to combine, while the marshmallow mixture is still warm. Once combined, add about half of the reeses pieces to the mixture, then stir.
Pour/scoop mixture into prepared pan, and press into pan as needed. Immediately, sprinkle the remaining reeses pieces over top and gently press down just a bit if needed.   Add a few pretzel pieces and a few broken chips on top, as desired, and gently press down to adhere.
Microwave caramel bits and heavy cream (or milk) in a small bowl for 30 seconds at a time (stirring as needed) until melted. Drizzle over pan of krispie treats (you may add caramel to a thick ziplock type bag to make a nice even drizzle, if you wish)
Set aside to cool (at least 15 minutes) before cutting.   Enjoy!
Recipe source - Glorious Treats
PIN IT NOW to save for later!

Love Rice Krispie Treats?  I have a bunch of delicious variations on my BROWNIES & BARS page.
Happy snacking!