Hot Chocolate on a Stick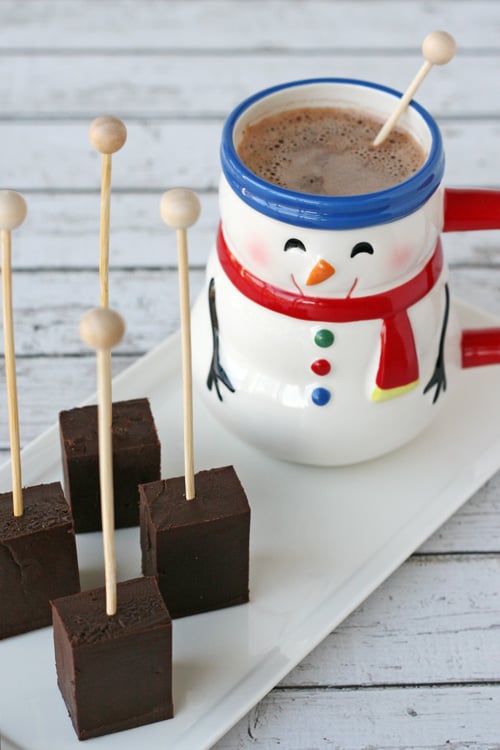 A sweet little gift, or a beautiful treat to serve holiday parties, this Hot Chocolate on a Stick recipe is a perfect holiday treat!
Swirl these delicious blocks of chocolate into a cup of hot milk and you create a luscious cup of hot chocolate.
This recipe would be perfect to serve as part of a hot chocolate bar at a holiday party!   For a pretty display, set out a few bowls of hot cocoa toppings such as crushed peppermint candies, or mini marshmallows and you have a special display that is easy to create.
I know I'm always on the lookout for cute little gifts to give to teachers and neighbors, and a few of these Hot Chocolate on a Stick blocks, wrapped up and given with a cute mug could be a perfect little gift!
This recipe is quite simple to make and starts with just a can of Eagle Brand Sweetened Condensed Milk, and some good quality chocolate.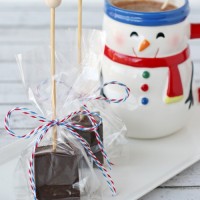 Hot Chocolate on a Stick
Yield: Makes apx. 36 blocks
Swirl these delicious blocks of chocolate into a cup of hot milk to create hot chocolate.
Ingredients:
1 (14oz) can Eagle Brand sweetened condensed milk
1/2 cup heavy cream
3 cups semisweet chocolate chips
3/4 cup (or 6 oz) unsweetened chocolate, chopped (I used Ghirardelli bars)
wooden sticks
Directions:
1.) Line a 8"x8" pan with parchment paper or aluminum foil.
2.) In a medium saucepan heat the sweetened condensed milk and heavy cream together over MEDIUM-LOW heat.
Whisk slowly as it heats and heat until it is hot and is beginning to steam, but not boiling.
3.) Remove pan from heat and add the chocolate chips and chopped chocolate. Allow chocolate to slowly melt, this takes about 10 minutes.
4.) Return the pan to LOW heat and whisk vigorously until the mixture is thick and shiny.
5.) Pour the chocolate mixture into the prepared pan, and smooth the surface with an offset spatula.
Loosely cover the pan and allow the chocolate to cool slowly, on the counter OVERNIGHT.
6.) The next day, run a knife around the edge of the pan, and pull on the parchment or foil to remove the chocolate square.
Cut the chocolate into 1 1/4" cubes. Heat the knife between cuts by running the knife under hot water, then wipe dry between each cut.
7.) Add a wooden stick, then wrap the cubes as desired.
For the wooden sticks, I used these cute wooden sticks from Tomkat Studio.  You could also use a wooden fork, or a wooden coffee stir stick (from your local coffee shop).
The snowman mugs pictured are from Target (this year).
Now through December 14 visit Eagle Brand and re-pin your favorite recipes for a chance to win one of over 100 great prizes including a KitchenAid Mixer and other baking essentials!
Disclosure – I was provided product and/or payment from Eagle brand in exchange for creating this post. All images, text and opinions are my own. I only share products on this site that I use and love.