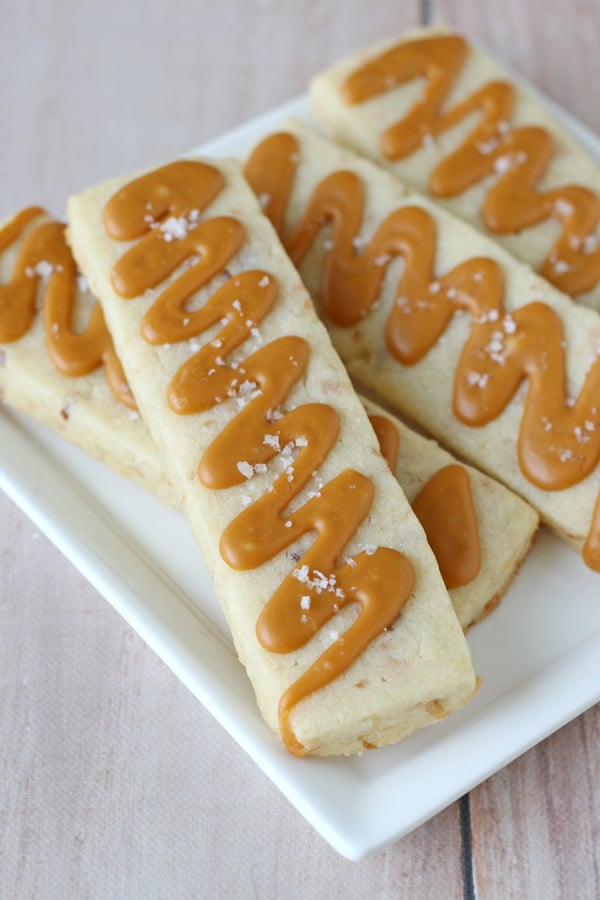 Sweet, salty, crispy, chewy… these amazing Salted Butterscotch Cookies will blow your mind!
When I recently created some luscious Coconut Cut Out Cookies I wanted to play around with fillings or toppings to compliment the toasted coconut flavor.
Certainly, chocolate is always a good choice with coconut, but I also really love caramel and butterscotch flavors with coconut! And in my mind, caramel is not quite complete with a bit of salt… so I knew the flavors I wanted to combine!
I thought back to some delicious cookies my talented cookie friend Melissa, of The Baked Equation shared with me a year ago… her famous Salted Butterscotch Cookies!
Melissa adds a butterscotch glaze to her delicious vanilla/cinnamon/amaretto cookies and I knew a similar idea would be perfect for my toasted coconut cookies! With her permission, I worked up a simple butterscotch ganache, added some fleur de sel salt and created one of the most delicious combos ever!
These cookies are sweet, salty, buttery and oh so good!
You almost have to close your eyes when you take the first bite! There are so many little flavors working together you need to just stop and enjoy the symphony in your mouth for a moment.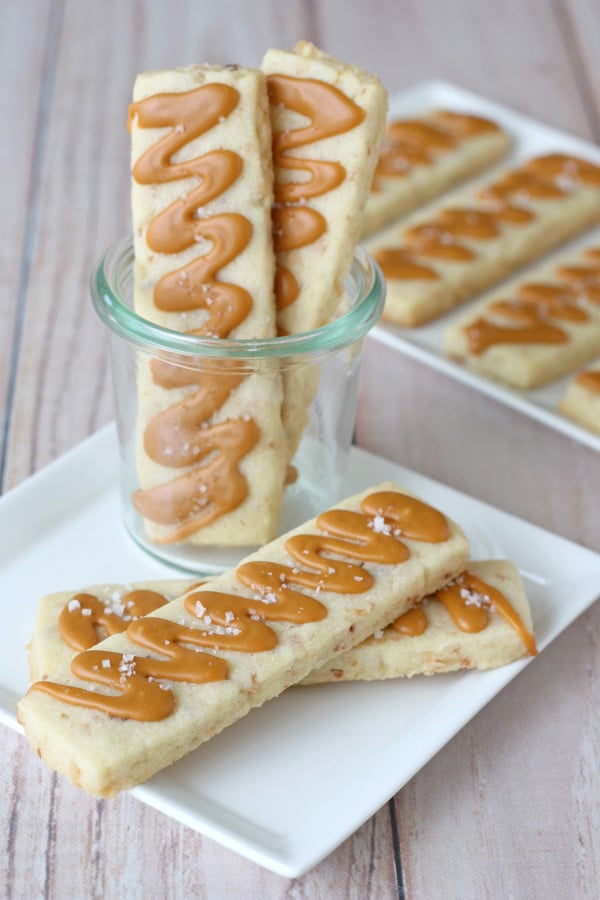 To make these delicious Coconut and Salted Butterscotch Cookies you'll need to make a batch of my Coconut Cut Out Cookies.
I'm sure this salted butterscotch combo would also be a perfect topping for my basic Vanilla Sugar Cookies, and I'd be tempted to try it with Chocolate Cut Out Cookies as well!
I cut my cookies in thin rectangles using a cookie cutter I designed for Truly Mad Plastics (1″x4″). Depending on how fine the coconut in your dough is, you may want to use the cookie cutter to score the dough, then use a sharp knife to make the final cut. Of course feel free to make these cookies in any shape you like!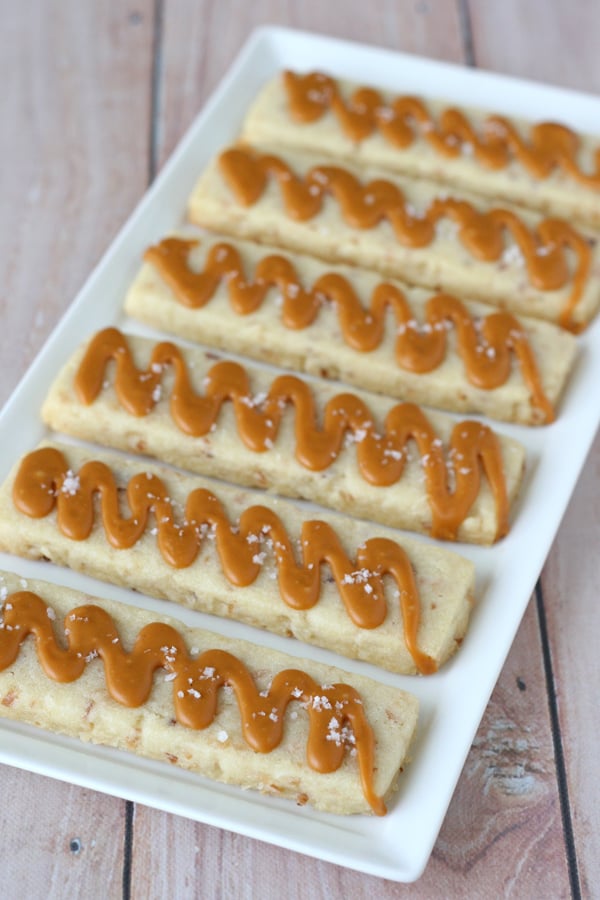 Give this recipe a try and I think you'll fall in love with these Coconut and Salted Butterscotch Cookies as much as I have!
If you want to try the delicious cookies that inspired these, hop on over to The Baked Equation and order a batch! While you're there, you'll find the most beautiful assortment of decorated cookies as well. The Baked Equation ships nationwide, so be sure to bookmark their site so you can contact them whenever you need custom cookies!
Prop note – Photo backdrop by Ink and Elm.
How to Make Butterscotch Ganache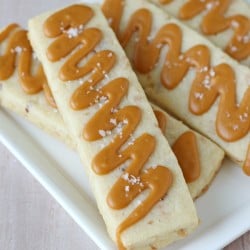 Butterscotch Ganache
This simple glaze adds an amazing layer of flavor to sugar cookies or shortbread.
Ingredients
1

cup

good quality butterscotch chips

1/2

cup

heavy cream

good quality sea salt

such as Fleur de Sel
Instructions
Bake and cool cookies of your choice. Line up cookies on a wire baking rack with a large baking sheet beneath. This will help catch any excess ganache and salt as you "dress" the cookies.

Pour butterscotch chips into a medium bowl and set aside.

Heat the heavy cream until almost boiling (in the microwave or in a small saucepan on the stove). Pour hot cream over the bowl of chips and set aside for 1-2 minutes. Stir mixture slowly, preferably with a small whisk. Continue to stir as needed until the chips are fully melted and the cream has been fully incorporated (this make take several minutes).

Allow the mixture to cool several minutes. You want the mixture to cool and thicken a bit, but still be pourable. Once it's reached a nice consistency, use a small spoon to drizzle the ganache over your choice of cookies.

As soon as you have added the ganache to 3-4 cookies, immediately add a sprinkling of very good quality sea salt, such as fleur de sel. Allow ganache to set up (20 minutes or so) before packing cookies or storing them.

The final ganache will set up firm enough to package cookies in a single layer (not stacked). You can stack them if you chose, but the ganache may get a bit smashed.
Notes
I used Guittard butterscotch chips and Esprit Du Sel Fleur de sel salt.
Nutrition
Calories:
108
kcal
Carbohydrates:
16
g
Protein:
1
g
Fat:
5
g
Saturated Fat:
3
g
Cholesterol:
18
mg
Sodium:
71
mg
Potassium:
9
mg
Sugar:
14
g
Vitamin A:
192
IU
Calcium:
8
mg