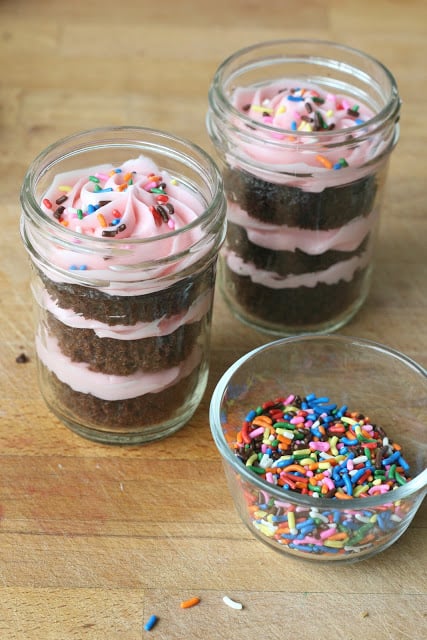 There are a couple popular techniques that can elevate simple dessert into something extra special.  One trick is putting sweets on a stick.. cookies, cake pops, rice krispies treats and even mini pies somehow are much cuter on a stick!  And it seems the same can be said of putting special treats in a jar… it can turn a simple cupcake, for example, into an extra adorable treat, perfect to take on a picnic, give as a party favor, or as a sweet thank you to a teacher, co-worker or friend.
I've been seeing lots of beautiful treats in jars… cheesecake in a jar, cupcakes in a jar and even homemade cake mix in a jar.  Everything it seems, looks better in a jar!
So, I recently headed to Wal-Mart and bought myself a case of 1/2 pint canning jars.  Then I whipped up a batch of our household favorite… Chocolate Cupcakes with Vanilla Cream Cheese Frosting.
I baked the cupcakes as I normally would, using cupcake liners in a regular sized muffin pan.  Then, after the cupcakes were baked and cooled, I removed the liners and cut the cupcakes in half (horizontally).  I placed a half cupcake in the bottom of a jar, piped a swirl of frosting, added another half cupcake, more icing, a third slice of cupcake and a final swirl of icing.  So each jar contains 1 and 1/2 cupcakes.  I would suggest being slightly stingy on the icing, or the amount of icing may overpower the cupcakes, but it comes down to personal preference too!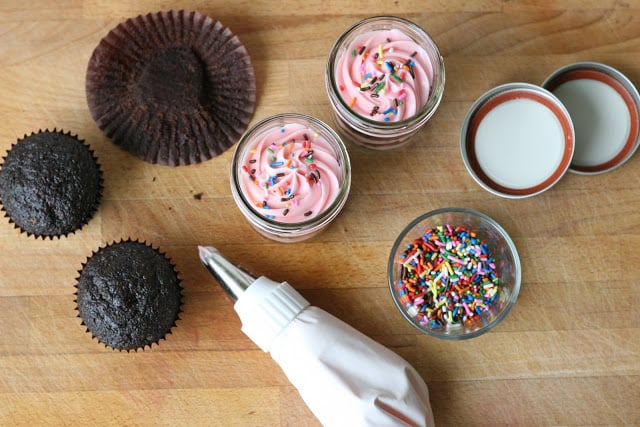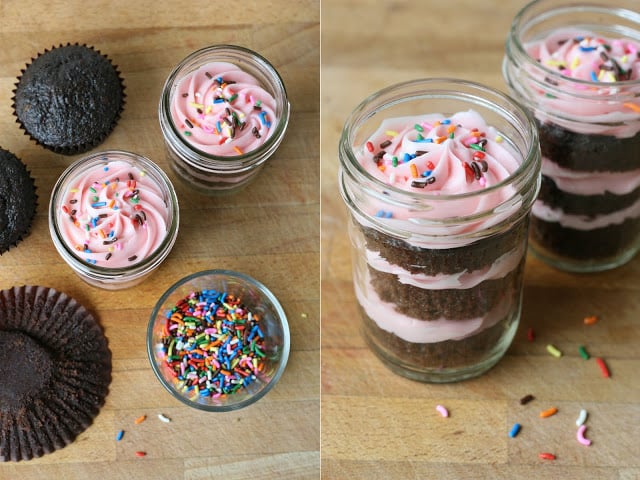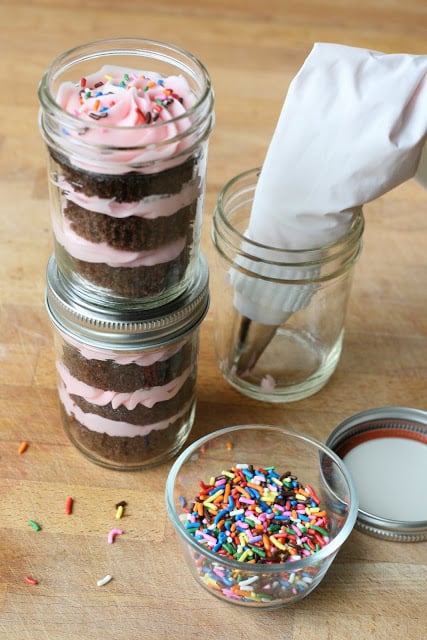 Make someone's day with a special treat in a jar!
I'm adding this post to Tidy Mom's- I'm lovin it Friday post.