Strawberry Shortcake… Cake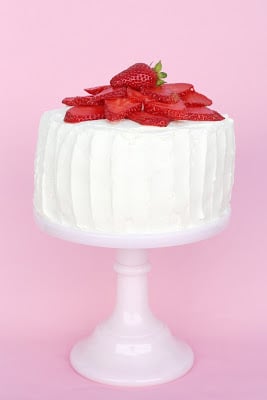 Strawberry season is upon us, and since I live in California I'm extra blessed with an abundance of fresh strawberries easily available all summer long.  California produces 83% of the strawberries grown in the US (source) and my family enjoys more than our fair share!
Last week I felt the urge to make a cake, and I had some fresh strawberries that needed a home, so a cake version of Strawberry Shortcake seemed the perfect choice.  I've long been on a search for a perfect vanilla cake recipe, so I dug through my (gigantic!) pile of "recipes to try" and pulled out a recipe for White Butter Cake from The Joy of Baking.  I divided the batter into two 6″ cake pans, and reserved enough to make 3 cupcakes as well.  Some recipes can easily be made as both a large cake and cupcakes, but I wanted to test it as both in the name of research.
Once the cakes were baked, I sliced each cake layer into two, filled the cake with a fresh strawberry filling and then frosted the cake with real whipped cream.  The end result was a delicious summer treat!  I was quite happy with this cake recipe in the cake form, and although the flavor was just a good in cupcake form, I would rate the cupcakes as just "good" (by the second day the cupcakes were extremely dry).  In other words, I will keep this recipe for cakes, but continue my search for the perfect vanilla cupcake recipe.
This cake is a bit labor intensive, but is a labor of love that will produce delicious results sure to be appreciated by everyone lucky enough to get a piece.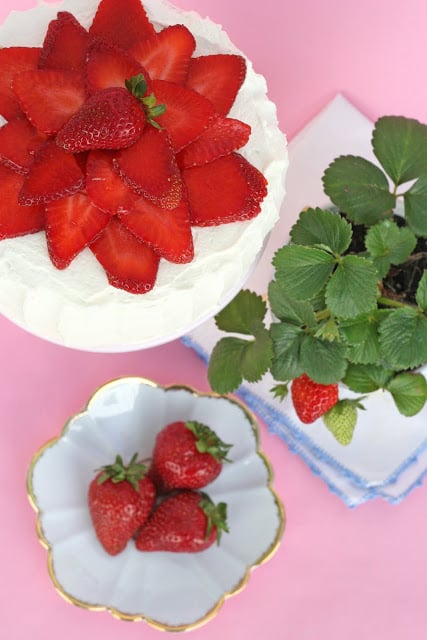 ~ Strawberry Shortcake… Cake ~
White Butter Cake
(recipe from Joy of Baking)
2 large eggs, separated
1 3/4 cups sifted cake flour
2 teaspoons baking powder
1/4 teaspoon salt
1/2 cup unsalted butter, at room temperature
1 cup white sugar, divided (1/4 cup plus 3/4 cup)
1 teaspoon vanilla
1/2 cup milk
1/8 teaspoon cream of tartar
In a medium bowl, sift or whisk the flour, baking powder and salt.  Set aside.
Separate the eggs, placing yolks in a small bowl, and put the whites in the bowl of your electric mixer.
In the bowl of your electric mixer, beat egg whites until foamy.  Add cream of tartar, and continue beating until soft peaks form.  Gradually add 1/4 cup of sugar and continue to beat until stiff peaks form.  Scoop beaten egg whites into a medium bowl and set aside.
Now, using the bowl of your electric mixer, beat the butter until soft.  Add 3/4 cup of sugar and beat until light and fluffy. Add egg yolks, one at a time.  Scrape down sides of bowl.  Add vanilla and beat until combined.  With the mixer on low, add the flour mixture and milk alternately, in three additions, beginning and ending with the flour (flour, milk, flour, milk, flour).
Gently fold the beaten egg whites into the batter.  Do not over mix, or the egg whites will deflate.
Divide the batter evenly between two 6″ pans (or two 8″ cake pans).  The cake pictured is a 6″ cake.  If using larger pans, the cake will be much shorter.  Feel free to double the recipe if desired.
Bake in a pre-heated oven at 350*F for 20-25 minutes, or until toothpick inserted in the center of the cake comes out clean.
Strawberry Filling
(recipe by Glorious Treats)
1 basket/pint strawberries
1 Tablespoon sugar
2 teaspoons corn starch
3 Tablespoons water
Chop/blend about half of the strawberries (5-7 strawberries) and the water in a food processor or blender. Pour the blended strawberries (and their juice) into a mesh strainer, sitting over a bowl. Use a large spoon or spatula to press the mixture through the strainer.
In a small saucepan, mix the sugar and cornstarch. Slowly add the strained strawberry juice, whisking to combine. Heat mixture to a boil and boil about 1 minute. Remove from heat and let cool.
Chop remaining strawberries into pea sized pieces and add to the cooled strawberry/sugar mixture. Chill until ready to use.
Fresh Whipped Cream
1 1/2 cups heavy cream
1/4 cup powdered sugar
1/2 teaspoon vanilla
Place the bowl and beater of your electric mixer in the freezer for 5 minutes (this will help the cream beat up faster).  Remove bowl and beater from freezer and pour in heavy cream.  Beat cream until it begins to thicken.  Slowly add the powdered sugar and vanilla.  Continue to beat until stiff peaks form when beaters are raised from the bowl (this only takes a few minutes, but carefully not to over-beat).
*Note- if the finished cake will not be served for several hours, or in extra warm weather, use the Stabilized Whipped Cream recipe HERE – the addition of gelatin will help the whipped cream keep it's shape for much longer than traditional whipped cream.
Cake Assembly~
Bake the cakes as directed.  Prepare the strawberry filling as cakes are baking, and put in the fridge.  When cakes are baked, and fully cooled, cut cakes in half, so you have four layers.  Add 1/3 of the strawberry filling between each layer.  Frost with freshly whipped cream.  Place cake in the refrigerator until ready to serve.  This cake should be served the day it is made.  If you will be short on time the day you plan to serve the cake, you can prepare the cake layers and the strawberry filling a day ahead.  Keep cakes tightly wrapped in plastic wrap (on the counter), and store the strawberry filling in a bowl in the fridge.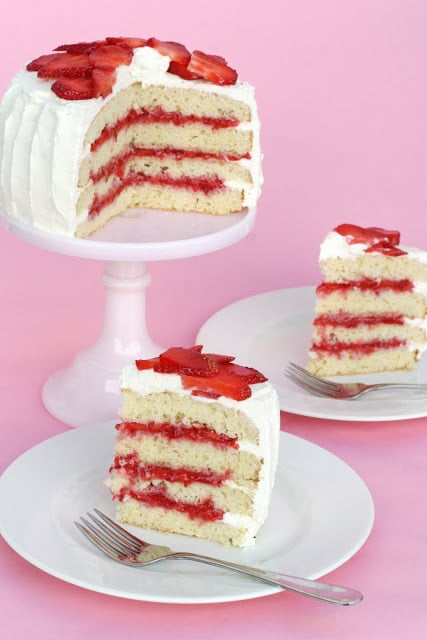 Happy Strawberry Season!