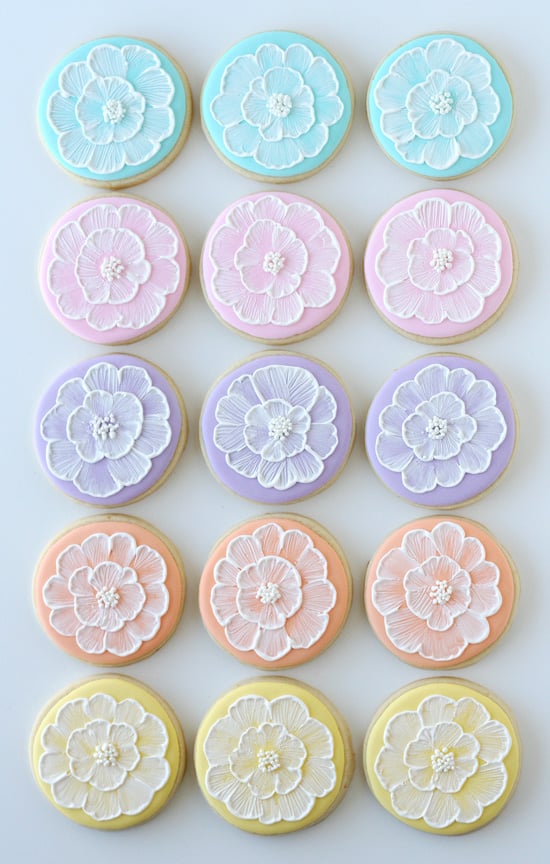 Spring flowers, and cookie decorating… two of my favorite things!  I'm combining these two loves with these Spring Brush Embroidery Cookies.
I'm often drawn to pastel colors, and when I wanted to share the beautiful and delicate technique of brush embroidery, this seemed the fitting color palette.
Brush embroidery was a cookie decorating technique I was intimidated to try for a long time.  When I finally gave it a try a few years ago I realized how truly simple it is!  Although it does take a bit of time, and it's important to have the correct icing consistency, one you get going I think you'll find it a relaxing and rewarding technique!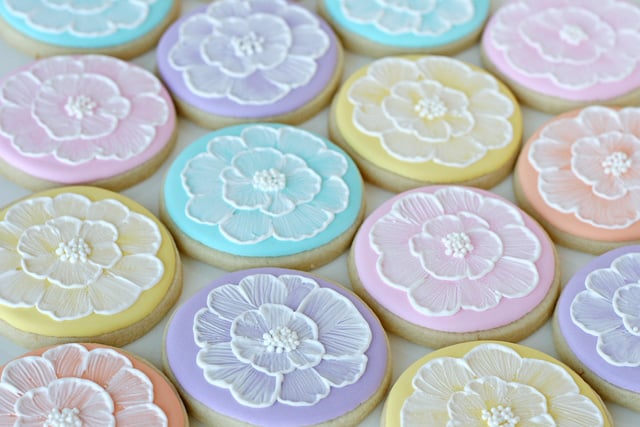 Let's decorate!
How to decorate cookies with brush embroidery…
First, you'll need a  batch of cookies made from my Sugar Cookie Recipe (or your favorite).
You'll also need a batch of Royal Icing and a small, flat (new/clean) paintbrush.  You'll see the size and shape I used in the images below.  Each decorator may have their own brush preference.
I outlined and flooded the cookies shown with the same consistency of icing, a medium consistency (and a #2 tip).  Mix up a batch of icing (using the recipe listed above) and then add some icing to a bowl.  Add your color, and a bit of (slightly warm) water (1/2 teaspoon at a time) until you've reached a consistency similar to shampoo or corn syrup.  It should be just thin enough that after 15-20 seconds a spoonful of icing drizzled into the bowl disappears into the rest of the icing.
Outline and fill in the cookies, then allow that icing to dry fully overnight.
The next day, prepare a bag of white piping consistency (stiff) icing (with a #2 tip).  The icing should be about the consistency of toothpaste.  It should not be so stiff that it hurts your hand to squeeze the bag, but when piped onto a surface (cookie) the line stays in place.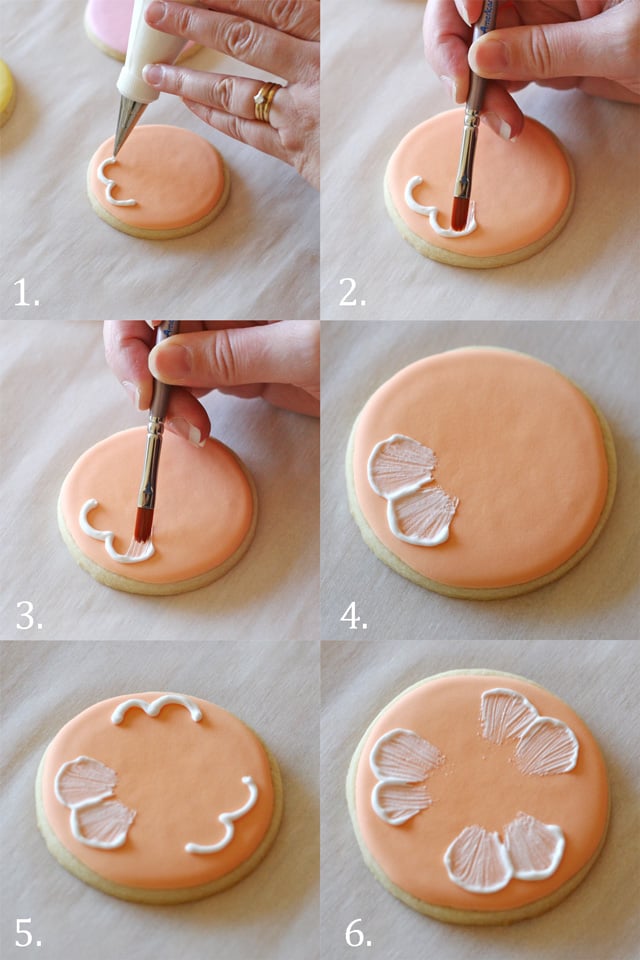 Step by step brush embroidery (as pictured above).
1. Pipe the outline of two flower petals (as shown).
2.-4.  Using a slightly moist brush, pull some of the icing from the edge you've created, in toward the center of the cookie.  The brush should be slightly moist as you work.  I keep a small bowl of water at my work area, dip the brush into the water, then dap the brush onto a paper towel to absorb much of the water.  This is something you will have to experiment with.  If you begin to "brush" the icing the brush is too wet, you will lose any definition in the petals.  As you'll see in the photos (both above and below), you want to be creating some texture in each petal (from the brush bristles) to represent the veining in real flower petals.
5.  Pipe the start of a few more petals, as shown.
6.  As before, brush the icing from the edge, toward the center of the cookie.  You can experiment with how thick or thin you want to leave the outside edge of each petal.
(continued below…)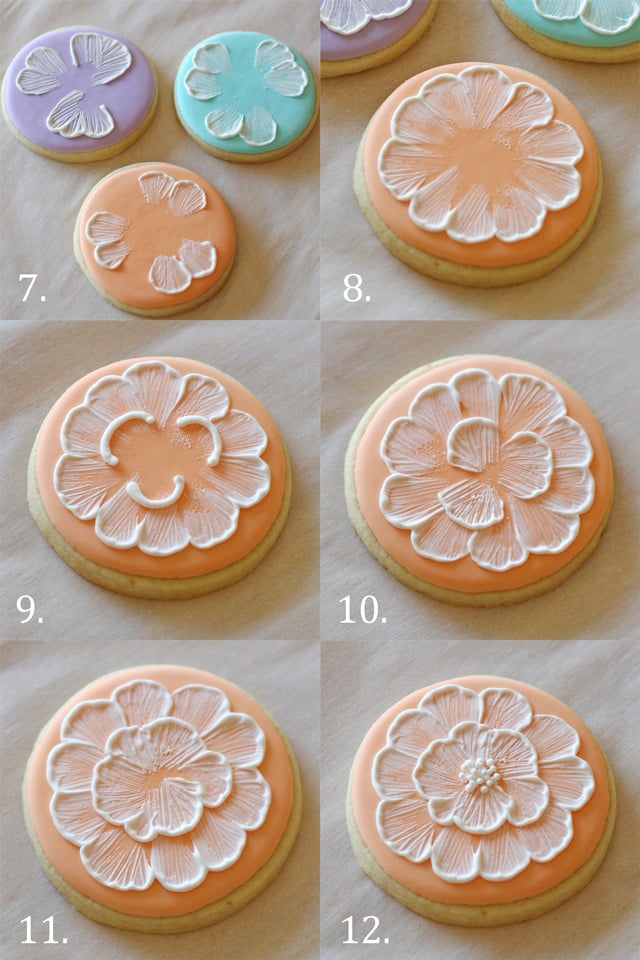 7.  Allow this set of petals to dry just a bit before moving to step 8.  If you are working on several cookies, but the time you've done the first set of steps (1.-6. listed above), the petals should be plenty dry enough to move forward.
8.  Add petals to complete the outside row of petals (as shown).  Allow to dry (about 1 hour).
9.-10.  When the outside row of petals has set up, add new a row of petals (as shown).
11.  Complete this inner set of petals by filling in with some small petals.
12.  Add some small dots of icing to create a flower center, then add a few white non-pareils (sprinkles) for added dimension.
Your cookie is complete!  =)
Allow to dry fully (several hours) before packaging.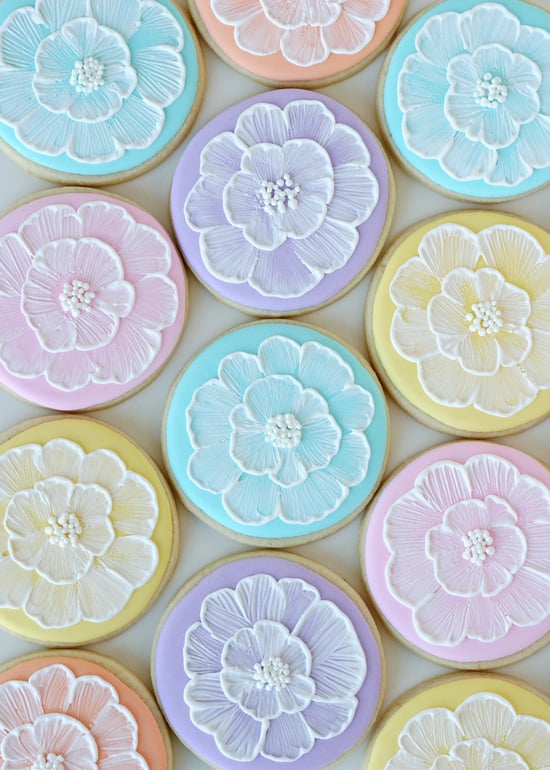 Happy decorating!
I hope you give this technique a try!  As always, please feel free to share your results on the Glorious Treats Facebook page.