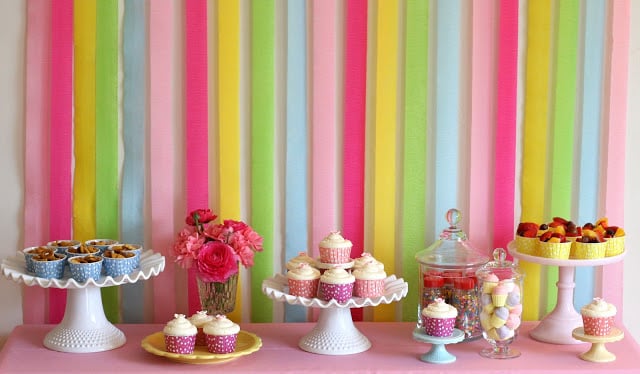 I have one more detail from my daughter's recent Cake Decorating Party I'd like to share… the pretty rainbow backdrop.  I like experimenting with a variety of props and backgrounds for my party/dessert tables, and in the past I've used banners, fabric, and paper lanterns to accent my displays.  For my daughter's birthday this year,  I wanted something that was colorful and fun, yet easy and inexpensive.  I've seen pretty fabric and ribbon backdrops and thought I could get a similar look with inexpensive crepe paper.  I bought 5 colors of crepe paper (at Hobby Lobby) for around $1 each, hung them on a ribbon "line" behind the dessert table, and I love the way it looked!  I'm sure I'll play around with this idea again.  It's a great way to bring in the colors of a party and fill a blank wall, for very little money.
To set up the crepe paper streamers, I attached two Command Adhesive hooks to the wall (they come off easily after the party) and tied a ribbon (in this case hot pink) between the two wall hooks.  Then I tied strips of crepe paper to the ribbon using a piece of twine.  To keep the crepe paper from moving too much, I also taped the end of each strip of crepe paper to the wall, just below the table height.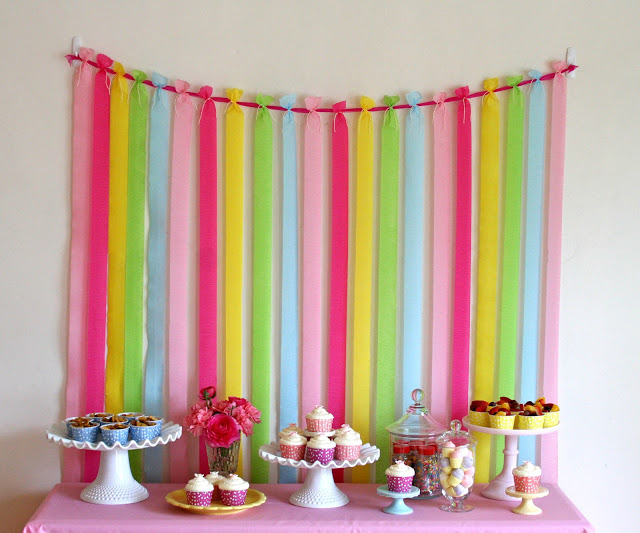 Happy Party Decorating!