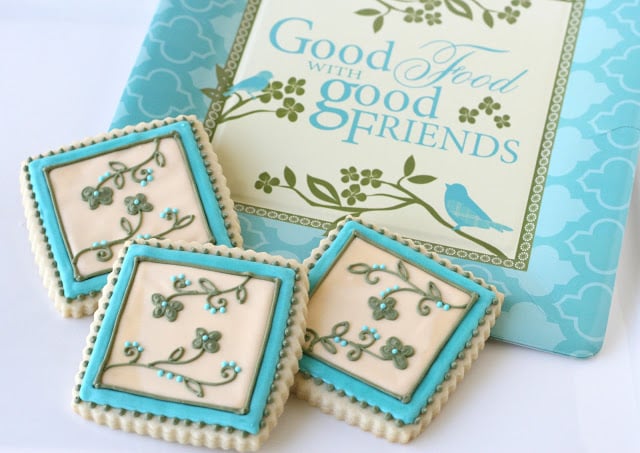 One of the joys of baking for me, is being able to make special things for my family and friends to enjoy.
A friend recently asked me to make a pretty set of cookies for her bunco group.  She had already bought some plates she planned to use for the evening, and requested I coordinate with the plates.  I was happy to accept the challenge, and although I simplified the pattern of the plate quite a bit, I think I was still able to get a nice match.
As the holiday season approaches, I'm sure there will be lots of special meals shared between your family and friends.  This general cookie concept could be used to coordinate with other colors or patterns, and a nicely wrapped custom cookie always makes a gorgeous favor or place card.  Decorated sugar cookies can be made several days (up to a week) in advance, so they are a perfect match for a busy season.
For this cookie design I used…
My favorite sugar cookie recipe.
Royal icing (colors below)
Thick olive green icing
Thinned cream icing
Medium/thinned teal/turquoise blue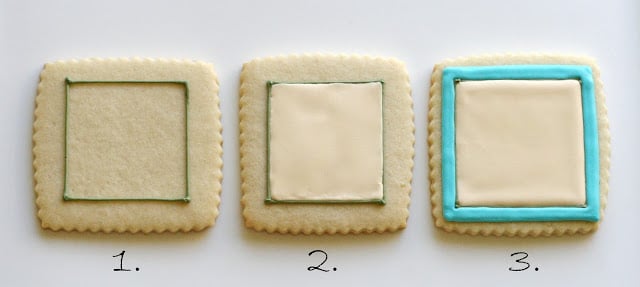 1.  Pipe a green square about 2/3 the size of your cookie.
2.  Fill in the square with cream icing, and allow to set (about 15 minutes).
3.  Use blue to create a nice thick border around the cream square.
4.  Pipe a dotted border in green, around the outside edge.
5.  Once your cream icing is set (1-2 hours), use green icing to pipe some vines, open leaves and small flowers.
6.  Add blue accents along the vine.
Allow icing to fully dry (8 hours or overnight) before packaging.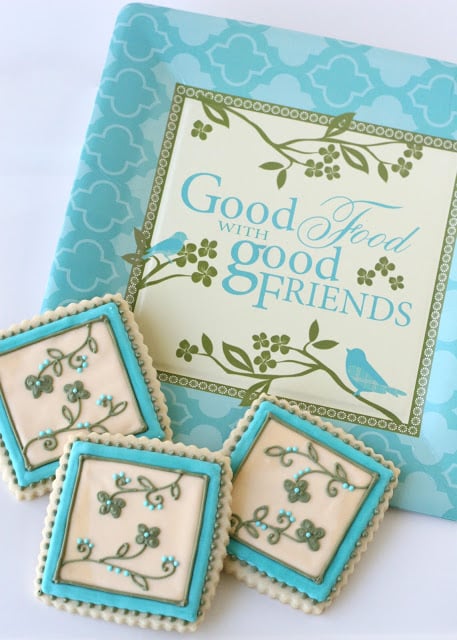 Wishing you good food with good friends (and hopefully some pretty cookies too) this coming holiday season!