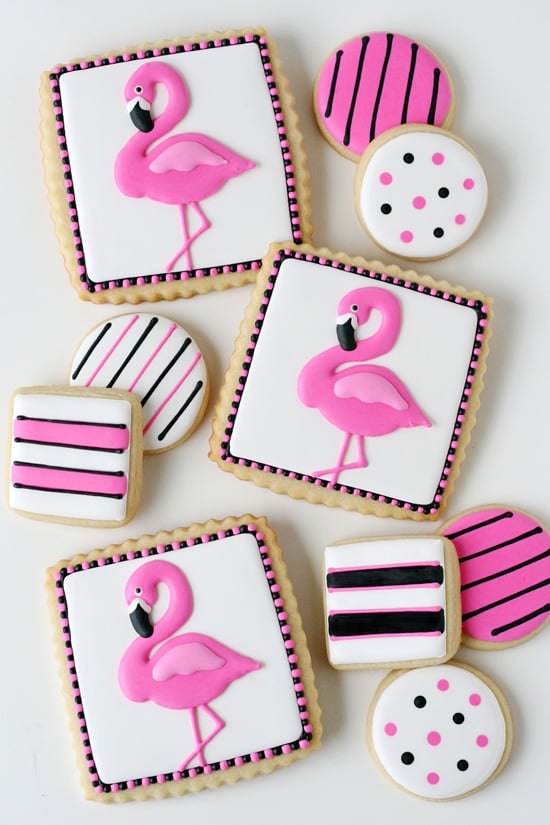 Of all of the fun cookie designs I've made over the past several years, I've never made Pink Flamingo Cookies… so I figured it was about time!  =)
Several weeks ago my friend Kim over at The Tomkat Studio posted this fun pink flamingo party inspiration board.  She also shared in the post that she had been gathering flamingo party ideas (and goodies) with the plans of throwing a black, white and pink flamingo birthday party for herself.  But then, she had been busy and under the weather, and was not able to celebrate with a party at all.
I loved the flamingo inspiration board, and thought that it was such a shame that a party lover like Kim hadn't been able to celebrate her own birthday… so I knew some fun flamingo cookies were in order!
I had such fun with this set!  I tried to keep the cookies as close as possible to the ideas Kim had shared, so I went with a striking pink, white and black color scheme.  Some simple little stripe and dot cookies accented the main pink flamingo cookies.  I added one monogramed "K" for the birthday girl.  =)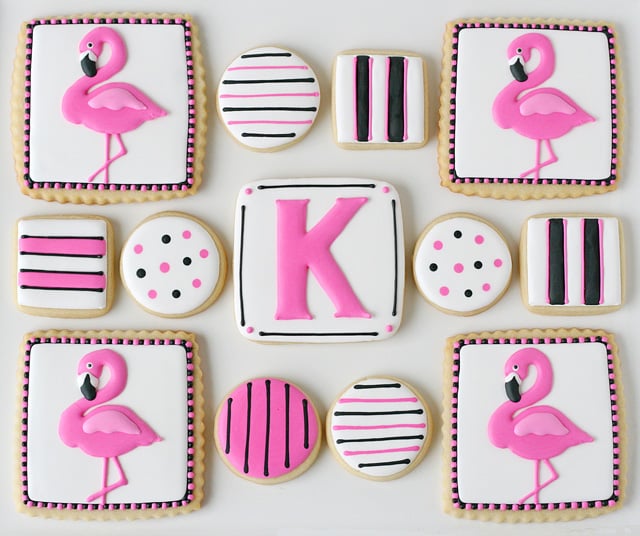 How to make Pink Flamingo Cookies –
1.  Bake up a batch of cookies using my Sugar Cookie Recipe, or a recipe of your choice.
2.  Prepare icing using my Royal Icing Recipe.  For this set you'll need black, white, bright pink and a small amount of light pink icing.  I use Americolor gel food coloring.
3.  Create a flamingo royal icing transfer (as pictured below).
First, I drew the shape I wanted on a piece of paper (using on-line clip art as inspiration).  Then, lay a piece of waxed paper over the drawing and outline then fill in the flamingo shape.
I used a thicker icing (and a #1.5 PME tip) to outline the shape, then a thinner (flood) icing (and a #1.5 PME or #2 tip) to fill in the body.  As soon as the body is filled in and smooth, add a white dot for the eye, then a small black dot on top of the white.
Allow the flamingo body (as shown below) to dry 1-3 hours before adding the lighter pink wing (as shown on the final cookies).   At this time add the white and black for the flamingo's beak as well (as shown in the final cookies).  I used a medium consistency icing and #1.5 PME tip (for both the black and white).
Allow the transfer (the flamingo) to dry FULLY (8-24 hours).  Once fully dry, carefully peel back the waxed paper from the flamingo.  Gail of One Tough Cookie has a great video on easily removing royal icing transfers from the waxed paper.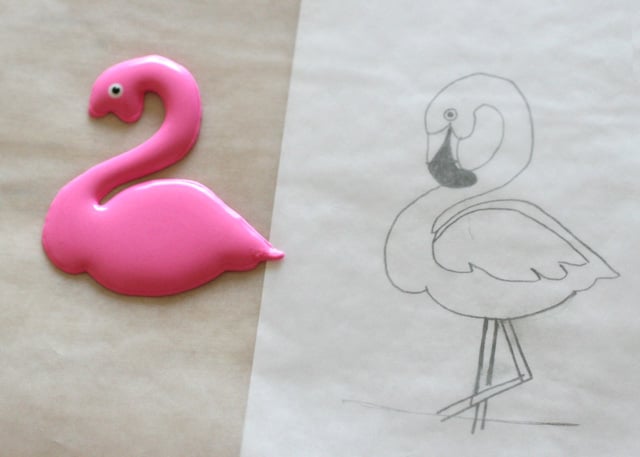 4.  Once you've made your flamingo transfers (and while you wait for them to dry), outline and flood the cookies you want to put the flamingos on.  I chose scalloped edged squares.  I outline the cookie in black icing, allowed to dry about an hour, then flooded with white icing.  After another hour or so, I added a two color dotted border (as shown below).  First add one color of dots (in this case I did pink first).  Allow the first color of dots (pink) to dry/set up a bit (30 minutes or more) before adding the second color (black) between the pink dots.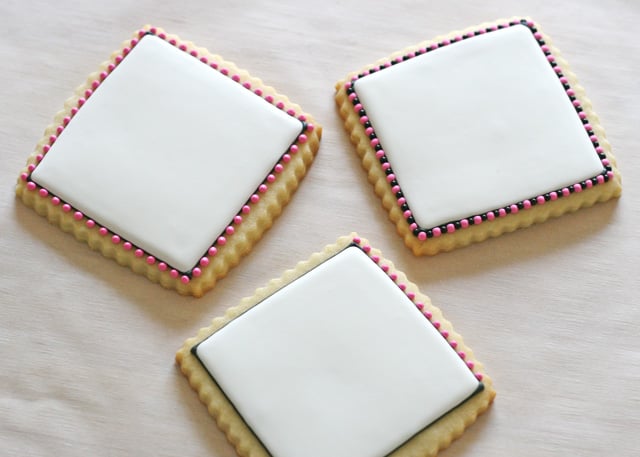 5.  Once your flamingo transfers are fully dry and you can remove them from the waxed paper (and the white icing base on the cookies is dry) add a bit of royal icing (as glue) to the back flamingo body and carefully place the flamingo on the prepared cookies.
6.  Add legs to the flamingo.
7.  Once fully dry, package and share with a friend!  =)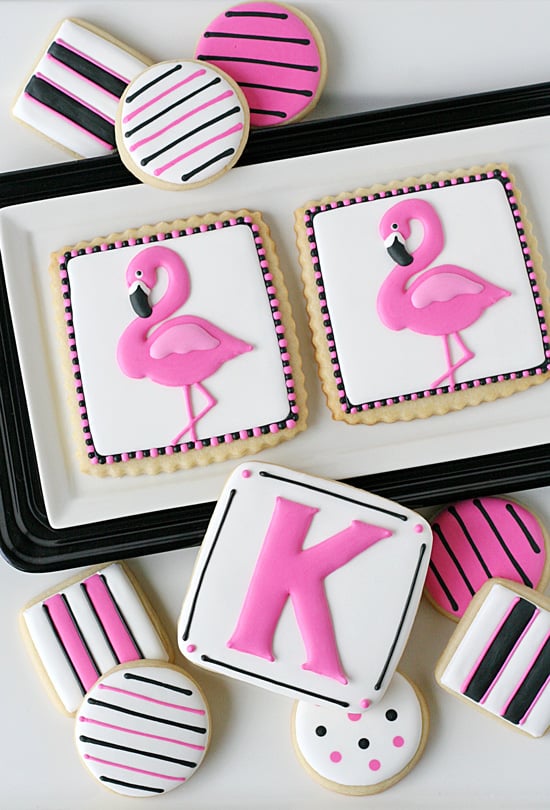 I just have to share one more fun idea…
My younger sister and her husband work with a high school church youth group that has a fun fundraising activity.  The youth accept donations in exchange for requests to "flock" a persons house (so I would order a "flocking" to be sent to someone else's house).  The "flocking" involves the youth packing up their collection of several dozen classic plastic yard flamingos and late at night going to the requested addresses and quietly leaving the "flock" of flamingos all over the front lawn.  In addition, a note is left on the front door explaining that they've been "flocked" and that the youth will return the next day to retrieve the flamingos.
Can you just imagine waking up to a whole "flock" of flamingos on your front lawn?  I think it's such a funny (and non-destructive) prank!
Happy decorating… and maybe Happy "Flocking"!  =)